Heading to Rome soon for a long weekend? Well here are 5 things things that you have to see and do on a trip to one of Italys most popular destinations!
I love Italy so much that I had to go back for seconds, I needed pizza, pasta, and coffee in my system! The Italians sure know how to feed a person and I wasn't complaining.
My second time to Rome was brilliant, I got to bring my mother along with me, (a place she has always wanted to see), splash out on a nice hotel in Rome (no hostels on this trip!) and show her all the beauty and history of this historic city!
Here are my top 5 favorite things to do in Rome, and don't forget to shop in between landmarks!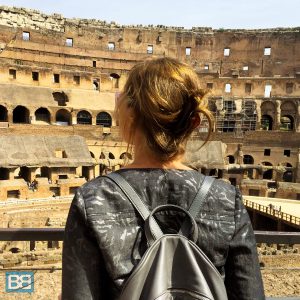 Colosseum
The Colosseum is to Italy what Angkor Wat is to Cambodia – you cant visit Rome without seeing the majestic gladiator Colosseum. One of Rome's must see you could spend hours exploring the old ruins. Filled with history and breathtaking views it best to get there early in the morning to beat the long lines of other tourists.
So grab a coffee to go and make your way over to this iconic beast.
Pantheon
Hidden within the maze of Rome's streets you will find yourself gazing at the temple of Gods. This old account Roman monument survived the barbarian raids and is now open to the public to go inside and see the largest unsupported dome in the world! Afterwards enjoy some pasta at the many restaurants scattered around the plaza.
Trevi Fountain 
If you plan on returning to Rome then find your way to the Trevi Fountain and toss a coin in, a traditional legend says that if you toss a coin in you will be ensured a return to Rome. One of the most beautiful fountains in the world this is a must see on your list. Try to get there late afternoon for the best lighting!
Vatican City
A city that is a country within country and the home to the Pope! Even if you're not interested in Religion, Vatican city is a must see. A beautiful city filled with art loving museums and Cathedrals! The line is long to get in and take a fews hours to wonder through the Museums so make sure you set a half a day to see the Vatican city!
Pasta! Pizza! Gelato! Coffee!
I'll be honest I gained some weight when I was in Italy but I was totally fine with it. The pizzas were melt in your mouth worthy, (I mean Italy was the birthplace of pizza) and after some pizza you can chose from hundreds of different delicious flavors of Gelato. To finish off a wonderful day exploring make sure to leave some room for pasta! Travelers hint: Stay away from the restaurants around the Colosseum and Vatican city, there are over priced and the food isn't the best, you're paying for the view. Find a small hole in the wall mom and pops kind of place!
You wont be disappointed.
If you only have a short time in Rome I'd suggest the Hop on Hop off Bus Tour, (Super cheesy and touristy but you do get your moneys worth) you can get a one day or two day ticket. It's probably the best way to see a good chunk of the city and if you get tired of walking just hop on the bus!
I'm already planning my trip back and this time I am dragging Chris along with me – he had bounced off to Sri Lanka whilst I was there!
Maybe this time head more south to the coast so he can be close to the water!
Have you been to Rome? Anything you'd add to the list?