Exploring the temples of Angkor Wat in Siem Reap is top of the list for most travellers in Cambodia – so here's a simple guide to costs and what to sort.
The majestic temples of Angkor Wat are top of most peoples to do list whilst travelling in Cambodia.
In fact each of the 3 times that I've backpacked around Cambodia I've found myself exploring and photographing them – there's just so much to see and explore!
So I thought I'd put together a simple guide to exploring Angkor Wat – what you'll need to sort, how much you'll need to budget and how to tackle it so you can worry less about the boring stuff when you arrive in Siem Reap and more about charging your cameras and making the most of your time amongst the rich history of this amazing country!
Buying Tickets
I'm guessing the first thing you'll be wondering is how much is this all going to cost me?
Like many big attractions throughout the world Angkor Wat and the surrounding temples are unfortunately not free.
The good news though is Angkor Wat isn't going to put a huge dent in your wallet and you have 3 tickets to choose from;
1 day pass = $20USD
3 day pass = $40USD (valid for 3 visits in a 7 day period)
7 day pass = $60USD (valid for 7 visits in a 1 month period)
Personally I've always opted for the 1 day pass as it's a long old day of exploring temples, but if you have more time to play with, want to take a more in depth or leisurely look around or are super interested in everything the area has to offer the longer passes may well suit.
All passes allow you to access all the temples EXCEPT Kulen Mountain and Bengmealea Temple.
You can buy your pass from the check point and ticket office from 5pm the evening before you want to enter. It's about 10 mins from my hostel in Siem Reap by tuk tuk (I stayed at Mad Monkey, which I highly recommend) and you'll need to go there in person as you picture is digitally printed on your ticket.
Sunset, Sunrise or Both?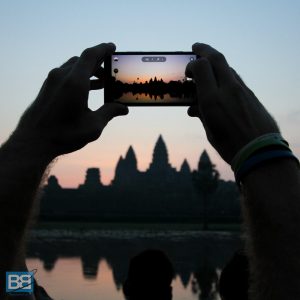 Although the ticket you buy at 5pm technically doesn't start until the following day it does allow you to enter the grounds that evening – so your one day pass can also cover sunset that same day.
If you're heading for sunset arrive early to get to the front of the ticket queue and then head straight to the front of Angkor Wat or the Sunset Temple ASAP.
I've caught 2 sunsets at the Sunset Temple (the official name is Phnom Bakheng) but on my most recent visit I discovered they've now started issuing passes to enter it – one in one out – and unfortunately I didn't get there in time which was a bit of a bummer.
When it comes to sunrise things are a bit more predictable.
I left Siem Reap around 4:30am and headed straight for the main Angkor Wat Temple. Once you're inside the main walkway head straight towards the temple and on the left hand side you'll see a large expanse of water – if you can get to the middle, at the front you'll be set for that iconic reflection photo of the sunrising.
Now the key here is to be patient.
You'll shoot a heap of rubbish shots in the dim light and will be waiting a while but seriously, play it patient!
Unless the weather is crap or super cloudy stick around until you visibly see the sun rise over the temple – that's when you want to get trigger happy with the camera!
You also don't need to worry if you don't have a big shiny DSLR camera either – the best shot I've taken of the sunrise was taken on my iPhone 6!
Dress Properly!
You need to keep in mind that Angkor Wat and all the surrounding temples are of huge religious importance, so like all temples around South East Asia you'll need to wear appropriate clothing.
This means covering your shoulders and wearing bottoms that go below the knee.
If you do forget you can always grab some yoga pants and light t-shirt at the small markets outside the first few temples which will set you back around $6 for both if you haggle hard!
How To Get Around
When planning your time in and around Angkor Wat you have a few options.
For those flashpacking or wanting a bit of luxury/comfort you can opt for a tour or minibus excursion. Sure you get a/c but to be honest suck it up and embrace the sweaty travelling experience it is!
For the bulk of people a tuk tuk is the best mode of transport and it's the way I've always used. On my last trip we split a single tuk tuk between 5 and it cost us $30USD for the entire day…a bargain at $6 each!
We used the same driver for picking up our tickets and sunset too and he only charge us $2USD each of that part of the package – so grab some buddies from the hostel and get your bartering on.
Don't worry too much if you're are going as a couple or solo it's easy enough to barter the price down so play it wisely.
If you really want to make a day of it and get some exercise on then you can also hire push bikes for the day too. I'll warn you there is a lot of cycling to be done, but if that's your thing go for it!
This will set you back just a couple of dollars for the day too!
There are two extra options if you wan to treat yourself too and you can get an aerial view of the action via helicopter or static hot air balloon. The helicopter starts at around $90USD for an 8 minute flight but would be epic for a romantic excursion or some alternative shots!
Big Loop Or Small Loop
The other major decision you need to make is taking the big loop or the small loop.
Small Loop = Angkor Wat, Bayon Temple (with the faces!), Ta Prohm (Tomb Raider Temple!) + 4 other temples.
Big Loop = Angkor Wat, Bayon Temple (with the faces!), Ta Prohm (Tomb Raider Temple!) + 10 other temples.
…there are actually heaps more smaller temples and ruins en route but those are the main ones.
Obviously the big loop takes longer so you'll be at the higher end of the tuk tuk prices but both take in my favourite temples – Bayon and Ta Prohm which are probably the most photogenic too.
Personally I've always gone with the big loop as you get to experience some of the outer temples which have less people checking them out and you can enjoy the ambience a bit more.
Time wise you can smash out the big loop without feeling too rushed and still be back in Siem Reap by 3pm no worries.
If you want some more info on the best temples to check out my buddy Stephen from A Backpackers Tale temple guide here.
A Quick Summary & Costs
Dress appropriately
Head there by tuk tuk from Siem Reap (allow 15mins)
Arrive around 4:30pm the night before to get your ticket
Have $20USD ready for the day pass
Go straight to the Sunset Temple
Depart Siem Reap around 4:30am for sunrise
Head straight in and grab a spot on the left hand lakeside for the best photos
Wait until the sunrises over the temples
Head straight to the temple of faces to avoid the crowds
Then grab breakfast
Budget around $10-15 for food/water throughout the day
Make sure you have plenty of camera battery and memory!
Enjoy!
Tuk Tuk wise between 5 people we paid $2 each for sunset and $6 each for the big loop
To be honest exploring the temples of Angkor Wat is probably one of the easiest things to organise and sort on the ground as it's such a big focus of attention in Siem Reap – but it never hurts to do some pre planning before hey?
I actually organised all my transport on the day (if you're staying at Mad Monkey Siem Reap I highly recommend asking for Tom, he was a legend!) and you're in charge of the time schedule that way too – so feel free to spend as much time as you want exploring!
It's an incredible experience and you'll hopefully get some epic pictures – so enjoy!
Check out this posts for more cost breakdowns and budgeting for travel in Cambodia.
Have you visited Angkor Wat and the surrounding temples?
What was your highlight?