If you're thinking about getting a bamboo tattoo in Thailand done then you're not alone.
Ever since I got my first bit of ink during my first year at uni I've always been partial to a bit of spontaneous tattooing – and it seems to be going hand in hand with my travels, what better way to get a permanent memento of your life on the road?
Whether it's drunkenly getting my website logo etched onto my leg in Peru (and subsequently finished/fixed in Pai!) or an image of a wave breaking onto the Wreck in Byron Bay (where I broke my face on my surfboard!) they all carry stories for me.
And when I first visited Thailand late last year I wanted something a bit different – I wanted to get a bamboo tattoo done.

Getting A Sak Yant Tattoo In Thailand – Bamboo Tatyoo Style!
Bamboo Tattoo Tradition
If you're not in the know bamboo tattoos are a traditional Asian technique dating back some 3000 years (god bless Google and it's bite size chunks of info to pass on!) in which needles are tapped to a bamboo rod and hand "tapped" into the skin.
When it comes to this technique in Thailand it started in Buddist temples where monks would get ink symbolizing protection and faith.
One of my travel buddies had some great bamboo work done and I was keen to add some to my collection. I checked it out on my first visit to Thailand but simply didn't have the dollar.
My bro and his buddy both got some done on our visit to Phi Phi this year though which kicked me into gear getting mine – but I was yet to decided on a design and wasn't keen to rush in again, this time I would plan it heaps and pick a good artist to do it!
Personal Experience
And take my time I did, I actually waited another couple months until I was again on Phi Phi. Luckily this time I was living above a sweet tattoo joint and the guys work was epic.
In that time frame I also decided to opt for a totally new design than what I originally planned and in a new place, I finally settled on getting a traditional Thai tattoo to match with the technique – a Sak Yant 5 Lines.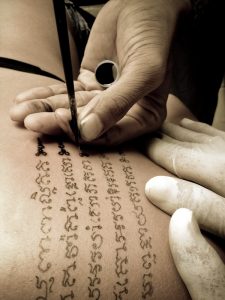 For those who didn't see this as my photo of the week a while back each line represent luck in a different aspect of life – love, friendship, wealth etc
A pretty good meaning I think and one that will definitely resonate throughout my travels!
Unfortunately I couldn't get it in the traditional position of the left shoulder blade – that spot is already taken – so I opted for my ribs, which by all accounts is one of the most painful spots, great!
Pain v Time
However one of the best things about bamboo tattoos is the pain factor. It's HEAPS less painful than a gun design. The fact they have to reink it more often also means you gets lots of breaks – so it's perfect for a larger design or somewhere a bit more tender! As soon as the first tap broke my skin I knew I was in for a much more "enjoyable" experience than usual, and the lack of the annoying buzzing tattoo gun meant I could relax with a beer and listen to some music whilst it was being done!
The trade of though is time, done by hand they take a bit longer and therefore cost a bit more. Even so I was well impressed by how intricate and quickly the Thai guy got mine finished – just over an hour and a half for a reasonably big piece.
I'm stoked with the final result – and so were alot of my other travel buddies, as many of them decided to get similar Thai designs at the same place over the last few weeks!
Personally I'm converted by the bamboo style of tattooing – it's alot more pleasant all round. And for someone who can't keep himself out of the ocean for long it's perfect as the whole thing is healed within 12 hours and doesn't bleed, compared with about 2 weeks out of the water for a normal piece of ink! You can't really argue with that when you're relaxing on a tropical island surrounded by tempting ocean!
What To Consider When Getting A Sak Yant Tattoo
If you're looking at getting a bamboo design done during your travels in Asia I don't blame you, just make sure you think through the following points so you don't end up regretting it!
Take your time deciding on the design
Shop around for price
But pay more attention to their portfolios
Personally recommendations are to be taken strongly
Chat through everything, design, time…a good artist will happily do so
Check needles are new – they wont take offence to you asking to see them be opened
Avoid getting one whilst wasted on a night out!
Enjoy!
….just be aware once you get some ink it's rather addictive, so bookmark some skin for some more designs!
If you're looking to get one of the traditional Sak Yant Tattoos in Thailand check out this Bamboo Tattoo Tour which provides a safe, authentic experience.
Did you get a Sak Yant Tattoo?
Or any type of bamboo tattoo actually!
Which design did you get?