Yamba is my new favourite spot on the East Coast of Australia – so I've teamed up with Yamba YHA and Epic Gap Year to give away a 3 night stay there!
In the last month I've headed down the coast to Yamba from Byron Bay twice now – both times with a solid crew of buddies in tow who have now fallen in love with the place!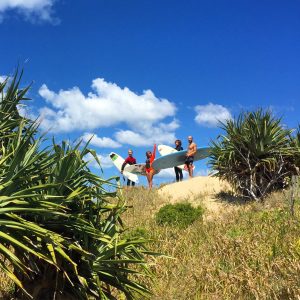 Yamba has become our holiday from our holiday!
I've already chatted about why Yamba is my hidden gem of the East Coast Australia – but incase you haven't checked it out I can summarise the draw of Yamba in these simple words;
Empty beaches, pumping surf, amazing weather, awesome people and all round good times!
In fact Yamba has been voted the best coastal town in Australia – that's no easy win!
Whether you're paddling out in the uncrowded surf breaks, cliff jumping into fresh water plunge pools, strolling around the beautiful coastal walks or just enjoying a slower pace of life – it's a great stop off.
I've loved my time there so much I've teamed up with the crew of the Yamba YHA (who are half the reason you'll love your stay there so much!) to create a dedicated Yamba Stopover for my other site – Epic Gap Year.
And since I'm in such a good mood after a long weekend of sun drenched surfing I've decided to give away a 3 night stay there!
[Tweet ""Yamba is a hidden gem on the East Coast Australia backpacker trail""]
What Can You Win?
Ok so what does the Yamba Stopover prize include;
3 nights dorm accommodation at Yamba YHA
A beer on check in
Shanes Famous Tour
Surf with family (including all surf equipment)
Basically you'll have everything you need for an awesome few days of Yamba goodness, I'm sure you'll end up staying longer!
If you'd like some more info check out the full package page on Epic Gap Year.
How To Enter
To keep things super simple there's only 2 things you need to do to enter;
Easy as!
But hurry as competition entries close on 6th October 2015!
…and of course if you want to hit "like" on the Epic Gap Year Facebook page, follow me on Instagram on @backpackerbanter or follow the Yamba crew there on @yamba_yha_backpackers that would be pretty epic too!
Even if you don't win if you're heading to Australia I highly recommend pencilling Yamba into your East Coast plans – and of course you can book the 3 Night Yamba Stopover direct though EpicGapYear.com
GOOD LUCK!
Small print;
Both entry criteria must be completed
Blackout dates apply to stay
Flights/transport and travel insurance not included
No cash alternative will be offered
Competition entry ends at 11:59pm on 6th October 2015
Winner will be randomly chosen by Backpacker Banter – judges decision is final
Winner will be announced in the first week of October 2015