I first made my way along the infamous east coast of Austrlaia backpacker route back in 2009.
I had a campervan so I slowly made my way along it over the course of a year, which some would think would be more than adequate to discover everything it had to offer.
But, like most of my travels, I was easily distracted by the surf and spent 6 months living and working in Byron Bay (which even now I still look back on as the best experience of my travelling adventures).
So last month when I roadtripped with my buddy Scotty and then again with some of my crazy Danish buddies I pretty most assumed I'd simply be going over old ground, reminiscing and enjoy it all again a 2nd time round.
And for the most part that's what happened.
That's until me and the Danes decided on a last minute stop over in Yamba…
Yamba – Best Place In Australia?!
Situated in the north of NSW (just over an hour drive south of Byron Bay) Yamba missed my radar the first time around as it's slightly off the Bruce Highway.
However on driving into Yamba I was immediately caught in the vibe – the town is small, quaint and full of surfboard carrying, wetsuit clad beach bums…my kind of place!
Chatting to the locals they're quick to point out the fact the town was voted the number 1 place to live in Australia in 2009 – an epic feat considering the competition it faces!
This however seems to have worked in their favour. They had they're housing boom (as a result of the award) before their tourism boom. This has meant property prices are through the roof and if you weren't a Yamba local before then the chances are you're turning up with a buket load of cash to buy a holiday home.
End result – a small beach side community which looks immaculate and is only half populated for the bulk of the year…quiet, beautiful perfection.
And a large proportion of the locals are in the surf industry – whether it's the creator of Billabong or the numerous pro surfers in the area.
Yamba YHA Backpacker Life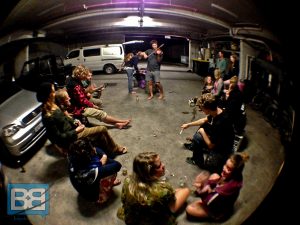 This has also affected the backpacker market in Yamba. In fact there is only one real hostel that exists – the Yamba YHA.
I'm fully happy to admit that before loosing my YHA virginity I had a pretty stereotyped perception of the type of backpackers who stay in the YHA chain.
Words like old, boring and a stuck up spring to mind!
However Shane and his crazy Yamba team smashed that stereotype out the window – the Yamba YHA is no where near a party hostel like Gilligans, but it's got a great beach party style vibe.
People are still sculling goon, but instead of dancing on tables and puking everywhere they're socialising in the backpacker garage (somewhat famed for its jam session) or kicking back on the sand at a beach bonfire.
I'm still not sure if it's the right place for every backpacker as there are no real clubs or proper drinking style pubs, but it's a great communal place with an epic atmosphere.
It's like Byron Bays secret love child, the same awesome lifestyle as Byron but not yet matured into the chaotic backpacker hotspot!
The YHA itself is an amazing hostel though – beautiful clean, with all the amenities you'd want as a backpacker including an epic shower block which is perfect for a post surf hose down and the guys one at least was full of drying wetsuits!
If you stop off in Yamba you also need to book yourself onto Shanes Famous $10 Tour – it's been featured by tourism Australia and is a great way to spend the day being shown around and an insight into everything in the area…just say Chris from Backpacker Banter sent you.!
This amazing backpacker hostel is also the base for the Yamba Surf Camp by Surf Camp Down Under – so if you're looking to learn to surf it's definitely a spot I'd recommend!
Sun, Sand and Surf
As you may have already guessed the beach is the epi centre of Yamba – but more importantly its the surf at those beaches that is the real draw.
With 16 surf spots over 10 beaches everyone is spoiled for choice and it's heaps easy to find an empty break!
There's heaps of famous surfers who use the Yamba breaks as a training ground and it's spawned many a pro surfer. But it's not just for the professionals to hit the waves – there's beaches for all skill levels; tubing reefs through to spilling mellow waves for the learners.
If you catch him on a good day Shane from the YHA also does some $10 surf lessons – an absolute bargain!
And with so much beautiful uncrowded coastline to explore there's no better place to simply go for a wander and explore this amazing part of the world. Wild kangaroos roam around the golf courses, emus can be found amongst the southern forests and there's also some great fresh water and salt water pools for those who want to indulge in a bit of cliff jumping!
A bit of googling also turfs up the fact that Yamba boasts some amazing weather too – with over 300 days of sunshine a year, so even if you're a surfer with a girlfriend in tow she'll be happy topping up her tan whilst you hit the waves!
Basically if you're a backpacker looking for a laid back vibe, some amazing waves, gorgeous sunshine or simply somewhere to break up the party mayhem of the east coast Yamba should be on your road trip list!
I'm just annoyed that I found it so late in my travels – there will no doubt be a longer stay there penciled in for my return to Australia!