Working for accommodation in hostels is a great way to save money whilst you travel – but how can you land a job and what will you end up doing!?
I posted a picture of me with a mop and bucket the other day on the Facebook Page and it proved pretty popular. I'm wasn't sure if it was because you guys simply enjoy seeing me doing some hard work for a change, but I've also had heaps of emails regarding the subject to the image – work for accommodation.
Over the last few years of travel work for accommodation in hostels has quickly become one of my top tips for saving money whilst you travel and I've clocked up some serious savings around the globe as a result – especially in places like Australia and New Zealand!
The key to successful long term travel is as much about saving money as you travel as much as it is finding ways to make money whilst travelling – and work for accommodation certainly allows you to cut out a huge outlay!
So here's a quick guide to rolling up your sleeves, getting a free bed and making your money go further in the process….
Work For Accommodation – Save Heaps Of Money Whilst You Travel!
How Can I Get A Work For Accom Job?
Landing a work for accommodation job is something a lot of you have been asking about.
Like any job it's about doing the ground work! Get a CV all made up and start handing them out at hostels in the area you're looking to be based and pop your head around every few days to ask if theres anything going.
Hostels get HEAPS of people asking – especially in spots like Byron Bay – so a lot of the time it's about being in the right place at the right time, make your face know and use a good bit of pester power!
Also find out who else is working for accommodation and get friendly with them – ask them to let you know when someones leaving and be on hand to fill the position!
If you know your dates and locations a bit further ahead of time it never harms to email some hostels too – I've landed a couple of gigs that way, including in Ecuador and New Zealand. Get some personality in the emails too rather than a bland boring "have you got any work going" – these are hostels after all, they're meant to be friendly places!
What Work Will I Be Doing
The actual work you'll be doing for accommodation and the hours vary from place to place. Ideally you wont be working for more than 2 hours a day – some places do try and take the piss a bit though so be wary of that.
I recently worked at a place in New Zealand that expected nearly 3 hours a day of work in return for a tent pitch and I had to provide the tent. In my opinion that doesn't really work out as a very good investment since it was only $20NZD (about £10) for a nights camping!
The jobs themselves vary a lot too – from cleaning rooms and making beds to waiting tables at the in-house cafe or even surf instructing.
Even without any skills in hospitality you'll usually have no problem finding a role to get your foot in the door.
If you have any other skills – like coffee making, photography, social media or marketing – let them be known as the more you bring to the table the better.
But again make sure they don't take advantage – hostel owners love free workers and a lot will try and get you to go above and beyond. If you've got specialised skills make it clear they come at an extra cost!
What Can I Expect In Return?
Work for accommodation is exactly what it says on the tin – you get a free bed in exchange for your work. In most spots that means a dorm bed, others a tent pitch – in some I've even had a private room…so it can vary a lot!
That being said most of the places I've done work for accommodation at have had some awesome perks with them that make them even better!
Take my hostel work in Byron for example – I did the courtesy bus top picks ups and as part of this I had to attract new customers too. For every non booked customer I got $1. Doesn't sound like such hey, but it soon mounts up and an extra $100 a week is always welcome! I also got the following included too;
Free meal each night at the in-house cafe
Free weekly bar tab at the in-house bar
Huge drink discounts when that ran out!
So that's food, booze and meals all included….3 of your biggest expenses on the road!
You'll also find that working for a hostel is a great way to network other discounts too, name dropping that you work at a hostel in town will usually get you discounts or even free trips with local suppliers. After all new faces in town will often chat to you and you'll end up passing on advice on where to explore and what to do – you're on the ground promo!
Use the fact you're surrounded by backpackers and travellers to get heaps of freebies – especially if you can rustle up groups of them to join you at a certain restaurant, bar or day trip – you'll more often than not be able to wangle you meals/drink/trip for free in exchange for this!
Some people dismiss work for accommodation without realising the added value it brings to the table so don't under estimate it!
How Long Do I Need To Stay?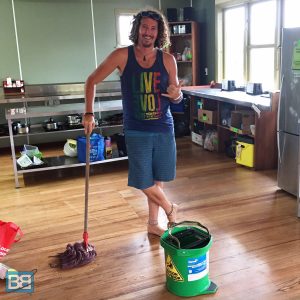 Most work for accommodation jobs have a minimum stay of around 2 weeks – but the longer you're kicking around the better really.
I worked at one job (yeah you guessed it, Byron Bay!) for nearly 7 months, which was saving me a minimum of $25 a night, up to $40 on public holidays – that's over $5,000 of free rent!
Some hostels do have a cap on how long you can work though, some spots in Raglan in New Zealand for example had a max work for accommodation stay of 6 weeks, so make sure you know what the rule are before making plans!
If you're in Oz or NZ and have a work visa it's pretty easy to juggle both work for accommodation and a paid job on the side too. My brother did this for a few months in Australia when he was running low on cash and he soon saw his bank balance bounce back!
Where Can I Do This?!
To help get you started here's some of the places I've worked for accommodation (or know where they offer jobs) – if you guys have any to add to the list let me know in the comments and I'll add them in!
Surf Berbere Surf Camps, Morocco
Montanita Spanish School, Ecuador
Aquarius Hostel, Byron Bay
Nomads Hostels (throughout Australia and New Zealand)
Raglan Backpackers
Solscape Eco Resort, Raglan
Kaiori Lodge, Raglan
Algarve Surf School, Portugal
Base Backpackers (throughout Oz and NZ)
Loki Hostels (throughout Peru)
Bottom line is work for accommodation is a great option if you want to sit tight in one place for a while, save some money and really get involved in the travel lifestyle. It's not for everyone as being in a staff dorm is a rather interesting experiences (personally I love it!) but if you score it right it can be an amazing experience and you'll make heaps of good friends.
Have you ever worked for accommodation on your travels? How did you find it?
Feel free to share your contacts below!