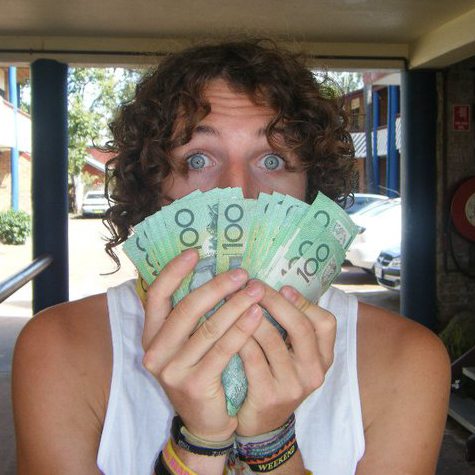 Well guys my new year has been off to an awesome start here in Montanita and I'm settling into my third year of backpacker travel nicely – with some epic adventures in the pipeline!
But the sites not all about me, I'm driven by the stoke you guys give me to keep writing! I receive heaps of amazing emails, comments and Facebook messages via the Fanpage from all you guys, asking for travel help, telling me I've inspired you to travel (it still baffles me that I get referred to as inspiring!hahaha!) and my readership has gone through the roof in the last year – there's now over 1,000 readers a day visiting the site which is amaze balls – so I thought it was time to run another competition and give something back to you all.
Luckily the guys at Webjet.com.au have come up trumps and collaborated with me to give you guys a chance at winning $250AUD worth of travel vouchers from them.
Yup – $250 big fat Aussie dollars worth of awesomeness to spend on flight or hotels worldwide!
…and it's open to EVERYONE – not just Aussies or for travel in Australia!
So what can I do to be in with a chance of winning I hear you cry?!
Well I'm keeping it dead simple this time – you just have to sign up for the Backpacker Banter Newsletter.
Just whack your email in the box below, hit enter and BOOM – you could be have a tasty $250AUD to kick start your yearly travels!
Newsletter
You obviously want to know what being subscribed to my newsletter entails before you whack your email in the box so I'll fill you in on what goes down on my monthly inter web slice of email fun;
Updates on my travels – you get the scoop on new travel plans first
Country of the month – each newsletter features one of my favourite countries, links to posts and an overview of why I think you should add it to your travel plans
Quickly monthly update – including where I am, where's next and how much I'm currently spending
Top posts of the month – what people are reading most
Exclusive competitions
Links to some of my favourite blog post reads
And as always I'm striving to make it bigger and better each month so I'll be adding new sections to it and if you have any suggestion send them my way!
Competitions entries close on 7th Feb 2014 at 9am GMT so get signed up quickly! And feel free to pass on the link to your friends so they can get involved too!
The winner will be announced the following week on the Facebook Fanpage – so make sure you head over there and click "like" too! …and the Webjet Fanpage as well!
Have an awesome weekend guys – and good luck!
Boring Legal Stuff;
Competition closes at midnight on 7th Feb 2014
I reserve the right to alter any part of the competition
Winner will be picked by me (Chris Stevens) and my decision is final
Prize is a $250AUD travel voucher for Webjet.com.au
Checkout must be in AUD
Voucher can be used for travel, hotels or flights
No cash alternative will be offered