Trying to figure out where to stay in Bali? From Ubud and Canggu to Seminyak and the Gili Islands – here's everything you need to help pick!
Bali – the Island of the Gods – is a hotspot for travellers from all over the world, from surfers and party goers, to yogis and culture vultures.
But the big question is – where to stay in Bali?
What areas are going to tick off all the top to dos for your style and of course budget?
Do you want to chill in Ubud with its laid back vibes and yoga culture or party hard in the hipster mecca of Canggu? Go for luxury in Nusa Dua or island hop over to the Gili Island for snorkelling with turtles?
If you're busy planning a trip to Bali and asking where to stay in Bali here's my guide to the main areas of this stunning island so you can figure out your perfect Bali itinerary.
[Tweet ""If you're busy planning a trip to Bali and asking where to stay in Bali here's my guide""]
Where To Stay In Bali – Find Your Perfect Slice Of Island Paradise!
Pick Your Spot – A Quick Overview
Best place to stay in Bali for the first time – Canggu
Best place to stay in Bali for partying – Kuta, Seminyak, Canggu or Gili T
Best place to stay in Bali for budget travellers – Kuta, certain parts of Canggu and Gili T
Best place to stay in Bali for luxury – Nusa Dua
Best place to stay in Bali for yoga and relaxation– Ubud
Best place to stay in Bali for island vibes – Gili T or Nusa Lembongan
Best place to stay in Bali for surfers – The Bukit Peninsular (advanced surfers), Kuta (beginners) or Lembongan (intermediates) …some people would also suggest Canggu but personally I'm not a fan of the waves there!
Canggu
If Kuta and Seminyak represent Bali's raucous and sophisticated destinations then Canggu is the hipster younger sibling and if you ask most people between the age of 18-25 where to stay in Bali Canggu is going to be at the top of the list!
Beyond the obvious draw for the surf-passionate who are drawn to fun breaks such as Batu-Bolong and Berawa, Canggu's allure, although very real, is hard to define. Whatever it is sunsets here do seem to be that little more vivid, its wonderful range of cafes are often awash with the effortlessly cool and the air of Zen is somehow heightened.
Eat Your Way Through Canggu
Besides Canggu's indefinable magic and magnetism, the town is a hotspot for foodies with enough cafes, restaurants and street food sellers than you could eat your way through in months.
Canggu is often remembered by its visitors as a full-on taste and culinary experience with an especially diverse range of choices and whether you want to keep the health vibes going with smoothie bowls or stick to the budget friendly local warugns you're not short on choice here.
Besides surfing and stuffing yourself silly in between sessions, Canggu is somewhere you can indulge yourself at one of the massage and spa venues spread along the main drag – Jalan Pantai Batu Bolong – or a great place to rent a scooter and weave your way through stunning vistas of rice paddies.
Just a little north is the famous Tanah Lot temple whose location becomes an island at high tide. If you come here with the idea of connecting with your spiritual side in tranquillity however it's not the best option – Tanah Lot is the island's most visited temple and at times it can feel like every man and his wife is here which of course attracts a circus-like horde of hawkers!
Canggu Beach Vibes
Of course this is Bali and so beaches – which are black sand here – feature heavily. There are stretches which are known for their hip vibes and cafe choices and spots where you'll find few others if you are happy to walk for 10 or 15 minutes.
Like Seminyak Canggu also has a fine selection of idyllic beach clubs such as the legendary Finns with its jaw-droppingly gorgeous infinity pool complete with swim-up bar and the Lawn with its tropical island castaway vibe and espresso martini sipping hipster crowd.
To take in one of those famous sunsets pick a spot and practically any spot will suffice but Echo Beach is a particular favourite. This is due in no small part to the high-set series of cafes which allow you to gobble up a view of the sky turning purple and glowing tangerine and watch the surfers catching their last rides of the day with an ice-cold beer or cocktail within reach.
If you prefer to combine sunsets with partying Canggu also has Old Man's beach bar – the very beating heart of the town's nightlife. Situated right in front of a surf break and offering some epic happy hour deals, Old Man's mixes up locals with those passing through and keeps them all smiling with a diverse live music scene with the messiest nights being 'Dirty Ol' Wednesdays.
Top Things To Do In Canggu
Learn to surf
Party at Old Mans
Enjoy heaps of incredible food
Take in some stunning sunsets
Best Places to Eat
Crate
Shady Shack
Bettlenut
Warung Noni
Compass
Best Nightlife Venues
Old Mans
The Lawn
Finns
Pretty Poison
Top Hostels
Top Hotels
Check out this awesome blog post for a full guide to Canggu!
Kuta
Ok ok I know Kuta doesn't have the best reputation, but bear with me!
However, for hard-core clubbers, lovers of DJ sets and those seeking out seemingly endless happy hour deals Kuta is THE place to be.
Bali's undisputed tourist centre, Kuta is loud and proud of it – life here is all about the beach during the day and letting your hair down once the sun sets. Cafes and restaurants of every kind crowd together for keeping the hordes refuelled in between doing whatever best suits their interest and hangover level.
Hit The Beach
While the sun sits high in the beautiful Bali sky Kuta's crowds gather around the sands and surf of a 12km beach which starts south of Kuta and stretches all the way north to Seminyak and Echo Beach. Topping up the tan with an ice-cold Bintang to hand (go see Presley at Action Surf, he's a great dude!) or grabbing a massage is a top priority for many while others opt for a spot of beach volleyball.
And then there's the surf.
While the more experienced tend to head south to the Bukit Peninsula for it's variety world-class breaks, those just starting out or in search of fun beach breaks will find what they need Kuta and Legian.
You can't go far in Kuta without stubbing your toe up against a surf shop (of both the tiny and surf-world super-brand variety), board-hire stall or used-board seller while surf camps, surf instructors and surf schools are ten-a-penny; no doubt there are thousands of surfers all over the world who rode their very first wave in Kuta!
Adrenaline Fuelled Fun
Water-lovers also have options for bonus fun with such things as the Waterbom Waterpark (soooooo much fun!) and the Flow House Armada.
Known as Asia's number one water-park and usually included in the world's top three, Waterbom is an incredible collection of water-slides where you can pick your own level of adrenalin injection. If scaring yourself silly doesn't register as a necessary inclusion in your day you can opt for the park's mellower rides which include a tranquil float through tropical gardens.
Ultimate thrill seekers tend to head straight for rides such as the Climax which involves a gut-wrenching drop through trap doors. The swim-up bar is ideal should you need a little liquid courage in preparation for those rather more hard-core rides.
The Flow House Amada's major draw-card is its Flowrider. One part surfing and one part skim-boarding with elements of skateboarding and snowboarding thrown into the mix, the Flow Rider attracts both the let's-give-it-a-go and the show-off pro crowd.
Kuta Nightlife
And of course after-dark fun is what Kuta is legendary for. Things tend to kick-off with sunsets at the beach and whether it is the beer, the general vibe or the west-facing position Kuta really does seem to have some of the most sensational sunsets you are ever likely to see.
Kuta's main strip – Jalan Legian – is a series of bars, almost all of them offering some kind of special and if you're smart you can hop from venue to venue according to the varying happy hours and enjoy a night out which registers as pocket-friendly on anyone's budget. In fact Kuta is one of the most budget friendly backpacker destination I've ever visited!
As the evening hours stretch on the clubbing scene wakes up with the biggest and most notorious clustered close together. At the heart of them all is the mega-venue Sky Garden which has an all-you-can-eat-and-drink special every day from 5-9pm (and yes, that's including alcohol).
Best Places to Eat
Crumb and Coaster
Warung Indonesia (my favourite local Warung in Indo and heaps cheap!)
Best Nightlife Venues
Skygarden
Alley Cats
Bounty
LXXY Bali
Top Hostels (click for latest rates and availability)
Top Hotels (click for latest rates and availability)
Seminyak
Seminyak is within a stone's throw of Kuta – literally just a 4km stroll up the beach for the energetic.
However, though technically neighbours these two destinations are as alike as chalk and cheese.
Stay Classy
Seminyak has style; its dynamic scene is put together from beach-front up-scale hotels, designer boutiques, elegant galleries and endless restaurants offering everything from cute, traditional and cosy to fine dining.
For the caffeine-addicted Seminyak also has a thriving and well-developed cafe culture so you'll never be far from high-quality no matter how much of a coffee snob you are. And alongside this there is a huge range of restaurant venues serving up everything from high end Indonesian cuisine to Mexican and Italian.
A Mecca for those in search of island retreat and spiritual well-being, Seminyak is the kind of place you come for a couple of days and then years later find yourself still there. Indeed this is often the story of the many ex-pats around town who now live the tropical dream, making ends meet by running small businesses in the area.
The whole island is something of a powerful magnet for the yoga-passionate who arrive here from every corner of the planet but Seminyak – along with Ubud – is considered yoga central in Bali. Almost every hostel and hotel in town offers some form of yoga and coming across folk twisting themselves into impossible positions is a common sight.
Everything is possible – total novices sign up for one day trials or go whole hog and disappear into yoga retreats for weeks at a time while those who want to teach sign up for yoga instructor training courses.
Getting pampered also features highly in Seminyak where its range of massage and spa choices are widely considered to be the some of the best Bali has to offer.
Chill With A Cocktail
Another thing which Seminyak has in ready supply is a wonderful collection of beach clubs.
Some of these are the stuff dreams are made of – the epitome of tropical chill for long relaxing days of sun, sand, ocean and good times and where pretty much all you have to worry about is what cocktail to choose from the menu. Luxurious daybeds, oversized beanbags, swimming pools (including some of the gorgeous infinity pool variety) and a choice of on-site restaurants are typically standard inclusions in these little slices of coconut palm-dotted paradises.
Should you choose to just hit the beach it happens to be the same lovely long sand stretch as Kuta but here you can find a spot to yourself to spread your sarong, catch some rays and listen to the sound of the Indian Ocean.
Seminyak very definitely has a night-life scene but it is typically more low-key than its Kuta neighbour.
Mega-clubs and partying until dawn don't tend to feature largely but that isn't to say there aren't possibilities if you want them. The exceptionally Instagrammable Potato Head Beach Club lays on some cool DJ sets after sunset and has earned something of a name as hosting some of the best parties around with diverse art, fashion and music events to boot.
Another hot-spot is the fabulous Ku De Ta Beach Club which epitomises party spirit. Here sunset sessions and after-dark hours see big-name international DJs helping to create a memory or two which tend to linger long after the white sands of Bali have been left behind.
Otherwise hit the beach bars until you stumble across your own personal definition of ideal whether that happens to be plastic chairs and thatch or something rather more elegant.
As the night wears on a little all kinds of hybrids spring up so what started out as a bar becomes a restaurant or a restaurant morphs into dance club. If things aren't wild enough for you make your way to Kuta which can dish up all you can handle.
Best Places to Eat
Warung Nia
Mejekawi
The Plantation Grill
Best Nightlife Venues
Ku De Ta Beach Club
Potato Head Beach Club
Red Ruby Club
Top Hostels (click for latest rates and availability)
Top Hotels (click for latest rates and availability)
Ubud
Ah Ubud, the hippie yoga destination famous for its sprawling rice terraces and monkey filled forests!
Ubud mesmerises; from traditional performances of dance, music and shadow puppets to its stunning rice terraces and from its ancient temples to its jungle-cloaked waterfalls. Hypnotic Ubud simply oozes the essence of Bali and has so much to see and do you could stay here for quite some time and merely scratch the surface.
This is your final stop on the Eat Pray Love trip after all!
Natural Beauty
Set in the mountains and surrounded by lush tropical valleys, much of Ubud's magic and tranquillity is derived from its proximity to nature and its incredible landscapes.
One of its principle crown jewels is the jaw-droppingly gorgeous Tegallalang Rice Terraces complete with green shades ranging from lime to emerald. Cut into the hillside, the rice terrace ponds flash in the sun and serenity infuses a vista of incredible beauty and timelessness.
Although these are the most famous of the area's rice terraces they are not its only ones. Simply ducking down lanes from the town's main streets will often lead to glowing rice paddies and green, river-woven valley vistas.
Heaps To Do
If simply gazing at the magnificent isn't enough for you Ubud's natural surroundings can be combined with some awesome adventure activities. Home to the Ayung River, Ubud is Bali's white-water rafting centre which, depending on the season and water levels, can range from a sedate, nature-surrounded float to a white-knuckle ride for those who need a bit of churning and catapulting to get their kicks.
Canyon tubing and jungle safaris by quad-bike are also on the menu while Ubud's giant swing which swoops out across palm-dotted jungle will give you the opportunity to get the kind of shots which make others sick with envy once you post them on social media.
Get Your Om On
At the complete other end of the scale, Ubud has become Bali's centre for spiritual, physical and emotional well-being.
If you are simply looking to rejuvenate or get pampered the spas here are arguably the island's best with gorgeous settings – perhaps right by a river bank or with sensational jungle views – where the soothing soundtrack is birdsong and flowing waters.
There are also meditation retreats while for the yoga-passionate Ubud is not just the country's top spot but considered by many to be one of the best in the world, perfect for everyone from total beginners to those looking for intensive instructor training.
While Ubud's treasures are plentiful it has some truly precious gems within the mix. One of these is the spiritually-infused 1,000 year old Goa Gajah which is part bathing pools and part meditation cave complete with ancient rock-carved sculpture and fountains which are said to grant eternal youth if you drink from them.
Another major Ubud highlight is the Monkey Forest where the shadowy and vine-draped jungle temples and their air of mystique could be straight from an Indiana Jones movie. The 'monkey' in the title is due to a population of hooligan-like macaques who steal sunglasses, cameras and anything else which isn't tied down and generally make an entertaining nuisance of themselves…so be on guard!
Shop 'Til You Drop
For some more cultured hours check out the vast array of arts and crafts available in Ubud too – it's packed full of galleries, art studios and art museums, many of which can be found along the main street.
The Ubud Art Market which is nothing short of a feast-for-the-eyes treasure trove is where you'll find the largest selection, most of the goods here produced by locals in the area. It's a great place to hone your haggling skills too so stick firm with your prices.
While no-one comes to Ubud in search of partying (a few lively bars are the most you'll get here) the town does attract foodies and with so many yogis and spiritual retreat-seekers around healthy choices are plentiful.
As a rural district warungs – those wonderful tiny and traditional food cuisine venues – are in good supply while there are even choices at the fine dining end of the scale. The caffeine addicted are also well-catered for with more and more cafes home to skilled baristas and owners who roast their own beans.
Top Things To Do In Ubud
Relax with some yoga
Wander around the monkey forest
Sunrise at the Tegallalang Rice Terraces
Bargain for trinkets at the local markets
Best Places to Eat
Warung D'Atas
Sacred Rice
Kubu
Best Nightlife Venues
Ubud Royal Palace
Laughing Buddha Bar
XL Shisha Lounge
Top Hostels (click for latest rates and availability)
Top Hotels (click for latest rates and availability)
The Bukit Peninsular
An entire blob-shaped peninsula jutting out at the bottom of Bali, the Bukit is almost an island in itself and liberally sprinkled with the kinds of idyllic beaches which Bali is famous for.
Ocean Views For Days
Much of the coast is cliff-fringed which means beaches are often accessed by way of climbs down, an aspect which can add considerable appeal at times with any number of tucked away and hidden coves just waiting to be discovered.
Spots like Balangan Beach, Bingin, Padang and of course Uluwatu all offer some epic spots to chill out and enjoy a swim in the crystal clear water.
The cliff element also makes for some incredible vantage lookouts for far-reaching Indian Ocean views of the stunning kind. Hotels, resorts, restaurants and cafes often make the most of this whole killer location set-up and perch themselves on the cliffs, pulling in the customers around late afternoon who gather with cocktail or Bintang in hand to watch the multi-coloured sunset spectaculars.
World Class Waves
And ocean views almost anywhere on this peninsula, particularly the west coast, will be sprinkled with surfers because the Bukit Peninsula is one of the top surf destinations on the planet!
Peppered with famous reef breaks such as Padang Padang and Uluwatu, the Bukit draws surfers from every corner of the globe in search of bath-water warm world-class waves with a tropical island vibe. It's certainly one of my favourite spots for sure!
Of course with such an array of beautiful beaches surfing isn't the only water-activity around.
There are some fantastic protected swimming spots and some top-notch snorkelling to be had too while things such as kayaking, stand up paddle boarding and diving are also on the menu of possible choices.
If you just want to beach laze your options are almost endless with everything from long stretches of sand with loungers and bells-and-whistles facilities to secret coves which if you are happy to get adventuring you might have all to yourself.
If flying above this sensational ocean scenery is more your thing the south coast of Bukit offers several places where you can put yourself in the hands of a paragliding expert and literally jump off the cliff!
Bukit Nightlife
When it comes to social scenes surfing is such an intrinsic part of Bukit that many of the most happening spots are centred around it – such as the iconic Single Fin on the west coast which is famous for its DJ set Sunday Sessions and has a vast balcony which overlooks the world class surf break of Uluwatu.
Otherwise some great restaurants, bars and cafes cluster around the most popular surf breaks too with a handful of warungs often thrown into the mix for feeding the active in between swimming and surfing sessions. If you're a seafood fan you should get yourself to Jimbaran where a series of restaurants dish up lobster, fish, squid and other straight-off-the-boat catches which allow you to dine by candlelight with the sand in between your toes.
Get Templed Out
While surf, sand and sun tend to rank as Bukit's principle draws the area has sights to see too, the most significant of these being the iconic Uluwatu Temple.
With the most sensational of settings, 1000 year old Uluwatu sits cliff-perched and proud and comes complete with resident monkeys whose only purpose in life seems to be tormenting tourists and relieving them of belongings. Come sunset folks gather round to watch the mesmerising Kecak dances – a traditional performance which involves trip-inducing chants, fantastic masks and fire.
Best Places to Eat
El Kabron Cliff Club
Oneeighty
Warung Bejana
Best Nightlife Venues
Single Fin

Omnia
Smoquee Lounge and Sky Bar
Top Hostels (click for latest rates and availability)
Top Hotels (click for latest rates and availability)
Nusa Dua
If you're looking for a bit more luxury and a little less bouncing around then Nusa Dua is the perfect spot to grab a sun lounger, relax by the pool or ocean and unwind.
This little stretch of Bali on the Bukit Peninsular is filled with luxurious hotels and is a great spot for families, honeymooners or those who are more at home chilling on an all inclusive hotel stay than negotiating the hustle and bustle of Balis streets and markets.
It does feel like a bit of a bubble here and if you're looking to experience the more cultural and authentic side of Bali this probably isn't the spot to head.
That being said if you want beautiful beaches, a bit more security and more relaxed vibes it's absolutely ideal and a lot of people use Nusa Dua as a base, opting for mini day trips to spots like Uluwatu, Kuta and Seminyak before retreating back to the sanctity of their hotel!
Although there are a few alternative options around the area for food and cheeky cocktails a lot of people head this way for the inclusive options, opting to stick to their chosen resort. However if you are feeling a bit more adventurous there are a few gems along the beachfront and a bit inland including local Warungs.
Best Places to Eat
Raja Bali
Soleil
Mr Bob Bar & Grill
Best Nightlife Venues
Agendaz Beach Club
Pica Tapas Bar and Churrasqueria
ZJ's Bar and Lounge
Top Hostels (click for latest rates and availability)
Top Hotels (click for latest rates and availability)
Mulia Resort
INAYA Putri Bali

Royal Maharani Nusa Dua
Gili Trawangan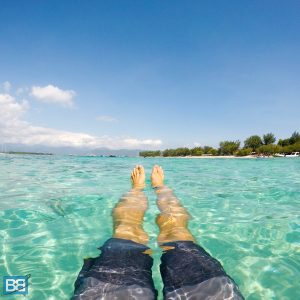 The Gili Islands collectively are the dream of bleached white sands lapped by sparkling turquoise ocean realised and in full-on breathtaking tropical glory. Sitting off the coast of Lombok and a 4 hours fast ferry from Bali, Gili Trawangan – usually just known as Gili T – is the largest of the island group and certainly the liveliest.
The main street with its mass of accommodations, restaurants, bars and stores can actually come as something of a surprise to those who had envisaged the destination as more Robinson Crusoe-like but the wonderful reality here is that you can have the best of both worlds.
Gili T can offer a party scene which can and does get wild but head inland and you'll soon encounter villages untouched by mass tourism complete with dusty lanes, wandering roosters and curious kids.
Find Your Own Slice Of Paradise
Head away from the named and most popular beaches, particularly along the west coast, and if you're looking for a foot-print-free slice of all-for-me paradise you can easily find it. Beach bungalows which allow you to nod off to sleep each night to the sound of the ocean are plentiful and within price ranges that suit every pocket.
Although Gili T's established infrastructure offers a diversity of things such as yoga, cooking classes, spa treatments and massage, bike rental and even a hike to an old WWII gun emplacement not surprisingly any time spent on Gili T tends to revolve around the ocean.
Snorkel With Turtles
The island is ringed by multi-hued coral gardens teeming with life so getting your head underwater to enjoy it is something of an essential activity here.
Plenty of beach stalls rent snorkel gear and some fantastic spots are accessible straight from the beach although sometimes getting in and out across sharp reef can be a little tricky at low tide. The island's major draw card is its abundance of turtles. Two species – green and Hawksbill – call these waters home and spotting them is not just possible but almost inevitable.
The best time to spot them though is certainly an early morning high tide – where you can watch them chill out and munch on sea grass before the hungover masses wake up!
Scuba diving is also big here with the best set ups – those GIDA associated – fully committed to conservation so whether you opt for a try-dive experience or full certified course you can do it guilt-free.
Besides the regular diving outfits Gili T also has several free dive schools which will train you to head into the depths without breathing apparatus of any description for the kind of awesome experiences which tend to fall into the once-in-a-lifetime category. I complete my Level 2 here with the crew of Freedive Gili and it's one of the best experiences I've had in Indonesia.
Eat, Drink and Party!
When it comes to refuelling or just simply pigging out Gili T seems to have it covered with everything from charmingly rickety warungs to sleek establishments serving both Indonesian and international fare with fresh-as-it-comes seafood featuring heavily.
Make sure you factor in at least one visit to the night market where you can feast on fresh and tasty food for crazily cheap prices.
Vegetarians, vegans and health-food fans are well-catered for too – as is often the case in destinations which have yoga schools and retreats – with a great range of juices and smoothies also commonplace.
Once the sun sinks the island's night-life scene starts to wake up with tons of absolute beach-front drinking venues which range from the reggae-music playing shack kind to chic lounges where cocktails are the order of the day. Most nights of the week morph into party night and if you're looking for the rowdiest places head south of the pier to find the island's clubs.
Best Places to Eat
The Roast House
Night Market
Pearl Beach Lounge
Best Nightlife Venues
Tir na Nog Irish Bar
Evolution
Sama Sama
Top Hostels (click for latest rates and availability)
Top Hotels (click for latest rates and availability)
Nusa Lembongan
While the days of Nusa Lembongan being a sleepy little island or the hippy hang out of a handful of surfers are long gone it still manages to exude a vibe infused with mellow.
Sitting in the Indian Ocean a short 20 minute boat ride away from Bali, Nusa Lembongan attracts a diverse range of visitors which means its accommodation covers everything from basic rooms beloved by the backpacker set to sleek boutique hotels and luxury options popular with honeymooners or those who want some tropical comfort.
Beach Life
Perhaps not surprisingly, Nusa Lembongan is best known for its dreamy beaches and while heading out to find your own little corner of tranquillity is what many do the island also has a collection of amazing beach bars which typically deliver helpings of elegant desert-island chic.
These allow you to enjoy lazy barefoot beach days with everything to hand whether your idea of the perfect moment means a beanbag on the beach, an ice-cold Bintang or frozen cocktail beside you, a choice of mouth-watering food on hand or a soundtrack made up of ocean song and chilled out music.
Ringed by ocean, Nusa Lembongan's top activities are all connected to the water…although to be honest this is a mainstay for most stops in Bali!
Hit The Waves
Just like in the early days before tourism boomed here the surfers still rock up, drawn by quality reef breaks like Playgrounds, Lacerations and Shipwrecks. So if you do surf make sure you bring your board – it's one of my favourite spots in Bali to paddle out.
The island also has some great kayaking and stand-up paddle board spots where calm sheltered waters and tranquil lagoons offer idyllic places to spend an hour (or several) exploring. Beautiful Mushroom Bay is one of Lembongan's favourite paddle board spots which has some great places to grab some food in between your water time.
Where watersports are concerned though Nusa Lembongan is best known for its diving and snorkelling. An established dive hotspot, there are several outfits here – offering everything from fun dives to PADI courses – where you can learn in an underwater wonderland of coral and rainbow-coloured fish.
Manta Rays For Days!
Besides the obvious appeal of snorkelling or diving in sub-aqua gardens the island has a special draw card – manta rays.
Lembongan is manta ray central and these giant, majestic creatures seem to be especially curious with divers and snorkellers. Floating in crystal waters as you're circled by these gentle giants, whose movements seem to be more balletic flight than swimming, tends to go straight into the unforgettable category.
Another watery adventure in Lembongan of a different kind is boating through its hushed mangroves. Filled with bird-life, this almost mystical area is a labyrinth of channels which is especially magical to explore on a paddle board.
Otherwise you can while away your island time with hiking, cycling or renting a scooter to explore the diverse scenery and the seaweed farms and even check out another island by crossing the bridge which connects Lembongan with Nusa Ceningan which is well worth checking out and has become incredibly famous in the last few years with the "T-Rex Beach" becoming an Instagram hotspot!
The island's nightlife tends to revolve around its spectacular sunsets. Find your spot, choose your drink and settle down for a display of electric orange ocean and sky. Things are low-key here. Some of the beach bars host events occasionally or maybe a full moon party, with weekend bonfires on the beach also a regular event in high season.
Best Places to Eat
Warung Putu
Nano Nano House
Oishii Bar and Grill
Ginger and Jamu
Best Nightlife Venues
Blue Corner
The Deck Cafe and Bar
Sandy Bay Beach Club
Ohanas
Top Hostels (click for latest rates and availability)
Top Hotels (click for latest rates and availability)
Have you decided where to stay in Bali yet?
If you've already been and have any suggestions leave them in the comments below!