Going travelling soon? Make sure you don't forget to budget for these 4 overlooked costs when planning your trip!
You're stoked for your first adventure away – your travel bucket list is packed full of amazing experiences, your bedroom is covered in maps and guide books and your internet browser is full of bookmarked websites and travel blogs.
You'd been checking out flight costs, you've narrowed down the countries you want to travel and you've been saving hard to top up your travel budget.
Basically you're well on the way to making your travel dreams a reality.
But there are always a few things that people often overlook until the last minute and unfortunately some of these will eat into your travel funds even before you've left for the airport!
So when you're planning make sure you keep these in mind and, most importantly, factor them into your budget!
Travel Insurance
There are bloggers out there who say travel insurance is something you can get away with avoiding. To be honest I think they're being ignorant and reckless with that advice.
Yes travel insurance can be costly (especially if you're heading out on a longer adventure) but lets be blunt here – hopefully it IS the biggest waste of cash on your trip – because that means you've come home in one piece!
But you'll be pretty glad you've invested in it if you ever need to make a claim though. Imagine the cost of breaking your leg in the middle of the Australian Outback or needing medical treatment in the jungles of Borneo – unless you've got some hefty savings it could totally ruin your entire trip!
You've only got to take one look at what my face looked like after my surfing accident to convince you that travel insurance is probably a good idea!
There are hundreds of travel insurance companies to choose from but take the time to compare WHAT they cover as much as HOW much it costs – paying £10 for a policy that wont cover your scuba diving course or white water rafting is no use!
Personally I use World Nomads for my travel insurance as they cover all the crazy activities I like to indulge in and you can even start or extend your policy online, even when you've already left the country. Perfect for those who forget to get it sorted before they leave or who want to travel for longer periods of time.
[Tweet ""You'll be pretty glad you've invested in it if you ever need to make a claim" #TTOT"]
Jabs & Vaccinations
I get a lot of emails regarding jabs and vaccinations – mainly people asking if they're worth it.
Again like insurance it's a case of being safe rather than sorry and the best quote I can use for this is that "prevention is better than cure".
It's down to personal choice is you choose to get heaps of jabs just in case though and it's best to consult your local GP or travel nurse to double check what you might need. Take your itinerary with you too as they'll need that info.
Just remember that you need to budget both money AND time for jabs too – as some will require a course of injections or tablets over a number of weeks before heading to your destination.
The exact cost of these will vary from person to person and country to country – but if you're travelling long term they're usually a good investment – especially things like Yellow Fever for South America as some countries may ask you for a copy of your vaccination records if you've been to hot spots recently.
[Tweet ""Just remember that you need to budget both money AND time for jabs""]
Visas
As a traveller the world of visas (pun intended!) can be an absolute nightmare – especially when it comes to more obscure places where visa regulations can change quickly.
Depending on your passport some countries offer free visas on arrival, others are free but you need to apply online before travelling.
Then there are others which need to be applied for before hand AND cost – it's those that you need to make sure you're aware of before you start bouncing all over the place as you don't want to turn up to a border after an overnight bus journey and be turned away!
Countries like Vietnam, India and even the USA all fall under this category (for a UK passport anyway) – a quick check online of the countries you're potentially heading to can save you heaps of hassle further down the line!
With visas in mind also remember that some countries can be pretty hot on needing proof of exit too. My little bro was nearly denied boarding onto his flight from the UK to Singapore as I had booked our onward flight to Indonesia and he didn't have a proof of his exit.
[Tweet ""As a traveller the world of visas (pun intended!) can be an absolute nightmare""]
Spending Money Abroad
The final major overlooked cost is how you'll be racking up this cost to begin with – spending money abroad.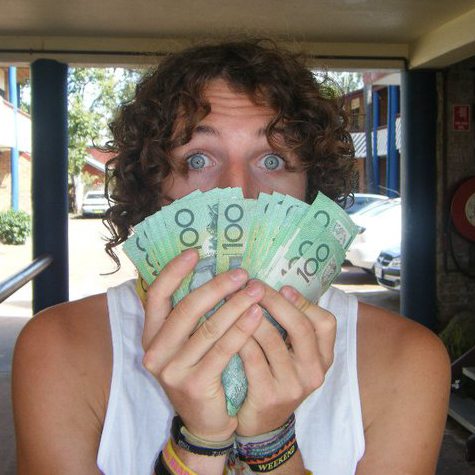 Gone are the days where things like travellers cheques are the normal, there are now a whole array of travel cards to help handle your money abroad.
For day to day spending cards like the Travelex Supercard (which has only just been released to the public after an incredibly over subscribed and popular launch phase!), the STA Cashcard and a range of bank cards like select ones from Halifax are available depending on how you want to manage your money.
For myself the STA Cashcard has been my go to for a few years now – it's easily managed online, covers all currencies worldwide and has some great built in security features, however I'm looking forward to swapping over to the Supercard in the next few weeks to see how that goes.
The big thing to keep in mind is exchange rates, ATM withdrawal fees and monthly account fees – find the one that best suits your needs.
If you're heading further abroad for things like a working holiday visa in Australia or New Zealand online currency transfer companies like Currency Fair offer much better international transfer rates than most banks – so they're worth checking out if you're moving large chunks of savings to help set you up for a life abroad. Check out this link to get your first transfer free too!
[Tweet ""keep in exchange rates, ATM withdrawal fees and monthly account fees""]
They Simple Solution? Be Prepared!
The bottom line with all this overlooked costs is simply preperation!
Spend some time doing some research to find the best solutions for you and make sure you don't leave it all until the last minute.
There's nothing worse than a delay in the post meaning you travel card doesn't turn up in time or finding yourself having to travel to the nearest consulate or embassy and paying for express visa processing because you weren't as prepared as you could've been!
It might seem like a huge pain whilst you'd rather be busy writing up your epic bucket list – but trust me, it'll lead to a much more stress free and enjoyable trip once you do jump on that plane!
Good luck!