Looking for some gap year routes to help start planning your next round the world adventure? Here are 7 of my favourite flight paths to help inspire you!
Planning your gap year can be a bit of a stressful process – the world is a big place and narrowing down the best gap year routes for you can take a lot of planning!
Having worked in the tourism industry for a number of year with the likes of STA Travel I've sent numerous people around the world – so it's fair to say that I've seen a few weird and wacky itineraries and gap year routes put in front of me…there are so many round the world flights to choose from!
Some range from the down right impossible right through to adventurous and enlightening.
If you're looking for some inspiration to start planning your around the world trip then look no further – I've put together my top gap year routes to show you what is possible.
They've been picked from real bookings and showcase top places to visit and heaps of exciting things to do along the way – so grab a pen and start making notes!
Just keep in mind there are limitless ways of piecing together your trip so use one of the following or pick your favourite stops and put together a custom trip!
Also as a quick tip for planning your gap year routes, did you know you can do an "open jaw" ticket?
This is a ticket that flies into one destination, but out of another – so you can overland in between two destinations or bounce around.
A great example of this is flying into Sydney and out of Cairns to travel the East Coast of Australia or into Bangkok and out of Singapore so you can bounce around South East Asia! These are represented by the // in each itinerary
[Tweet ""There are so many around the world flight routes to choose from""]
My Top Round The World Gap Year Routes
Gap Year Route 1 – New Asia, Old Asia and Oz
LON-BNE//SYD-BKK-TYO-LON
Head to the centre of the east coast and travel south throught the Gold Coast and Byron Bay down to the iconic opera house in Sydney via Bryon Bay.
After that you're Asia bounce to Bangkok where you can overland through the Thai Islands or loop around through Vietnam, Cambodia and Laos. Then hit tech central in Tokyo and the surrounding countryside for an epic contrast filled with and hustle and bustle.
Highlights
Kick back on the beach of Byron Bay
Talk a walk around the iconic Circular Quay and Sydney Opera House
Party hard on Khao San Road
Get down south and explore the stunning Thai Islands
Learn to scuba dive on Koh Tao
Take in all the glitz and glam of Tokyo
Discover the historic culture of Japan
Check out Mount Fuji
Flights Needed:
London – Brisbane
Sydney to Bangkok
Bangkok to Tokyo
Tokyo to London
Gap Year Route 2 – From Latin America to Island Vibes
LON-BUE//LIM-SJO-LAX-NAN-HKG-LON
Hit the infamous carnival in Rio before cutting across the heart of Brazil and the Amazon jungle. After exploring Peru and the south coast of Ecuador jump into Costa Rica and central american beach life.
Then enjoy exploring Hollywood before swapping the city for deserted islands and kava ceremonies in Fiji and finally jump back to a city metropolis as you explore the skyscrapers of Hong Kong.
Highlights
Get amongst the salsa dancing fun of Rio Carnival
Overland through the likes of Argentine, Chile, Bolivia and Peru
Roadtrip across the beautiful salt flats
Hike the famous Inca Trail to Machu Picchu
Take in the grandeur of Iguassu Falls
Soak up the beach vibes and surf lifestyle of Costa Rica
Explore tropical rainforest jungle and sled down volcanoes
Take a stroll down Hollywood Boulevard
Kick back on island time on the Fijian Islands
Explore the amazing street food scene of Hong Kong
Flights Needed:
London – Buenos Aires
Lima – San Jose
San Jose to LA
LA to Nadi
Nadi – Hong Kong
Hong Kong – London
Gap Year Route 3 – Asia, Australian Loop
LON-SIN-DPS-DRW//MEL-LON
After a quick stop in Malaysia hit the surf in Bali and explore the Gilli Islands then hop over to the capital of the Northern Territory in Australia.
Cage dive with crocs and explore the many national parks before cutting through the amazing red centre and Uluru before finishing at the Melbourne Cup. Alternatively you could head over to Cairns and make your way down the East Coast of Australia ticking off bucket list items like the Whitsundays, Fraser Island and the Great Barrier Reef.
Highlights
Start off with an Asian adventure – including Thailand, Malaysia and Singapore
Extend your Asian stay to include Laos, Cambodia, Vietnam and Beyond
Hit the famous waves of Bali
Island hop to the likes of Nusa Lembongan and Gili T
Hop across into the Northern Territory and famous National Parks
Make your way down the East Coast or through the iconic Red Centre
Flight Needed:
London to Singapore
Singapore to Denpasar
Denpasar to Darwin
Melbourne to London
Gap Year Route 4 – Africa, Asia and Australia
LON-CPT-PER//SYD-SIN//BKK-LON
Kick back and enjoy Cape Town before exploring the Garden Route and immersing yourself on the hunt to spot the big 5 on a South African Safari or embarking on an epic surf adventure along the South African coast before flying into the capital of Western Australia. Loop north to Monkey Mia and Ningaloo reef then catch the train across the Great Australian Blight into Adelaide.
Cruise the Great Ocean Road towards Sydney. Finally enjoy a taste of Asia and sip a Singapore sling on the way before overlanding up through Malaysia and Thailand before heading home.
Highlights
Hike up Table Mountain
Jump on a safari
Go shark cage diving
Explore the stunning Western Australia coastline
Including swimming with whale sharks and manta rays
Road trip along the famous East Coast of Australia
Grab your picture of the Sydney Opera House
Enjoy the Asian city vibes of Singapore
Overland up through Malaysia into Thailand
Island hope round the Thai Islands
Options to head into the likes of Cambodia, Laos and Vietnam too
Flights Needed:
London to Cape Town
Cape Town to Perth
Sydney to Singapore
Bangkok to London
Gap Year Route 5 – Worldwide City Vibes
LON-LVS//LAX-NAN-AKL-BKK//CNX-LON
Gamble away the night in Vegas before roadtripping via the Grand Canyon to the coast of California. Then soak up the island lifestyle of Fiji before diving the beautiful north island of New Zealand.
Explore the markets and city life of Bangkok and head up north for your final stop with stops in Paid and relaxed chillaxed jungle life in Chang Mai in Thailand.
Highlights
Take a spin on a roulette wheel in Vegas
Cruise down the famous "strip"
Road trip up to San Francisco and LA
Island hop around the stunning Fiji islands
Try a traditional kava ceremony
Explore both the North and South Island of New Zealand
Visit Hobbiton
Hike Franz Josef Glacier
Get your adrenaline on in Queenstown
Discover the glitz, glam and chaos of Bangkok
Explore amazing temples and jungle hikes form Chiang Mai and Pai
Flights Needed:
London to Las Vegas
LA to Nadi
Nadi to Auckland
Auckland to Bangkok
Chiang Mai to London
Gap Year Route 6 – Trans Siberian & Beyond
LON-DME//PVG-MEL-CHC-BUE//LIM-LON
Land in the ex-eastern block of Moscow before embarking on the epic Trans Siberian Railway through Russia and via Mongolia to Beijing. Overland through China's terracotta warriors and great wall to Shanghai before jetting off to the arty metropolis of Melbourne.
Then go Kiwi in New Zealand through ice glaciers and the adrenaline of the south islands before hitting up Buenos Aires – one of South America's greatest cities. Then it's overland via Chile and the Bolivian salt flats to the ancient inca trail and culture of Peru.
Highlights
Tackle the amazing Trans-Siberian railway route – from Russia through Mongolia to China
Discover the awesome culture and history of China
Explore the coffee culture vibes of Melbourne
Road trip the Great Ocean Road
Option to include a full East Coast Australia trip too
Head over to New Zealand and explore Queenstown, Franz Josef Glacier, Hobbiton and more
Bounce across to the sals filled vibes of South America
Fit in the Rio Carnival
Overland through the likes of Argentine, Chile and Bolvia
Hike the famous Inca Trail to Machu Picchu
Flights Needed:
London to Moscow
Shanghai to Melbourne
Melbourne to Christchurch
Christchurch to Buenos Aires
Lima to London
Gap Year Route 7 – The All Encompassing!
LON-BKK//SIN-MEL//SYD-AKL-NAN-LAX//NYC-LON
(My personal favourite and by far the most popular route!)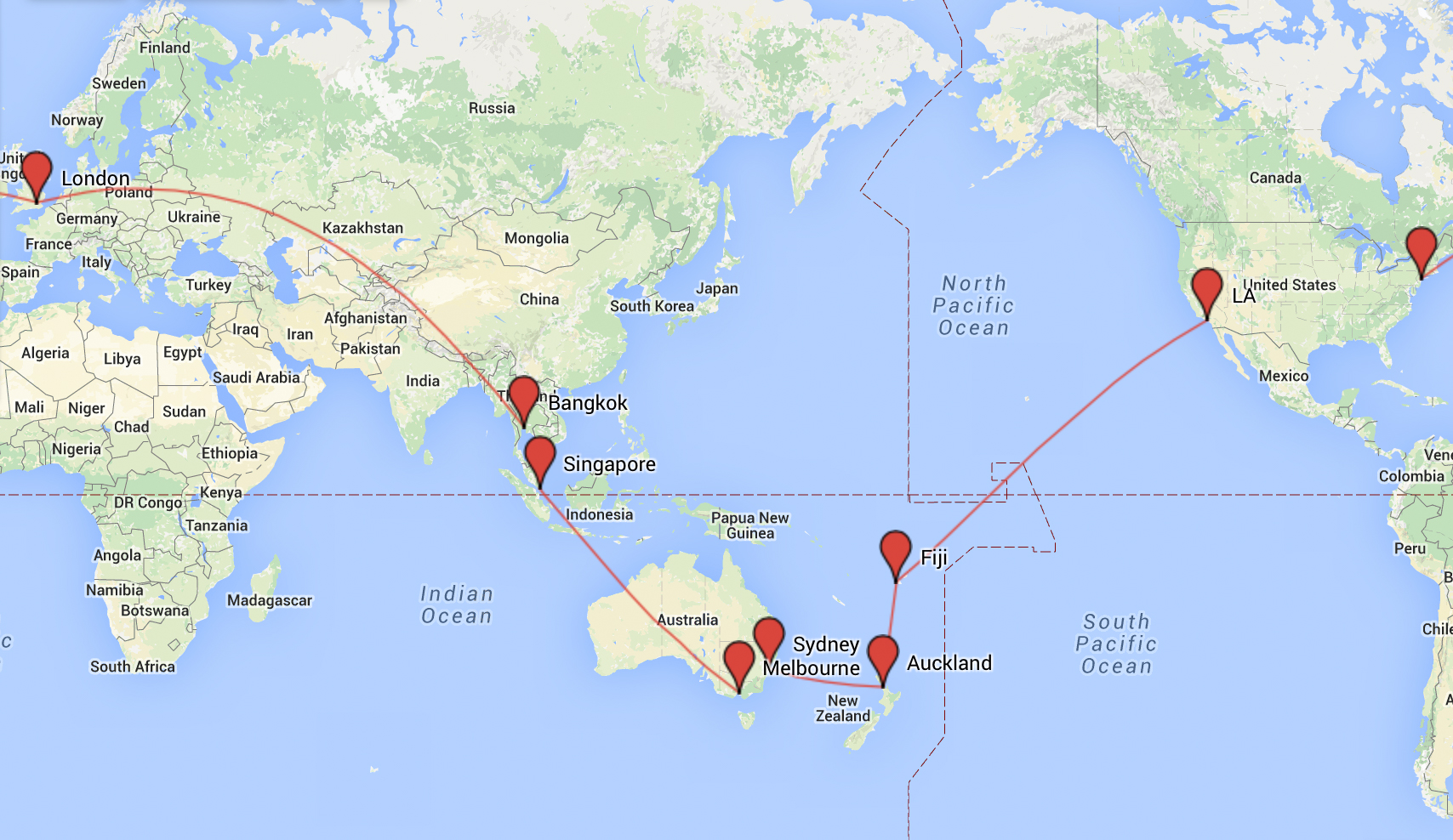 Start with the chaos of Koh San Road in Bangkok before keeping the party going at the Full Moon Party on Koh Phangan. Jump to the other coast for kayaking in the Phi Phi islands before hopping the border to Malaysia and the towers of of Kuala Lumpar.
Alternatively you could start by heading North into Chiang Mai over the border into Laos, down through Vietnam and into Cambodia before heading back into Thailand and going South.
Enjoy the glitz of Singapore before east coast carnage in Australia – inc. Whitsundays, Fraser Island and Cairns. Then it's the Maori culture of New Zealand where you can loop both the North and South Islands starting in Auckland, before taking some downtime island hopping in Fiji.
After some serious island time soak up some California dreaming before roadtripping across the country to the city that never sleeps: New York.
Highlights
Discover the beauty of South East Asia
Party on Khao San Road
Loop around the likes of Laos, Cambodia and Vietnam
Include the likes of Angkor Wat, Halong Bay and 7,000 islands
Overland down to Singapore via the Thai Island and Malaysia
Hop across to Australia and tackle the East Coast trail
Including Fraser Island, Whitsundays and Great Barrier Reef
Roadtrip the Great Ocean Road before finishing up in Melbourne
Then across to New Zealand – including Hobbiton, Franz Josef Glacier and More
…make sure you swim with wild dolphins in Kaikoura!
Island hop your way around Fiji
Finish off your trip in the USA tackling the famous Route 66
Flights Needed
London to Bangkok
Singapore to Melbourne
Sydney to Auckland
Auckland to Nadi
Nadi to LA
New York to London
Are you getting your around the world flight tickets locked in soon?
Any alternative gap year routes you're looking at?