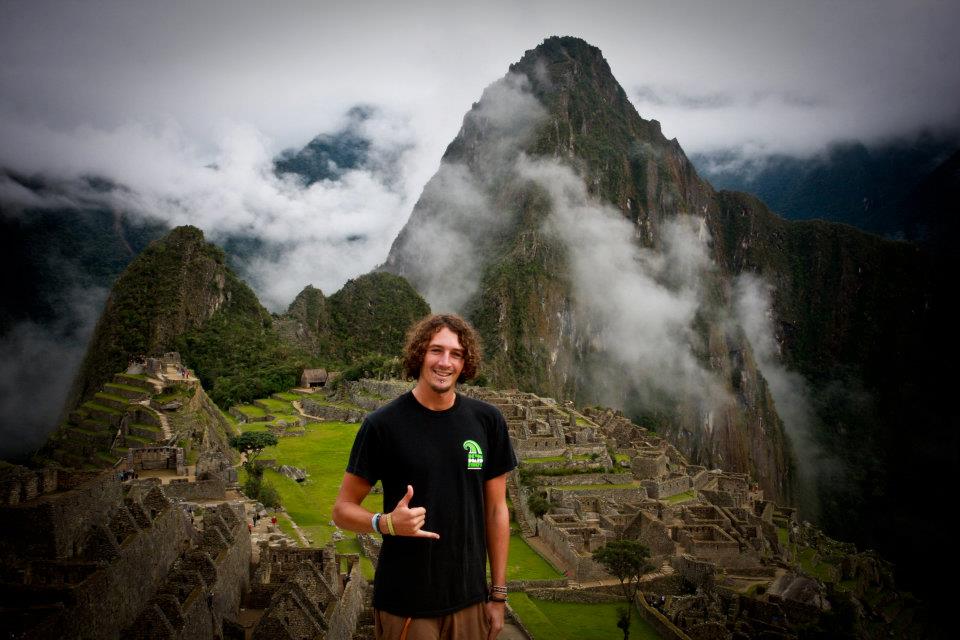 The last few years have been pretty epic on the adventure front, I've done heaps of things I never thought I'd get round to doing, let alone so soon!
As a result my travel bucket list has seen a lot of action, both adding things to the list but most importantly I've ticked off heaps! So I've decided to put together My Top Ten Bucket List Ticks – the things I've been most stoked about doing as a backpacker!
(you can also click on the links for more posts on that experience!)
The infamous hike to Perus Machu Pichu is surely something that features highly on many backpackers bucket lists and I was stoked to be able to do it at the beginning of the year when I hiked the traditional Inca Trail with G Adventures. It was by far the most challenging and rewarding thing I've done on my travels so far!
For most surfers Bali and Indonesia are a mecca, somewhere you have to visit and catch some waves. The upper end of that dream is to jump on a surf charter boat and sail around the more inaccessible reefs, catching empty waves in remote locations. I teamed up with the guys at Dreamweaver Surf Charter and scored some pumping swell around Bali and Lombok and it was everything I'd ever hoped it would be.
3) Van Life
Ever since I was young I've always wanted to live in a van by the beach. This was my top priority when I headed to Australia in 2009 and I quickly invested in one, chucked a bed in the back, built a mini kitchen, hit the road and lived in it for a year. It was everything I hoped it to and something I recommend anyone heading to Australia or New Zealand for a while does.
I thought this would stay on my bucket list for years before being ticked off. And I missed whale shark season in a couple of places I've visited over the years. But luckily in Thailand last year I got to dive with a 20foot whale shark off Koh Tao with the guys at Davy Jones Locker, everyone in the water that day was stoked as and it's something I'll never forget.
Another surf inspired one! Surfing is my life long passion and a couple years ago I finally got round to qualifying as and instructor. I started 2012 coaching in Ecuador and last winter I spent 4 months surf coaching in Morocco for surf berbere. Life as a surf coach is certainly more demanding than I first thought, but it's heaps of fun and certainly way better than working in an office!
6) Glacier Hiking in New Zealand
I finally got around to visiting New Zealand earlier this year (only 9months later than planned!) and whilst on the south island I got around to doing a glacier hike on Franz Josef. The experience of exploring this icy wonderland was incredible and squeezing through tiny ice caves was nothing short of breath taking, certainly one I'd urge you to add to your list!
Probably the first major thing I ticked off of my bucket list actually! I randomly booked a skydive within a week of my first backpacking adventure in Australia whilst in Cairns. I was so hooked on the rush I did another in Byron Bay later that year and did another one in Queenstown in New Zealand this year – i even managed to drag my Dad along for it too!
I honestly never thought I'd be able to afford the Galápagos Islands for a long time and on my first trip to Ecuador in 2007 I was gutted that I didn't bite the bullet and part with the cash. On my return last year though I booked it spontaneously and it's an amazing place to explore. The unique wildlife and beautiful beaches are like nothing I've seen elsewhere in the world.
Anyone with a tattoo will tell you they're addictive, so I've got a few planned. I also use them as a good reminder of the places I've visited and have got some ink from Spain, Australia and Peru. After visiting Thailand in 2011 I knew I wanted a traditional bamboo one and finally got round to it whilst living on Phi Phi last year – a sak yant design.
My biggest regret whilst in Australia was having a return ticket. It made me lazy and it was too easy ot head home (although in all fairness it did pan out very much in my favour!) so I vowed that I wouldn't buy a return ticket for my next adventure. For my latest backpacking trip I kept my word and booked a one way to Auckland with each section being flexible. Good job too as my travel plans changed a whole heap and I ended up spending more than 9 months longer on the road than planned before eventually making it to NZ!
What's the best items you guys have ticked off your bucket lists? Anything that didn't quite live up to your expectations?