Heading to the Maldives in search of surf or to explore a local island? Here's the complete guide to Thulusdhoo – including accommodation, budget and of course the waves!
Most people think that the Maldives is a pretty expensive place to explore, with a hefty price. But over the last few years tourism in the Maldives has evolved and it's now possible to travel the Maldives on a budget too – great news for anyone who had this island paradise on their bucket list!
The easiest way to explore the Maldives on a budget is to head to the local islands – with spots like Fulidhoo becoming increasingly popular.
One of my favourite local island though Thulusdhoo in the Kaafu Atoll and it was the first place I actually headed to on my first Maldives trip as it's one of the most popular surf islands in the Maldives.
So if you surf, love the ocean or simply want to kick back on a stunning Maldives island Thulusdhoo is certainly somewhere you should consider!
I roped in my local buddy Ni who lives in Thulusdhoo to help me put together the complete guide to Thulusdhoo island, with some epic insider knowledge and fact checking so you can start planning your trip here…
[Tweet ""if you surf, love the ocean or simply want to kick back on a stunning Maldives island Thulusdhoo is certainly somewhere you should consider!""]
Thulusdhoo Island – A Complete Guide
How To Get To Thulusdhoo
First off you're going to need to know how to get to Thulusdhoo. Now this might change if you're island hopping or staying at another resort beforehand, but the simplest and most common option is from Male.
You can easily get to Male from the airport, the local ferry leaves every 10mins and costs about $1USD.
From here the cheapest way of getting to Thulusdhoo is the local ferry from Male which takes 85 mins at a cost of only $3USD. These now depart from Male every day, however the times vary slightly.
Local Ferry (85 mins) departs Saturday, Sunday, Monday, Wednesday, Thursday @ 3:30pm
Slow Ferry (120mins) departs Saturday, Sunday, Monday, Tuesday, Wednesday, Thursday @ 2:30pm
Friday @ 10:30pm
Or if you want to get there a bit quicker there's the 25 minute speedboat ferries which cost $30USD and run multiple times daily – there are a few providers for this so if you're staying on Thulusdhoo most guest houses and hotels can arrange the best times for you.
[Tweet ""the cheapest way of getting to Thulusdhoo is the local ferry from Male""]
Where To Stay On Thulusdhoo
Thulusdhoo is pretty geared up for a variety of budgets and unlike islands such as Fulidhoo there is a pretty solid range of accommodation to choose from.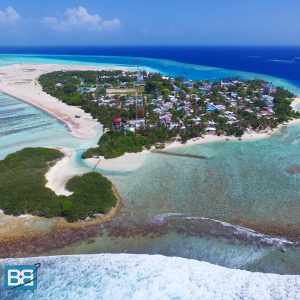 If you're heading there for waves there are a a few surf camp options, for those wanting more luxury there's a couple mid range hotels and those who want a more local experiences have plenty of guesthouses and even homestays.
Luckily pretty much everyone is switched on enough to be able to booking online – so check out some of my favourites and click the links to find out more and book!
[Tweet ""Thulusdhoo is pretty geared up for a variety of budgets""]
Surf Spots On/Around Thulusdhoo
When everyone thinks of the Maldives they usually envision tranquil lagoons and calm seas – which in a lot of areas is true – but the Maldives is also home to some absolutely world class surf too!
And one of the most famous breaks – Cokes – is right off the corner of Thulusdhoo Island, which means that this little slice of paradise is the perfect spot for surfers, especially those wanting to experience the Maldives on a budget!
And if you're heading this way for waves here are some of the top breaks in the area;
Cokes – Cokes is by far the most famous break in the area and is part of the island itself – accessible by a short walk over the iconic bridge (although be careful on it, it's not the most structurally sound!) and a short paddle out.
This fast, right hand reef break serves up some amazing rides and can handle some solid swell – with some epic barrel sessions for the experienced surfer.
Due to the shallow reef, heavy swell and powerful sweep it's only suitable for intermediate and advanced surfers.
Chickens – a short boat trip across the channel from Thulusdhoo Chickens is a pretty awesome left hand break for long boarders and more novice surfers on a smaller swell.
But don't be too fooled, it can handle a solid swell too and produce some amazing rides!
Ninjas – a slightly more mellow break (also referred to as Piddlies) Ninjas is one of the more beginner friendly and longboard friendly waves in the area and is best surfed at 4 foot and under and breaks much slower than most of the waves in the area. Perfect for learning and cruising!
Sultans – for those who want something a bit bigger and challenging this is the spot and it's certainly not one for beginners or low end intermediates! Handling some solid size get prepared for some awesome tube rides.
Breaking anywhere from 4 foot up it really starts to come into its own at 8 foot plus, however with this sizeable perfection often come the crowds and it's a favourite with surf charter boats in the area too.
[Tweet "" the Maldives is also home to some absolutely world class surf too!""]
Things To Do On Thulusdhoo (That Aren't Surfing!)
Yup, it's not just about the waves on Thulusdhoo, so even if you're not a surfer you can keep yourself busy. Or if you have a partner that doesn't surf you know they wont be complaining too much whilst you get your fill of waves!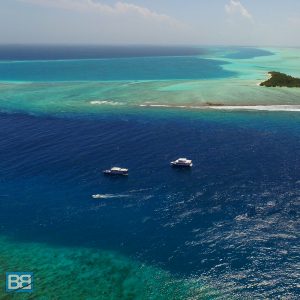 Tourist Beach – the islands tourist beach is the perfect place to top up your tan and the only bit of sand where you can get away with bikinis and boardies only. It's something the local Maldivian Islands have implemented to appease both the religious aspect of the country, but also the demands of tourism.
The lagoon here is also a great place for a snorkel and keep an eye out for all the hermit crabs scurrying around the shoreline!
Dolphin Watching – there are heaps of dolphins in the waters around the island (they can often be spotted from the surf) so if you want to get up close to them a few agencies on the island offer dolphin watching trips. They're not guaranteed though, but its a fun way to spend a morning on the ocean.
Snorkelling Day Trip – if the surf is pumping then the reefs around the island can be a bit choppy for snorkelling so jump on a day trip and head out to some of the calmer snorkel spots in the surrounding area. Definitely one everyone should do.
Surf Lesson – ok ok, so this is technically surfing, but more for those who haven't tried it before! The inside lagoon at Cokes is a fun spot to give it a try so go get your stoke on!
Stand Up Paddle Boarding – if the ocean is flat this is an awesome option, for fitness freaks it's an epic core workout, for the rest of us it's a nice tranquil way to explore the water and spot the baby sharks!
Scuba Diving – although not as famed for it's scuba diving as other local islands there are still plenty of dive sites surrounding Thulusdhoo. So if that's your thing get amongst it and see what lies beneath the surface too.
How Much To Budget For Thulusdhoo
So how much should you budget for your stay on Thulusdhoo?
Well obviously your biggest cost is going to be accommodation (which ranges form $50USD a night up) but this really depends on where you end up booking.
So aside from that here are some of the main costs you'll need to take into account for Thulusdhoo;
Local ferry from Male – $3
Speed boat from Male – $30
Budget guest house – $40
Mid range hotel – $60-100
Local style meal – $5
Western style meal – $10
Surfboard hire – $35
Surf lesson – $75
Scuba diving (certified, 2 tank dive) – $146
Scuba diving (introductory scuba dive) – $132
Dolphin watching trip – $25
Snorkelling day trip – $20-30
Sandbank Trip – $35
Fishing trip – $35
When To Go To Thulusdhoo And How Long To Stay
The best time of year to visit Thulusdhoo is really going to depend on your reason for heading this way.
Basically are you going to Thulusdhoo to surf, or because you want to visit a local Maldives island? Answering that could well change when you want to book your trip…
Surf season = March to October
Peak surf season = June to August
Best Season for weather = January to March
With eh above in mind, if you want to get the best of both worlds March is the optimal time, but be aware that the surf season doesn't run to a schedule, so you may well turn up and find it flat – or pumping.
But if you're planning a surf trip you already knew that!
With an average monthly temperature of 28 degrees you're not going to go too wrong whatever time of year you head to Thulusdhoo.
One thing I would keep in mind though is double check the dates for Ramadan (the Muslim fasting holiday) as all the local restaurants will be shut during daylight hours. You can still hit up the grocery stores and buy supplies to cook yourself, but it's something to consider.
And as for how long to stay…I guess that depends on the swell!
If you're not surfing though 4 days to a week is a good chunk of time before heading off to another local island.
[Tweet ""Peak surf season on Thulusdhoo is June to August, but the best weather is January to March""]
Travelling to the Maldives soon? Check out these other posts;
Have you hit up Thulusdhoo for surfing or simply exploring?
Any tips, costs or advice you'd like to share?