My cameras got a serious workout whilst I was travelling in the Philippines – so here's all my favourite pictures to inspire you to head their too!
To be blunt – the Philippines is incredibly beautiful and photogenic! If you travel and love photography it's an incredible place to visit and you'll find you leave with hard drives and memory cards crammed full of tropical goodness!
I must admit that lately I've been pretty lazy on the travel photography front – maybe it's being slightly jaded by some of the places I've travelled, maybe it's because this latest trip was going over countries I've already visited…or maybe it's just me being lazy!haha!
Whatever the reasons it all changed when I headed to the Philippines late last year – my cameras got a solid work out and I shot thousands of photos. Whether it was my GoPro Hero 4 being put through its paces in the ocean or my iPhone being pulled out of my pocket every few minutes there was so much going on that I couldn't help myself!
So I thought I'd have a good trawl through everything and put together a photo essay of my favourite photos to hopefully inspire you to whack the Philippines on your bucket list and head there for some serious travel treats!
Enjoy – as also you can click on any image to enlarge it!
Even as you fly into the Philippines you cant help but get stoked on the island paradise that lies below you – thousands of islands litter the blue ocean, surrounded by turquoise reefs…adventure awaits!
If palm tree laced beaches is what you crave then the Philippines doesn't disappoint – this empty stretch of sand on Siargao Island was the perfect spot for a sunset walk with my buddies.
Swimming with whale sharks was one of my highlights on my first trip – a 4 hour bus journey from Cebu in a town called Oslob. I was stoked to put my freedive skills to the test to capture some pics of this incredible creatures!
It's hard to convey the size of these gentle giants – their mouths couldn't easily fit you in whole!
Although I didn't visit too many wtaerfalls whilst travelling around the ones I did hit up didn't disappoint. This one – complete with lagoon – was on the way back from visiting the whalesharks and is a short moped ride off the main road. Well worth the short detour!
Believe it or not this is one of the main beaches in General Luna, Siargao – empty and with perfect views!
 I've never seen so many starfish whilst snorkelling! These bad boys litter the ocean around many of the islands and almost look fake!
The lagoon tour on Siargao Island was one of the best days of my trip. After meandering through the mangroves we stopped at this little wooden shack on stilts, it was slap in the middle of a lagoon and we had the whole place to ourselves for the entire day. Cooking up a BBQ, snorkelling and SUPing was a day well spent!
One of the non stinging jelly fish at the lagoon! These crazy little things dotted the water and were pretty mesmerising to watch, especially given the water clarity!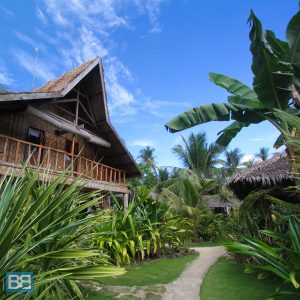 Throughout the Philippines you'll find some amazing accommodation, all without breaking the budget! This surf camp on Siargao was a few minutes walk from the ocean, situated amongst the tropical jungle and a double room cost less than £12 a night including breakfast! Bargain!
…or if you wanted to go a bit more up market £25 a night will get you this view – pool, palm trees and ocean!
 Yes, yes I know there's heaps of underwater shots in this essay but look how inviting the ocean is! It's like bathwater and perfect for a swim! 
 One of the best parts of the Philippines for me was the surf – Siargao was pumping whilst I was there! This is the world famous boardwalk at Cloud 9. If you surf it's a great wave, if you don't simply grab a beer and watch heaps of local and travelling surfers ride the waves – the perfect spot for sunset.
Believe it or not this was a crowded lineup in the Philippines – most morning it was just me and my buddies enjoying the waves at sunrise. Some spots (like Cloud 9) do get crowded but if you're willing to explore then there's heaps of empty lineups to be found.
Island hopping is going to be a running theme throughout your time in the Philippines and there are heaps of day tip options which take in a variety of islands, points of interest and budgets. Whichever you choose though you'll  get views like this!
Serious – how insane is the water clarity here! Make sure you pack your snorkel!
The island hopping trips are also a great way to meet heaps of fellow travellers, which is perfect if you're travelling solo. If there's a big enough group of you you can even charter your own boat.
If you can drag yourself away from the ocean for long enough there's some great lookout points throughout the island too. This is one of the more famous ones (google the Philippines and it's usually the top hit!) …if you're wanting to see it for yourself Tour A from Coron stops here!
My favourite day trip in the Philippines was Tour B from Coron which also took in a sunken Japanese wreck from WW2. The top of it sits at around 4m so it's suitable for snorkelers…if you freedive it's a great underwater playground to explore.
Not part of a tour, no a tourist hot spot – this was simply taken on a toilet break stop en route from Puerto Princesa to El Nido. Everywhere is a postcard in Palawan!hahaha!
 The locals are super friendly throughout the whole of the Philippines and I was stoked to see some still spear fish in the traditional way – including hand made spear, goggles and fins! I've got massive respect for their hunting skills underwater.
The result of an hours spearing! Seafood is a huge part of Filipino life. I don't eat seafood anymore since going vegetarian but almost everyone who did east it said it was epic and super fresh!
 See I do venture from the ocean sometimes! This is the entrance to the Underground River, just north of Puerto Princesa on Palawan Island. It's a world heritage site and one of the new natural wonders of the world. It's a bit of a trek (a solid day and a lot of waiting around) but well worth a visit.
The only spot I actually got to scuba dive due to the seasons we were out there was El Nido – and there's some great dive sites around. It's a bit of a trade off though a wet season has the best diving conditions, whereas the dry season brings in the plankton blooms and reduces the visability ALOT!
More lagoons and selfie goodness! This is the Big Lagoon on Tour A from El Nido – it was actually pretty busy there that day – I just bailed off the boat first and stormed ahead to avoid having heaps of people spoil my pictures!haha!
The Philippines is also the only place I've visited so far where I've shared the ocean with a pig! This dude just wanted to cool off in the midday sun, can't blame him either.
The Philippines is definitely all about island time and for me a lot of ocean time – so be prepared to spend your days being salty, sun tanned and relaxed…not that you're really going to complain about any of it!
Well I hope some of the pictures have tempted you to add The Philippines into your trip, it's well worth a visit and I'm already eager to head back there for a third time!  If you're looking for some tips on the best places to visit in the Philippines check out this post!