Want to know what it's like snorkelling alongside a 3m Manta Ray that looks like an alien?! Well I headed to the Yasawa Islands in Fiji to find out…
When I teamed up with Awesome Adventures Fiji on my first trip to Fiji they asked me if there was anything in particular I'd like to do during my trip.
Island hopping in Fiji is all about beaches and ocean –  given my love for the ocean, scuba diving and freediving I was super keen to check out what the waters of Fiji has to offer.
Fiji is famous for it's incredible coral reefs, abundant marine life – and is a hot spot for anyone looking for some serious scuba diving and snorkelling, including a huge range of epic liveaboards if you're not staying on the islands.
So when they suggested taking the chance to jump on some snorkel trips to cruise alongside some of the islands more famed aquatic residents there was no way I was turning it down!
Gentle Giants
My first big ocean encounter was whilst I was staying at Barefoot Manta Resort on Manta Ray Islands – now given the name of the resort and island I'm pretty sure you know what it's famous for…
Turtles!
No, I'm joking – it's manta rays of course!hahaha!
Now if you're not sure what manta rays are they're pretty hard to describe – they're pretty big (easily up to 3m in width), have wings (well underwater versions anyway!) and basically look like aliens!
Despite this bizarre appearance, size and of course a giant mouth they are in fact totally harmless.
They have no barbs in their tails like their cousins the stingray (I've stood on a few stingrays and trust me it hurts like hell!) and no big evil teeth – they are plankton feeders, hoovering up microscopic organisms in the water.
So yeah totally safe to be around, not that that would ever stop me from jumping in the water anyway!
Why Barefoot Manta Island?
Now Barefoot Manta Island is one of the most famous spots in Fiji to find Mantas due to its geography.
Between it and the neighbouring island is a channel which is pretty shallow (only a few metres deep for the most part) and because of this on the turn of the tides there's a pretty strong current rushing through this bottle neck – which of course flings heaps of plankton through it – basically it acts like a drive through fast food joint for mantas!
With that in mind the plan of attack for snorkelling with them was to simply be dropped into the channel at one end, drift with the current, get picked up at the other end and repeat!
Easy in theory, not so much in practice!
Since all the mantas are wild it's not guaranteed they'll turn up and they don't really have any time schedule either – so periodically throughout the day the Barefoot staff would take their boat along the channel to see if any were kicking around.
Once they are spotted they race back to the beach and pound a drum and with an almost war cry like "manta manta manta" .
…then chaos breaks loose as all the travellers on the island drop what they're doing, grab a snorkel kit and rush to the waiting boats!
Into The Blue
With the boat teeming with excitement and heaps of GoPros all locked and loaded it was a flurry of fins as everyone rolled overboard and into the water.
Now despite being told about the currents I was actually pretty caught off guard with how quickly the waters whisked you along and it was rather frantic trying to keep an eye out underwater, occasionally look towards our guide and swim all at the same time!
All my concerns were quickly dissolved amongst the salt water though as a huge manta ray loomed out of the blue directly towards me – it's gaping mouth hoovering the water up with effortless grace.
As the manta sat in cruise control, barely flapping its "wings" to glide along against the current, us mere humans were left scrambling to stay in one spot and it took all my swimming prowess to even begin to keep up and – despite my best efforts – it slipped back into the blue almost as quickly as it appeared.
And so the conveyer belt began as we all scrambled out of the water, back on the boat and back towards the mouth of the channel to repeat it all over again!
Patience Pays Off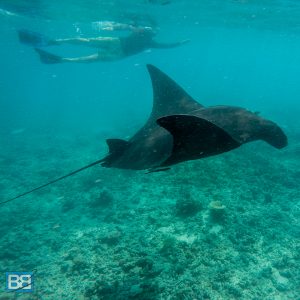 On our second run I opted out of jumping back in the boat, instead swimming to the side of the channel and avoiding the current, slowly making my way up.
And my patience totally paid off.
As the others were sat on the boar heading back to the starting point me and a buddy found ourselves cruising alongside yet another manta.
Without the flurry of fins, arms and selfie sticks we kept pace for a good 5 minutes as this incredible creature rollercoastered up and down in the current less then a metre away from us. She seemed totally unphased by our presence and I was truly stoked to join her for lunch!
As the main group flowed down towards us she stuck around for a while longer, allowing everyone to spend some time alongside her before gliding back into the deep.
I left the crowd to try and keep up, having snapped my footage in a more peaceful moment!
Barefoot Manta
If you're heading to Fiji and out into the Yasawa Islands snorkelling with these oddly beautiful creatures should certainly be on your bucket list.
The team at Barefoot Manta are tirelessly working on manta conservation, tracking individuals and patterns to help understand an incredibly mysterious creature and the manta eco tourism helps fund their efforts – which is always a good bit of ocean karma!
There's not too many spot in the world where you can have the opportunity to get so up close with them so close to your accommodation either so it's the perfect spot to balance island paradise with some superb slices of nature, without risking a wasted day trip into the open ocean.
Have you ever swum with Manta Rays – how did you find it?