Siargao in the Philippines is famed for epic surf – so here's my guide to getting there, where to stay, what to do and of course the which surf spots to hit up!
Siargao Island in the Philippines has instantly become one of my favourite travel and surf destinations. The perfect mix of warm water, island time, tranquility, aloha vibes and, of course, epic surf breaks.
This tiny island in the East of the Philippines is often described as Bali 30 years ago.
For me, as a surfer, it was a highly anticipated stop during my travels in South East Asia and I'm super stoked to say it didn't disappoint, in fact, it was even more incredible than I imagined.
For those who want to learn to surf or simply enjoy a beautiful island in this part of the world I highly recommend adding this to your Philippine itinerary.
So here's my complete guide to surfing in Siargao – how to get there, where to stay, what to do, how much it'll cost and, of course, where you should be paddling out to enjoy some waves!
…and don't worry if you're not heading there to surf there's a good spot of non surfing guidance in this post too!
Siargao Island – A Complete Guide (2019 Update)
How To Get To Siargao Island

Nestled in the South East of the Philippines there's a couple of ways to get yourself to Siargao but the easiest and fastest route is from Cebu – and you can fly there from pretty much anywhere in the Philippines as it's the main airport in the centre of the country.
From here you can grab a flight with Cebu Pacific, with a return costing around £30.
2018 UPDATE: There are now daily direct flights from the capital, Manila, which make it even easier to reach Siargao.
CebGo (part of Cebu Pacific) runs twice daily at 9:35am and 12:30pm and SkyJet flies at 9:50am.
Keep in mind if you're flying in internationally and on a different ticket onwards to Siargao you'll ned to collect your bags and re check in for your next flight, so give yourself plenty of time.
Also getting between terminals in Manila is a nightmare so keep that in mind too!
One warning with flying into and out of Siargao – because the airport still hasn't been fully upgraded planes are unable to land in bad weather or visibility, so flights can often be cancelled. In fact my flight out of Siargao was cancelled and I couldn't get off the island for 4 days (not that I was complaining much!) and in wet/monsoon season (late November to February) I did hear stories about people being stranded there for 2 weeks or more!
So if you're flying back to Cebu and then grabbing an important or international flight I suggest leaving a couple days leeway and keeping an eye on the weather just in case!
…still, if you want to come and enjoy pumping surf it's something you'll have to deal with. It's totally worth the risk!
Alternatively there are options where you can get connecting ferries and flight via Suriago (careful when you're booking flights as it's spelt very similar and you could easily get confused!) but it doesn't come highly recommended.
Where To Stay On Siargao
Although Siargao itself is still a relatively quiet place (see the footnote at the end of this post!) the surf tourism here (with the fame of Cloud 9) has resulted in a good array of accommodation, so no matter what your budget or comfort level there's something to suit.
I chose to base myself in the General Luna area as it has easy access to a variety of waves, a good selection of accommodation, beginner surf camps and a good choice of places to eat too.
If you're looking to head that way yourself these 3 accommodation options pretty much cover all bases and price ranges;
Kermit Siargao Surf Resort – I spent the majority of my stay at Kermit which is an amazing surf camp run by a super friendly Italian dude called Gianni. It's nestled in amongst the palm tree forest and a couple of minutes walk from the beach.
If you want to be surrounded by fellow travellers, get stuck into some surf lessons and have everything in one nice easy package where you have a bar, restaurant and people that can organise your day trips then this is the place to head. There's a great vibe going on here and daily surf excursions for you to tag along with.
If you fancy a bit of a party this will set you up nicely too – a single rum and coke cost 60PHP (about 90p) whereas a triple is only 40PHP…about 55p!
Rooms start at 800PHP (roughly £11.50) if you're on your own or you can also get a room with 2 double beds for 480PHP per person (roughly £7.50).
You also have the option of bundling together a week long Siargao Guided Surf Camp starting at £340pp or a Beginners Surf Camp from £355pp which includes accommodation, lessons/guiding, all your transport and daily breakfast. (See the learn to surf section for more details)
Check out my full review of Kermit Siargao Surf Camp here.
Pesangan Surf Camp – Due to Kermit being full during my extended stay I also spent a few nights here. It's much quieter than Kermit as it only opened in August this year but each private room comes with an en-suite and a pretty powerful ceiling fan so you'll sleep pretty comfortably. It's only a minutes walk to the beach (if that!) and is a slightly cheaper option too.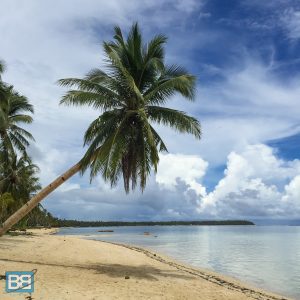 Double and twin rooms here are 950PHP (roughly £13) per fan room and includes breakfast.
2018 Update: Since being taken over by new owners Pesangan has now double in price and extended to include a pretty cramped dorm room as well. Prices now exclude breakfast and to be honest my stay there in 2018 wasn't half as pleasant.
Romantic Beach Villas – Based alongside Pesangan this is a slightly more upmarket option, but it's beachfront and comes kitted out with a pool! I actually discovered this place whilst walking along the beach and my buddy said we should eat there. The food here is incredible (seriously, try out their pizzas!) so even if you don't stay come grab a bite to eat and soak up the beautiful views.
Rooms start at 2300PHP (roughly £33) for a garden view with fan or 2700PHP (roughly £38) if you want the ocean views. A bit more pricey but if you have some cash to splash or want something a bit more upmarket it's a solid choice.
The Surf Spots On Siargao
The main draw of Siargao for most people is the surf – the island is famed for the numerous world class waves that surround both Siargao and the neighbouring islands. If you want reeling, hollow reef breaks or simply want to experience the vibe and get involved in a beginner surf camp Siargao is the Philippines surfing hotspot!
Although a lot of the waves are the perfect playground for intermediate – advanced surfers there's also some option for those looking to learn to surf too.
So what kind of waves can you expect? Well here's a sample of what Siargao has to offer…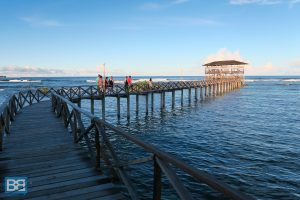 Cloud Nine: Easily the most famous waves in Siargao this spot put the Philippines right onto the world surfing map. It can get heaps busy and very heavy too, a solid A frame peak that barrels left and right. If you're a beginner steer well clear, but it's a great place to watch the locals and pros tear it up!
Quiksilver: Cloud 9s next door neighbour, and often under rated, Quicksilver is named for its speed, not the surf brand! Mainly a right hander, but with a shorter, occasional left it's best to hit up during mid-high tide and the perfect spot to practice.
Tuason Point: Easily accessible. It's a very powerful wave breaking over a shallow reef. The wave is one of the best lefts in the island, however it only starts to work at 3 feet. Best at high tide – low tide can be dangerous since it gets pretty shallow in places. No beginners wave.
Little Pony: Just around the corner from Cloud 9 is a spot called Jacking Horse, further into the beach it reforms at a spot named Little Pony which is the perfect spot for beginners and those wanting to learn to surf.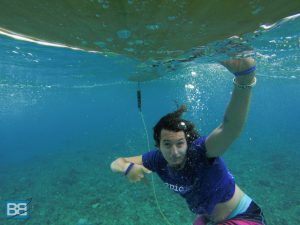 Cemetery (Sometimes Know As Pesangan): Around the General Luna area is an outter reef, about a 15 minute paddle off shore across the lagoon (you can also get a boat out if you're feeling lazy!) with a number of peaks. It can handle a solid size but is pretty forgiving and usually pretty empty too.
Guyam Island: In front of General Luna is Guyam Island, accessible by boat (a great spot for a day trip if you're not surfing) and theres heaps of breaks behind it, so take your pick! Best on low to medium tide.
Dako Reef: Possibly my favourite wave in Siargao and perfect for longboarders! It breaks over a deeper reef so it's a great introduction to reef surfing and is situated in front of Dako Beach. Can handle some decent size but also a good learner spot and so can get a bit crowded. Get out there for a dawn patrol around 5am and you can have an empty lineup. About a 200PHP (£3) and 10 min boat journey from General Luna.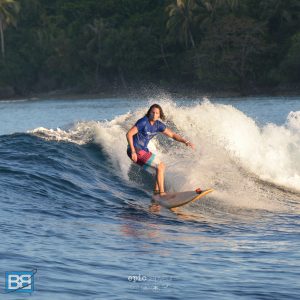 Dako Corner: A short hop from Dako Reef this right hander is almost a point break but isn't for beginners. Try not to get caught on the inside if there's some size to it.
Rock Island: Another of my personal favourites. Accessible by boat from the beach next to Cloud 9 this right hander breaks off an island. Best at low to mid tide with little wind expect some barrels when the swells pumping
Stimpies: Next to Rock Island this is basically the left hand version of it, again you'll need a boat form Cloud 9 to surf it and low to mid tide. Can handle all sizes of swell.
Pacifico: This long, hollow left breaks is about an hours motorbike drive from General Luna and breaks over a rocky reef, heaps of fun on a good day!
Pilar Left: Another solid left hander wave that breaks in front of Pilar. When the wet season wind comes in from the north this is the spot to hit.
…of course there's heaps of other reefs and breaks scattered around Siargao and the surrounding islands so you're pretty spoilt for choice – grab a motorbike and boat and go score some epic waves!
Learn To Surf On Siargao
I know not everyone surfs all the time or is confident paddling out at reef breaks or in strange places – but if you're heading to Siargao I suggest you at least give it a try and tick it off the bucket list!
Luckily the island isn't all heavy reefs and there's a couple of packages for those looking to learn to surf or who want to improve their skills and be shown around the best surf spots for their level.
Beginner/Learn To Surf Camp – week long package which includes all your accommodation, transport, airport transfers, breakfast, surf equipment and of course instruction. So if you're never surfed before or still want a bit of a helping hand from an instructor tackling your first reef breaks this is a great option.
The week long package starts at £355pp and you can book it with just a 15% deposit. Click here for more details.
Guided Surf Camp – if you're already pretty confident out in the water and simply want a week of being shown around the islands best breaks this includes everything you need; airport transfers, accommodation, transport, surf equipment, breakfast and an expert local guide. All you have to do is bring your boardies and be ready to ride some amazing waves!
The week long package starts at £340pp and you can book it with just a 15% deposit. Click here for more details.
Hiring/Surf Lessons – alternatively you can just hire surfboard whilst you're there or do a couple of stand alone surf lessons. An hours surf coaching including board hire is 750PHP (just over £10) for a 1:1 lesson. You can also hire a surfboard (I used Kermit Siargao Surf Camp) for 300PHP a day, about £4
Things To Do On Siargao (That Aren't Surfing)!
Even though surfing is one of the main draws of Siargao there's a good selection of day trips and things to do – whether you want a lazy day, the surf isn't brilliant or if you're travelling with non surfer (or you're simply not heading to Siargao to surf!) this island plays host to some incredible natural beauty and places to visit, so you won't be short of ideas to fill your Siargao itinerary with!
Island Hopping Trip – If you want to check out some more of the neighbouring island around Siargao the day long island hopping trip covering Naked Island, Guayam Island and Daku Island is a solid excursion and will leave your camera crammed full of pictures of beautiful beaches, clear water and palm trees!
It costs around 750PHP (just over £10) but that also included a really solid lunch of fresh seafood, salad and local cuisine on the beach.
Magpopongko Rock Pools – about 45mins-an hour north of General Luna are the Magpopongko Rock Pools. Best visited at low tide (for obvious reasons) it's a fun place to spend a few hours snorkelling in the clear pools and some easy cliff jumping.
Not the cheapest activity due to transport costs this will set you back around 700PHP (about £10) split between 6 people, but obviously the more you get in o the trip the cheaper it becomes!
Beach Life – take your trip back to basics and simply spend a day chilling on some of the beautiful beaches around Siargao – it's not hard to find a stretch of it to call your own and the warm, calm water of the main lagoon are the perfect spot for a relaxing swim. Kick back and enjoy a slower pace of life soaking up the views!
Totally free!
Cloud 9 Boardwalk – whether you surf or not heading up to the world famous Cloud 9 Boardwalk for some sunset beers is something you should pencil into your trip. The 3 tier structure gives you the perfect view over this hollow waves and watching the locals tear it up whilst you enjoy a cold drink is a great way to finish off the day!
Best of all – it'll only cost you beer and taxi money!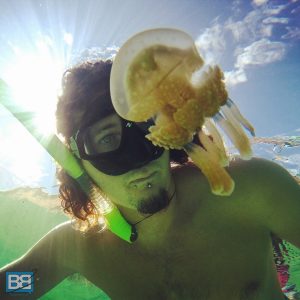 Lagoon Trip – this was easily my favourite day trip during my time in Siargao . After taking an outrigger boat through the mangroves you turn a corner and find yourself in an emerald lagoon, with a wooden stilted shack in the centre that becomes your base for the day. Snorkel alongside the entertaining jellyfish (don't worry there aren't heaps!), grab a SUP, chill in a hammock or simply have a relaxing swim…this day is pure island time and a stunning place to spend the day.
At 1,000PHP (about £15) this is the most expensive trip but its a solid day including lunch and well worth the splurge.
Fishing – I'm not a massive fan of big game fishing but if that's your thing the waters of Siargao are famed for their tuna and marlin. Do everyone a favour though and make sure you do it catch and release – unless of course you plan on eating it for dinner yourself.
Jungle Disco – when the sun goes down on a Tuesday and Friday the jungle around General Luna plays host to the jungle disco. After a few beers at your resort it kicks off around 11pm. It is fuelled by cheap rum and bass laced tunes. Try not to party too hard though , wouldn't want to miss the dawn surf patrol the next day!
How Much To Budget For Siargao
Staying on Siargao shouldn't really be an expensive affair, but it depends how long you want to spend there and how much you want to cram into your time!
Meals will set you back around 150-250PHP (roughly £3.50) and a beer is about 50PHP or 35PHP during happy hour (that's about 50-80p) and as I already mentioned you can grab a triple rum and coke at Kermit for 40PHP (about 55p) all day long!
Transport wise If you're basing yourself at General Luna like I did an airport shuttle will set you back around 200-300PHP (around £4.50) each way, a boat to Dacu Reef is around 200PHP per person (about £3) and a motorbike taxi to Cloud 9 will be about 30PHP (less than 50p) so even the transport costs, if you don't hire your own motorbike, are super cheap too.
If you want total freedom though it's easy enough to arrange motorbike hire through your accommodation and although I don't know the exact price per day it's safe to say this won't blow your budget!
When To Go To Siargao And How Long To Stay
Like a lot of South East Asia Siargao has a pretty well defined wet and dry season. The dry season runs from March to mid November and the peak of the wet season (aka monsoon season!) is late November to February.
If you're heading to Siargao for surf you can pretty much get away with visiting anytime of the year and score some good waves. Peak swell season is definitely in the wet season though and the weather will leave the lineups a little less crowded. During this part of the year the swell and surf is pretty solid so if it's waves you're after be prepared to get a bit damp!
I headed to Siargao in mid-late November at the beginning of the rainy season and scored heaps of sunny days and good waves, so this cross over period balances out the best of both worlds.
Of course if you're heading there for a surf camp or to enjoy the non surfing side of Siargao then I'd recommend hitting it up in dry season.
And how long should you stay? Well I guess that depends on how long you have!
7-10 days gives you plenty of time to soak up the surf, take a few surf lessons and cram in some day trips too. Island time will certainly suck you in though and no matter how long you stay you'll wish it could be longer!
BEWARE, Paradise has changed!
I first visited Siargao back in 2014, when it was still well off the tourist radar and pretty much just a playground for travelling surfers looking to avoid the crowds in Bali. In fact it was described as Bali 30 years ago by most people I met and certainly had that chilled, laid back vibe I was hoping to find.
I've since returned a few times but after my experience in late 2018 I'm not sure I'll be returning anytime soon.
Since the direct flights opened up from Manila, coupled with the closure of Borocay and a big government push on tourism to the island (I've heard rumours this is fuelled by a big land buy up by people in the know) the island has exploded in popularity and to be frank, it's not coping with it.
Accommodation prices have more than doubled in some spots (included where I stayed at Pesangan), food prices have increased, Kermits is now booked up a good 2 months in advance with a huge waiting list for eating each night and the island has gone from chilled paradise to Thailand style beach chaos!
In fact we could barely moor our boat at Guayam Island on our day trip (we had to wait for a spot) there were that many day trips going on!
And as for the surf? Well good luck with that!
Both Rocking Horse and even Quiksilver are now packed with beginners surf lessons and other spots are getting really overcrowded too.
The only way I found to escape the crowds was a dawny surf mission across to Daku – but with one take off spot that's probably not as feasible now either!
So although a lot of this post and other posts on the Internet paint the picture of Siargao being this gorgeous, sleepy surfer island please be aware that it is developing rapidly and has certainly lost a lot of the off the beaten track charm is once had.
Other Siargao Posts
Phhhhheewwww an there you have it, my complete guide to surfing and generally making the most of Siargao! Hope it helps you plan an epic surf trip, I can't wait to get back there!
If you're still not convinced though check out my 10 photos that prove Siargao is an island paradise!
And if you're looking for some other places to add to your Filipino travels plans check out this post on the best places to visit in the Philippines…which includes Siargao of course!
Any tips, costs or advice you'd like to share?