Looking for an epic group tour in Bali? Here's how I got on with the Tru Travels 10 Day Bali Adventure covering Canggu, Ubud and Gili T
Bali is one of the top travel destinations in South East Asia at the moment and for good reason – it's packed full of culture, adventure, amazing cuisine and a whole variety of places to explore, simply put – there are lots of things to do in Bali!
So I jumped on the 10 Day Bali Adventure with the TruTravels crew to find out if their Bali tours are a good way to discover more of what this part of Indonesia has to offer…
REVIEW – TruTravels 10 Day Bali Adventure
Where Do You Go?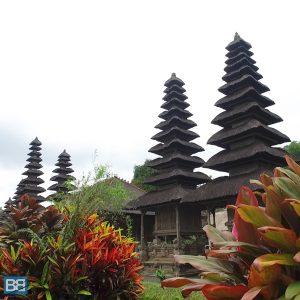 One of my favourite parts about the TruTravels Bali Tour was the fact it focused on 3 key spots, with 3 nights in each. This gave you enough time to explore and appreciate each destination but also packed enough variety into the itinerary that you got to sample a good cross section of what Bali has to offer.
This hipster surf town is just north of Kuta and is the start to your trip where you'll be based at Koa D Surf Hotel, just a short walk from the beach. From here you'll head off for some surf lessons and temple tour as well as having plenty of time to chill on the beach or enjoy a few beers by the rooftop swimming pool getting to know your new travel buddies!
Ubud
Heading inland to Ubud you'll discover the town that has become famous for yoga vibes and rice terraces…and is also one of the stops in Eat Pray Love! This contained one of my highlights of the trip – a local cooking class. Not only will your Indo guide Wayam (who is an absolute legend!) help you cook up an incredible buffet, he'll also show you around the local food market too explaining al the ingredients and giving you an awesome insight into Balinese life.
And of course your get to explore the amazing rice terraces of Ubud, sip ice cold coconuts and even enjoy a scenic lunch overlooking the peak of Mount Batu.
Gili T
The final stop of the trip and it's packed full of awesome island vibes! Just off the coast of Bali, Gili Trawangan is famed for it's abundant turtle population! You'll island hop around a few places and get the chance to snorkel with them and in your free time you can just walk off the beach and find some more!
Watch epic sunsets over the ocean (including getting your Instagram shot of the beach swings!) and then party the night away in some of the pumping beach bars!
Inclusions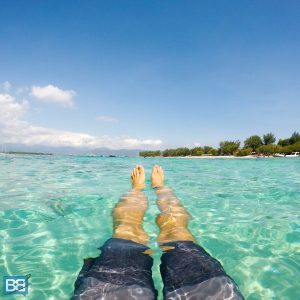 So what's included on your TruTravels Bali Tour?
Airport pickup (up to 2 days before tour)
9 Nights accommodation
Breakfast each morning
All transport included
Tanah Lot & Tamun Ayun Temples
Surf lesson in Kuta
Tegenungan Waterfall visit
Ubud Monkey forest
Balinese Cooking class
Rice terraces
Local Markets
Campuhan Ridge walk
Gili Trawangan
Island hopping the Gili's
Snorkelling (reef & shipwrecks)
Bike tour of Gili Trawangan
Loads of help with onward travel
Support the whole time you are in S.E. Asia
Although breakfasts are included each morning (ranging from buffets to set menus) other meals are not – which actually I think is a positive as there is so much good food to be sampled in Indonesia, so you're free to wander around and fit in meals that suit your style and budget. whether you fancy a super cheap local dish from a Warung or go all out at a Mexican restaurant you'll be fine.

The Accommodation
Having bounced around South East Asia a lot I know how hit and miss accommodation in this part of the world can be!
But I was stoked with the accommodation that TruTravels are using throughout the tour and if you're the kind of person that doesn't like hostel dorms or who envisions some kinda cramped, rickety guest house you'll be happy to hear that the accommodation throughout is pretty epic!
All the guest houses have a nice cold pool to help you escape the balmy Indonesian heat and you'll be in a twin room throughout – or double room if you're a couple. They all have A/C, comfortable beds and are great spots to chill out when you're not exploring.
Plenty Of Free Time
One of the worst things I find about some set tours is the fact they cram heaps in. Sure this can be great but being ferried around in a group from activity to activity can leave you needing a holiday from your holiday!
TruTravels have built in plenty of free time in each location – which allows you time to go off an explore on your own (either solo or with your new travel buddies), chill by the pool nursing your hangover or top up your tan on the beach.
Sometimes it felt like there could possible be a bit more info on some optional activities to do during these periods bit overall it was a good balance of activity and adventure with some downtime too.
The Guides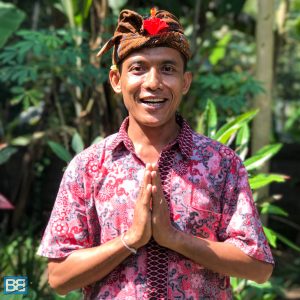 From your airport pickup to your last checkout you'll have the support of some awesome on the ground, Western guides throughout your TruTravels trip. These guys are there to keep you organised, setup some group meals and make sure you don't miss any of your buses or boats!
Our guides Joey and James (who was actually on his training) were pretty solid, down to earth guys who obviously loved what they did.
For those who are keen to for some alcohol fuelled fun in the evenings (or a day drinking session by the pool during some free time!) they're on hand to get the party vibes sorted and will join you on your nights out.
That being said even a few beers or extra Joss shots in they handled themselves well and kept the level of professionalism and fun you'd expect when you're paying for a tour!
You'll also have local guides for most of your day activities such as the temple tour, cooking class and turtle snorkelling.
The Cost
Surprisingly this 10 day Bali tour doesn't actually break the bank – coming in at £450 (roughly $760AUD or $580USD), especially given the level of accommodation
As I previously mentioned only breakfasts are included meals wise so you'll need to budget accordingly for that and expect to pay between £1 – 5 per meal depending on what and where you're eating.
Overall for my 10 day trip I spent an average of £15 per day which included food, a few beers and a couple of massages – just keep in mind I wasn't partying heaps or doing any shopping, so if you're stocking up on trinkets or getting drunk each night budget slightly more!
As the tour finishes in Gili T you'll also need to budget for your onward travel. If like most people you're simply heading back to Bali or even to the airport the ferry/bus transfer combo will be about £25 in high season or £17 in low season.
So Would I Recommend Tru Travels Bali?
Simply put – yes! Not only did this 10 day Bali Tour take in a great cross section of what's on offer and pack in a solid amount of trips it also works out pretty solid value for money too!
Which makes it the perfect way to travel Bali if you're on a shorter time scale or a great introduction to Bali and way of finding your feet if you're planning on staying in Indonesia a bit longer.
Couple that with an awesome mix of travellers, laid back tour guides and South East Asian sunshine and you have a recipe for an amazing 10 days!
If you want even more adventure they've also now launched their 18 Day Bali and Komodo tour too which includes a 3 day/2 night live aboard trip through Komodo National Park – so its certainly one to check out!
And if you're not wanting to do a tour check our my Bali itinerary guide for some other epic ways to spend your time in Bali!
**PLEASE NOTE – I received a free tour courtesy of TruTravels but rest assured that as always all opinions are honest and my own**