What's best way to manage your money whilst travelling? The Starling Bank app is my favourite way to manage money abroad – here's why…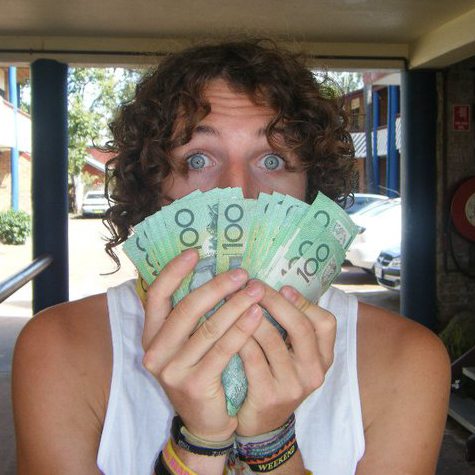 The saying goes – "if travelling was free you'd never see me again" and as much as I love to help you guys with tips and advice on how to budget for your travels and how to save money on the road unfortunately travelling isn't free and you do need some cash to make it a reality.
It sucks I know, but lets just accept that fact and move on!
One of the questions I get asked most is how do I manage my money whilst travelling?
How do I keep track of my spending as I travel and how do I deal with paying for stuff and withdrawing cash across all these different countries?
Up until recently I had been using the STA Cashcard. It has served me well, but I'm quick to admit it probably isn't the most cost effective way of dealing with my money whilst backpacking, especially long term.
My American buddies seemed to be spoiled for choice with amazing travel credit card deals (don't even get me started on the air miles they can quickly rack up!) and there are plenty of Australian travel cards too but being from the UK gave me much more limited options.
And then at the end of 2017 I came across Starling bank, a new UK disruptor bank, which not only brought with it some huge leaps in user interfaces, but also some massive advantages when it came to spending my money abroad.
[Tweet ""how do I manage my money whilst travelling?""]
REVIEW: Starling Bank – The Best Way To Manage Money Whilst Travelling?
Easy Setup, App Only Format
First off one quick point – currently Starling is for UK residents only. So if you're not from the UK, sorry this article isn't going to be any help to you!
If however you are from the UK happy days!
Starling Bank is an app only bank – which means you'll need to download the iOS or Android app to gain access to it. No website. Just the app.
It's also incredibly easy to setup – and you'll be up and running within about 10 minutes. Seriously it's that easy and you could easily smash it out on your commute to work or lunch break, so no excuses!
Also it does ask you if you have a referral code when you set it up, be awesome and use mine which is WPT8V6ZT.
And full disclosure I don't think this earns me any cash, in fact I'm not sure what it gets me, but use it anyway! haha!
Ok I know some of you are now going to be thinking "is this safe?" – well I did some research and Starling Bank is all fully regulated in the UK and is protected by the Financial Services Compensation Scheme (FSCS) so your deposits are protected up to £85,000 – which is the same as most 'traditional' UK banks. So you can rest easy.
Once you're all set up you'll be given a virtual card which you can start using right away via Apple Pay and such like, but your physical card will arrive within a few days anyway.
[Tweet ""you'll be up and running within about 10mins. Seriously it's that easy" @starlingbank"]
So User Friendly
I know I haven't mentioned travelling with this card yet, but we'll get there, so hold tight.
The other HUGE kudos I have for Starling is how user friendly this app is and the awesome features it has built in to help you manage your money both at home and abroad.
I usually bank with HSBC and I'll be totally honest, their app totally SUCKS. It's clunky, it's ugly, it crashes. Considering the amount of money they're making you would think they'd have the decency to bring someone in to give it a makeover and actually work! *rant over*
The best way I can describe the Starling app is if Apple did your banking, this is what it would look and feel like. It's smooth, easy and designed to help you get what you need done quickly and easily.
[Tweet ""the awesome features it has built in to help you manage your money home and abroad""]
The home screen of the app contains two key pieces of information – the balance of your account and how much you've spent today.
Two very important pieces of info and the basics of what most people need to know – whether you're at home or off travelling!
From this home screen you can then delve into the super handy stats and info that banking with Starling allows you to track.
From the category of your spending – like travel, hotels, groceries, shopping, eating out – to the individual businesses you're spending your cash at.
Starling tracks that and then gives you a handy overview of how much you've spent over the month and even as a percentage of your overall spending.
So if you're a huge fan of 2am ham and cheese toasties at 7/11 in Thailand, you'll quickly be able to see how much those midnight munchies are racking up a month!
Or how much of your hard earned cash you're spending at Starbucks on coffee, or on flights.
If you suck at managing your day to day spending, this app is going to give you a huge reality check and allow you to easily see where your cash is going and where you might need to make some changes.
[Tweet ""If you suck at managing your day to day spending, this app is going to give you a huge reality check" @starlingbank"]
Amazing For Managing Your Money Abroad
The stats are just one of the reasons I absolutely love the Starling Banking app in general, but they're also super useful for managing my money abroad too.
But by far the biggest advantage of Starling is the fact they have zero fees abroad.
Yup zero, as in 0, nada, nothing.
They won't charge you for taking out cash abroad (admittedly if the cash machine charges you'll have to pay that, but that's almost impossible to avoid) and using it to pay by card for things abroad is also fee free.
Compare that to the loading fee I had with my STA Cashcard or the set fees I had for withdrawing cash no matter how big or small the amount and those savings will quickly add up.
And not only that but you'll get the live MasterCard exchange rates when spending abroad. Which basically means they aren't ripping you off with a terrible exchange rate either. In fact I plugged some of my spending into currency conversion site XE.com (which I use a lot on the road, so download that app too!) and the Starling rate was exactly the same.
Happy days.
And as for tracking spending – the app will display your expenses in both local currency and GBP.
Winning.
There's also some nifty other features that lend themselves well to life on the road too – like being able to block and unblock your own card (if you misplace it!) as well as notifications for payments, which means if someone clones your card you'll instantly know about it.
And there's a 24/7 live chat built right into the app too, so if you have any issues you won't be on hold for hours!
UPDATE (May '19): One thing I've recently learnt is that there is a £300 daily ATM limitation and maximum of 6 ATM transactions per day. Not a huge deal (I didn't even know until someone told me in the comments!) but something to keep in mind.
[Tweet ""by far the biggest advantage of Starling is the fact they have zero fees abroad." @starlingbank"]
Saving For Travelling?
One of the other awesome features the Starling Bank has built into the app is the "Goals" section.
Simply put you can create as many savings pots as you want, instantly, within the app.
No more setting up new saver accounts to keep yourself from spending all your wages. You can set your goal amount and the app will calculate how close you are as a percentage.
Once you've moved your money into your goal, you can't spend it via your card, so it's safe from being used accidentally when you decide to get another round in at the bar!
However, if you do find yourself needing to dip into your savings pot you can quickly and easily transfer it back into your main account.
With this feature, it's easy to create lots of little savings schemes for parts of your trip – especially if you're planning a big around the world adventure.
Why not create a savings goal for your flights?
How about one for each country you're visiting so you can track your spending even more?
Or why not create a separate savings goal for each of your big bucket list items like that skydive you've always wanted to do or your open water dive course?
It's quick, easy and will allow you to keep a firm grip on managing your money whilst abroad.
And that's ALWAYS a good thing!
[Tweet ""It's quick, easy and will allow you to keep a firm grip on managing your money whilst abroad.""]
Am I Being Paid To Say All This Stuff?
Some of you are probably wondering if this is a big advertorial for Starling Bank or if they're giving me some cash to recommend their banking services.
Well I can honestly say they're not. In fact I don't even know what that referral code will do either! haha!
After using Starling Bank for the last few months both back in the UK and with trips to Madeira and Morocco,I can safely say this is how I'm going to be managing my money abroad from now on.
It's easy, convenient and most of all it's going to save me money.
It does what every bank should do – it puts you firmly back in charge of your money and gives you easy access to the data you need to feel in control again.
And whether you're chilling back in the UK or bouncing around the globe, that's something you should be aiming for.
How do you manage your money whilst travelling?
Any other awesome banks or apps you'd recommend?
**Disclaimer – I'm not a financial advisor and the opinions and thoughts in this article are my own. It's down to you guys to do your own thorough research when it comes to managing your money, and opening new bank accounts. I won't be held responsible for any financial decisions you make as a result of this post.**