Heading off on a trip from the UK soon? I tested out Purple Parking to see if they could take out some of the stress of driving to and from the airport!
As much as I love travelling I'm beginning to loathe airports a bit – security lines, check in desks, luggage belts…it's frequently one of the most stressful parts of getting from A to B no matter how many years I spend on the road!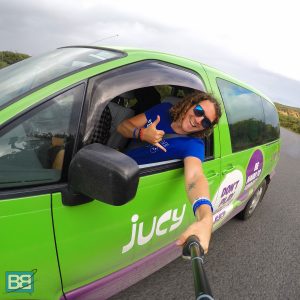 And whilst I was back in the UK I also had to take into account a whole new aspect – airport parking.
Now usually I just jump in a taxi or on a bus when I'm bouncing around the globe, however my parents live in the countryside and it's not that easy or simple and driving is usually the best option for the local airports.
Even with a  car making A to B easier  you've still then got to park it.
Car parks suck, but when you have a good chunk of luggage with you, are in a rush or simply busy thinking about whether you packed your passport they're just another thing you don't really want to have to contend with.
And coming back from holiday the last thing you really want to be faced with is trying to remember where the hell you parked in the first place – especially if you land at night and the weather is less than favourable!
So on my recent trip to Morocco from Bristol Airport I teamed up with Purple Parking to test out their chauffeur service.
What Is Purple Parking?
Purple Parking have 26 locations all over the UK – including big hubs like Heathrow and Gatwick alongside smaller regional airports.
The chauffeur service is a pretty simple and easy concept – let them know what car you drive and what time you'll be arriving at the airport.
Then 10 mins before you get there you give them a quick bell and your friendly driver will meet you in the drop off point at the airport. You simply unpack all your suitcases, hand over your keys and then head off on holiday.
Sounds pretty stress free and simple hey?!
If you've got heaps of luggage or a group/family it's a pretty epic solution!
On Your Return
And coming back?
Well that's just as simple too – just give your driver a call when you're through immigration, they'll meet you at the airport pick up point and hand over the car keys (once you've checked the car over of course!), then you just load in your stuff and head home.
Trust me at midnight in near freezing weather after a nightmare of a flight back from the heat of Morocco this was a very welcome change!
The chauffeur parking service cost obviously varies depending on the length of stay but it's from around £67.99 per week.
And if you don't want to splash for the full chauffeur option Purple Parking also offer a cheaper service where you park up in one of their multi-storey car parks near the airport and grab one of their regular shuttles to/from the terminal.
It's not quite as convenient as the chauffeur option but will save you a bit of extra cash from £42.99 per week.
With both options though you save a good chunk (around £20 per week) if you book in advance, so don't leave it to the last minute.
So if you're heading off on holiday from the UK anytime soon and are stressing about airport parking check out Purple Parking and stop worrying!
PLEASE NOTE: I received a complimentary chaffier parking service in collaboration with Purple Parking, but rest assured all opinions are honest and my own.