On the hunt for the ultimate carry on backpack? Here's my hands on review with the Nomatic Travel Bag – including features, pricing and more
On the hunt for the ultimate carry on bag and looking into the Nomatic Travel Bag range?
Well over the last few weeks I've been giving the 30 litre Nomatic Travel Bag a full test – putting it through it's paces exploring Bali and Indonesia to see if it fits the hype and is worth considering as your next backpack investment.
From design and features through build quality and of course cost – here's everything you need to know about the Nomatic backpacks and whether you should grab one…
REVIEW: Nomatic Travel Bag – The Ultimate Carry On Bag?
Key Features
With so many awesome inventions and features in backpacks these days lets run through what the Nomatic range are boasting to help make your life easier…
Carry on size
Durable, waterproof materials
Suitcase open style for easy packing
Bottle pocket (waterproof and self contained)
Roller bag handle pass through
RFID and security pocket
Detachable waist straps
Laptop/tablet compartment
Backpack or duffle bag carry options
Shoe compartment with ventilation
As you can see, beneath the sleek, minimalist design this backpack crams in heaps of features to make life on the road that much more organised and easy!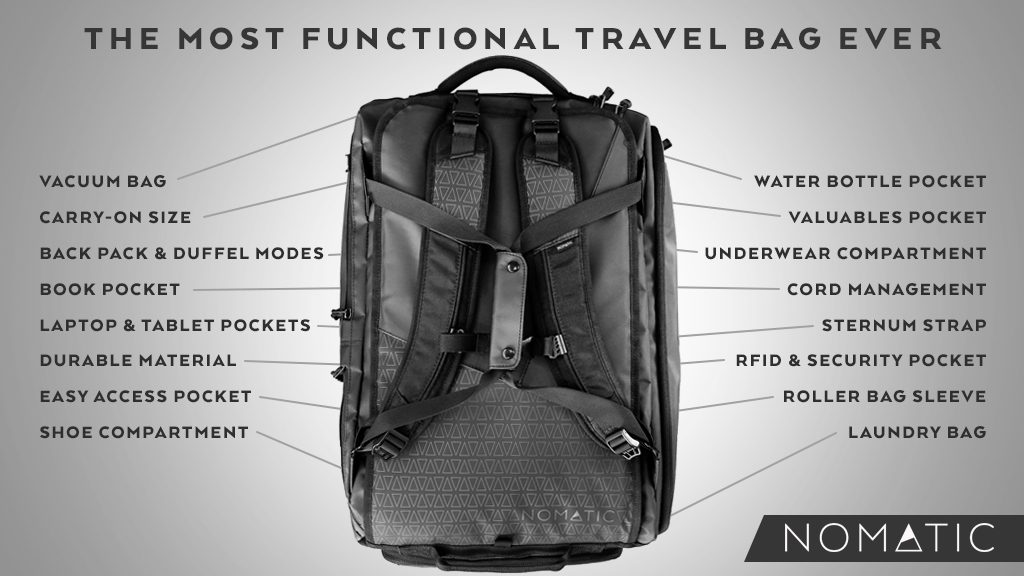 Design
First off lets talk about the overall design of the bag – because everyones looking for something functional that also looks good right?
Well the Nomatic travel bag certainly looks sleek, minimalist and dare I say it, kinda sexy!
The branding is there, but subtle, the all black colouring means it would look as at home next to your desk in an office as on the road.
One of the best parts of the design though for me is the fact you can open up like a suitcase (so no top loading here) which means it's easy to pack and most importantly – easy to find stuff!
This also doubles up as a security feature too, with your laptop being against your back – so no one can sneakily slip it out whilst you aren't paying attention.
Build Quality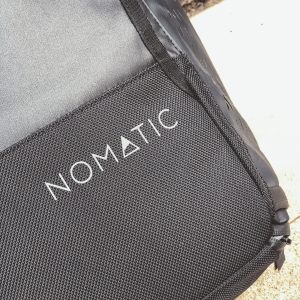 And of course along with design the other thing you have to look for in a backpack (no matter where you're travelling or what you're doing) is build quality.
It doesn't matter how many epic features a bag has or how good it looks – if it's going to fall apart in a month then it's pretty much useless!
Admittedly I've only been using the Nomatic travel backpack for a month, but I can already tell it's build to last.
From the durable, waterproof materials the main part of the pack is made out of, to the double stitching, zippers and metal buckles – the Nomatic team haven't cut any corners and I'd be pretty happy to bet this one is going to last me a long while.
And it's as much about the little touches to the build quality as the overall backpack – such as the metal clips (as opposed to cheaper, less durable plastic ones) or high end zips.
Keep Organised
Ok, ok I'm not the average traveller when it comes to whats in my carry on bag and how I keep things organised – but there are plenty of inbuilt features, pockets and compartments you can utilise to keep things in their right place.
And it's really easy to customise it and make it your own.
Case in point – the top pocket designed for a water bottle I've turned into my camera compartment – fitting a GoPro, Osmo Pocket and Sony A6300 camera into it, allowing easy access to all my gear on the road and separate from everything else.
For those who want some extra help, Nomatic do also have a range of accessories to go with the bags to make life even more organised;
Toiletry Bag
Compression Cube
Laundry Bag
Shirt organiser
Vacuum Bag
Out of the above I'd highly recommend the compression cubes – for the 30 litre option I'd suggest grabbing two. I've ended up using one for electronics/cables/gadgets and another for clothes.
30 or 40 litres?
It took me a while to decide whether to grab the 30 litre or the 40 litre option when choosing my Nomatic travel bag but ultimately I opted to go for the 30 litre and I'm definitely happy with my decision – it sounds stupid but it feels surprisingly big and spacious!
So what do I currently have in mine?
Sony A6300 + lens
210mm zoom lens
Osmo Pocket
A grab bag of GoPro mounts and accessories
Mavic Air Drone (+ cables and batteries)
13" Macbook Pro (+ charger)
3 x hard drives
Sunnies
4 plug extension chord
Travel adaptor
I also did a quick trip over to Gili Trawangan Island to film and swapped out one of the packing cubes of electronics for enough clothes for the week too!
30 litres (or the Travel Backpack option) is ideal if you're just looking for a carry on bag to keep your gadgets in, but still also travelling with a large backpack as well.
If however you want to slimline your travel gear and travel hand luggage only then I'd say go for 40 litre option.
One word of wanting though – both backpack ARE the correct dimensions for hand luggage but I would say it'll be pretty easy to over pack them and get them over the weight limit, so you might end up checking them in!
The Cost
So how much will the Nomatic range set you back?
As you can see the Nomatic Travel Bag range aren't the cheapest options you'll look at for a carry on bag but this brings me to my next point…
Is The Nomatic Travel Bag For You?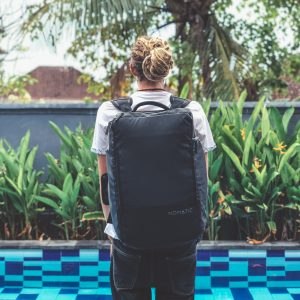 So is the Nomatic Travel bag what you're looking for?
Well if you're looking for something. cheap and simple then not at all, keep looking.
If, however, you're looking to investing an epic carry on bag, that packs in heaps of features, solid build quality and plenty of organisational options into a elegant and sleek design then YES – you'll be totally stoked with any of their backpack range!
Everyone who has checked out my backpack over the last few weeks has had nothing but good feedback for it and rightly so, it brings a lot to the table.
Bottom line – it has my personal approval and I wouldn't hesitate to recommend to family, friends and of course all my awesome readers.
So if you want to get one for your next adventure click here for more info and to buy yours!
Safe travels…!
Which Nomatic Travel Bag option are you going with?