Trying to figure out how to travel East Coast Australia? Here's my full review of the Loka Travel Bus Passes and whether they're the right choice for you!
East Coast Australia is one of the most popular backpacking routes in the world – but it can also be tough to decide how to tackle the stint from Sydney to Cairns.
I recently teamed up with the crew of Loka Travel on my East Coast Reader Tour – so here's how myself (and my crew of awesome tour buddies) found the experience so you can figure out if a Loka bus pass is the best travel option for you…
REVIEW: Loka Travel Australia – Hop On, Hop Off Travel Passes
So Who Are Loka Travel?
Loka Travel are one of the newest travel companies in Australia and describe themselves as "the flexible travel collective" – with hop on, hop off bus passes designed to help you explore what East Coast Australia has to offer, but also get you off the beaten track too.
They're kind of the mid ground between a standard bus pass such as Greyhound or Premier and a full blown tour such as Contiki or Top Deck.
So what are the key points about Loka?
Flexible – All their passes are flexible and valid for 12 months, so you can extend your stay in any stops you love. Their guides also have the option to detour en route to take advantage of local events or other cool stuff! They don't include any big tours (like Fraser Island and Whitsundays) so you're free to choose the best option for you.
Guided – all passes include a driver guide who will help clue you in on the best things to see and do, as well as help get everyone talking
Small Group Dynamic – they also have a loose group travel dynamic, making it ideal for those travelling solo or wanting to meet some new travel buddies.
Off The Beaten Track – there are a series of "Loka Special Stops" designed to get you off the beaten track and experience something new.
[Tweet ""Loka Travel are one of the newest travel companies in Australia""]
All The East Coast Highlights
One of the first things that I get asked about Loka is "does it stop at XXX or XXX" well I'm stoked to say that the Loka Bus Passes do indeed stop at all the major East Coast Australia stops that you'd want to hit up.
From my personal favourite stop of Byron Bay through to Rainbow Beach or Noosa (for Fraser Island), Airlie Beach (for the Whitsunday Islands) and Magnetic Island, there's a whole lot of East Coast fun with whichever pass you choose!
Loka Special Stops
Alongside all the major East Coast stops the Loka passes also package includes a series of "Loka Special Stops" – more off the beaten track. These includes;
Barrington Tops
River Retreat
Country Campout
Indigenous Camp
Unfortunately due to the aftermath of Cyclone Debbie our River Retreat and Indigenous Camps were cancelled – but we still managed to get to Barrington Tops and the Country Campout.
Barrington was pretty epic and I was stoked on the River Tubing, which was a great first activity for the group. The epic location (slap in the middle of the National Park) mean incredible views and the hillside hot tub was awesome for a cold beer and to warm up after the cool water of the rapids!
I also got up for sunrise which I highly recommend and watching the mist burn off through the valleys as the glow of the sun came through was pretty spectacular!
The only downside here was the limited time we had. Travelling in Autumn (April/May) meant when we arrived we literally had to get straight in the water for tubing and then got back after dark, before leaving in the morning. It would have been nice to have watched the sunset from the hot tub or had a bit more free time to go for a walk and enjoy the area a bit more.
The country campout was fun and I got to tick sleeping in a "swag" off my bucket list – but again we arrived at like 1am so we didn't get to make the most of it, although we did spend the morning eating by the campfire, learning to crack whips and meeting the resident animals of the farm it's based on.
Even thought these aren't included in the price the stays at Barrington Tops and River Retreat are compulsory – so just be aware of that when you're pricing everything up.
[Tweet ""Loka passes also package includes a series of "Loka Special Stops" – more off the beaten track""]
Bus & Train Combo
One of the biggest appeals for anyone heading up the coast is the fact Loka uses a combo of minibuses and trains.
The first leg north from Sydney through to Noosa is all done via minibus, whereas the main Queensland stint up to Cairns is all via trains.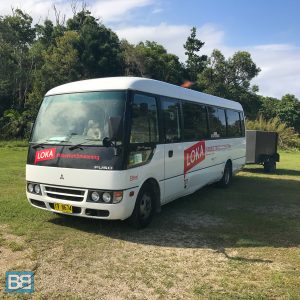 There are a few advantages to this format. Firstly the minibus means cranking up the tunes, getting to know everyone and being able to pull over at heaps of stops en route to the next destination. Our driver Rhen for instance pulled over at some awesome scenic spots, places to cliff jump and we even took a slight detour to all go and play laser tag!
The journeys through Queensland are longer haul, which mean the trains offer more legroom, movie screens and the chance to get up and walk around – or even take a shower!
So in theory trains = more comfort and convenience.
However, Queensland trains are not the most reliable when it comes to timing. In fact throughout our whole stint on the train I don't think one of them actually arrived on time!
At one point we actually had to use a bus replacement service and on another occasion we were actually stuck on the platform in Rockhampton for 4 hours due to delays…until 1am.
And if you pay attention to the Loka timetables you'll also quickly notice that the times of these trains are pretty brutal – with the Airlie Beach to Townsville leg departing at around 5:30am!
So even thought the trains were a lot more comfortable the convenience was slightly undermined.
The Loka Guides
Obviously one of the biggest selling points for Loka is the fact it's kind of guided. A huge plus for anyone going solo or not sure where they're going or what they want to do.
Ask anyone on our trip and they'll tell you that our guide Rhen (who took us from Sydney to Byron Bay) totally made the trip. He was an absolute legend and by the time we hit our first stop he'd broken the ice between everyone and we were well on the way to becoming epic travel buddies.
By the time we left Spot X Surf Camp you wouldn't have known we were all strangers some 48 hours before!
[Tweet ""Ask anyone on our bus and they'll tell you that our first guide Rhen totally made the trip""]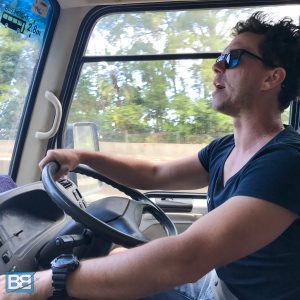 Pumping tunes in the bus, awesome facts about destinations, pop quizzes, random stop offs…he was exactly what you'd want from a tour guide. Total bromance going on between us as you might be able to tell!haha!
However the other guides we had didn't quite hit the bar he set.
Our guide from Airlie Beach to Cairns was totally the opposite. In fact I cant even remember his name, that's how much of an impression he left!
His section of the trip with us got off to a terrible start – he wasn't anywhere to been seen at the bus stop at 5:30am in Airlie Beach and then turned up nearly an hour later at the train station.
Sure he took a few of us on the Fort Walk on Magnetic Island, but other than that I have no clue where he was or what he was doing.
For me the very least I'd expect when arriving at each new destination would be a de-brief advising of the best things to do, maybe an offer of a free group activity that evening/time to meet up as a group for a beer and some info on the departure time/protocol for the next leg of the trip.
I have since been told this guide is now no longer part of the Loka team and from the ones I'm following on Instagram (check out @jessicastevens) is looks as though they have a great crew going now, so hopefully this is no longer the case.
If you've travelled with Loka recently or are heading with them soon please let me know!
[Tweet ""our guide Rhen (who took us from Sydney to Byron Bay) totally made the trip""]
The Cost
I'll be straight up – Loka Travel Passes are not going to be your cheapest option for travelling from Sydney to Cairns, with a full price "Mick Pass" setting you back $1135AUD (roughly £660 or $850USD), plus the special stops on top, which work out at roughly an extra $100 each but include food.
Compare that with the Greyhound Bus at $435AUD or the Premier Bus at $320AUD and you can see there's a big jump in budget.
If you're organised you can keep you eye out for special deals on Loka Passes and nab some savings.
This does get you the added advantage of a guide throughout, guaranteed accommodation in all your stops and of course the Loka Special Stops too.
[Tweet ""I'll be straight up – Loka Travel Passes are not going to be your cheapest option""]
So Would I Recommend Loka Travel Passes?
For me recommending Loka is something I'd love to do, I love the ethos of the company and the owners have some great visions for where it will go.
Currently though I'm slightly torn.
Personally I would recommend a compromise and grab the Loka "Nat Pass" which covers Sydney to Byron Bay and then opt for Greyhound or Premier from there on up.
For me this section encompasses the best value of the pass – travelling in a small group format and meeting some epic new travel buddies at the beginning of you East Coast trip.
From Byron onwards in the whole group dynamic kind of lost momentum with everyones travel plans being all over the place and short stints really weren't enough to really get to know everyone.
This option would work out at $595 for the Loka Pass and then $325 for the Greyhound so $930AUD in total.
You could potentially also do the Greg Pass which runs through to Brisbane but only allows two nights in Byron, which really isn't enough. We did 4 in the end which everyone agreed was pretty spot on as a minimum.
For me Loka Travel has huge potential and as it grows I know most of the issues I've brought up will be ironed out and it'll reach the level that the old Oz Experience grew to, but it still has some way to go.
[Tweet ""For me Loka Travel has huge potential""]
Have your travelled on a Loka Travel bus pass?
How would you rate it?