Want to complete your PADI open water – how about completing your dive course in the Maldives? I joined Fulidhoo Dive to tick it off my bucket list!
Learning to scuba dive has been on my bucket list for as long as I can remember. I love snorkelling and the ocean completely boggles my mind; it only seemed logical that the next step should be to try diving.
I have to admit though, I was kind of nervous about it and not in that much of a hurry to tick it off my list! That was, until I booked a trip to the Maldives.
The country, made up of 1,200 islands, is more water than it is land and is well known as one of the best scuba diving locations in the world. Crystal clear warm waters, stunning coral reefs, and an abundance of marine life make it a paradise for divers.
I knew it was probably the best opportunity I was ever going to get to learn to scuba dive, and decided to take the plunge (literally!) with my PADI Open Water Dive course in the Maldives.
This is a guest post by Charlotte of surf and travel blog A Broad On A Board – check out her site for heaps more travel inspiration and lots of surfing!
REVIEW: Learn to Scuba Dive in the Maldives with Fulidhoo Dive
Why Did I Learn To Dive On Fulidhoo?
There is no shortage of options when it comes to dive locations in the Maldives and even more dive operators to choose from. Travelling the Maldives on a budget, I wanted to make sure that the experience wasn't going to blow a massive hole in my bank balance.
I chose the local island of Fulidhoo, located about 57km from Malé in the Vaavu Atoll, for its combination of reasonably priced accommodation, how easy it is to get to (it's only an hour from Malé by speedboat), and the quality and number of dive sites that surround it. The fact that Fulidhoo turned out to be the most beautiful local island I visited, was a massive bonus.
The PADI Open Water Dive Course
The world's most popular course for learning to scuba dive, the PADI Open Water Dive course teaches you the fundamental skills to become a certified diver. Depending on how quickly you progress and dive conditions, it can be done in 3-5 days. The course is made up of theory, five confined water dives, and four open water dives.
The Theory
Before I could get in the water, I had to learn some theory. There are five sections of information in the PADI Open Water Diver manual covering everything you need to know, from safety, to equipment, to the skills you'll need to master as a diver. At the end of each section is a multiple choice knowledge review to test your understanding.
Fulidhoo Dive set me up with a PADI eLearning login which meant that I could read through the manual online, or offline on my tablet before I arrived, giving me more time to enjoy the Maldives rather than studying. Top marks for that!
You can also learn the theory by watching a video that relates to each section, so if learning by reading isn't your thing, the videos really help.
Confined Water Diving
Each section of theory in the manual corresponds to the skills you need to practice in the five confined water dives to become a competent diver.
On my first morning, Ali, my instructor, showed me how to put all of my equipment together, then took me out to the warm, shallow lagoon to practice some essential skills like hand signals, breathing from and clearing the regulator, descending and ascending using the BCD, and clearing a partially flooded mask.
Taking my first breaths underwater was amazing and nowhere near as scary as I'd built it up in my mind to be. As a surfer, I'm not particularly afraid of the water, but I had conjured up all kinds of anxieties about scuba diving; what if I didn't like it, what if my ears wouldn't equalise, what if I got lost underwater (seriously!).
Ali explained everything clearly and was so calm and encouraging that I quickly forgot my doubts. He demonstrated the skills that I needed to practice, then I repeated them.
That afternoon we went through the remaining confined water sessions, practicing skills like buoyancy and using an alternate air source. Some of the drills aren't fun, like swimming without a mask, but I just tried not to overthink them and go through the steps as Ali showed me.
Open Water Diving
The open water dives are where the fun really begins. You still need to demonstrate some skills on each dive (much to my sadness, I wasn't done with flooded masks yet), but it's a lot less intense and you get to really appreciate the amazing underwater world around you. On my first dive I felt like I was swimming inside an aquarium; I've never seen so many fish. I was hooked right from the off.
On the remaining three open water dives I was lucky enough to see some incredible marine life, like the beautiful spotted eagle ray, reef sharks, turtles, a leopard moray eel, and sooooo many different kinds of fish.
It got me even more excited to complete my course and dive some more.
The Final Exam And Swim Test
When you've completed all of your theory, confined, and open water dives, there's a final exam which is multiple choice and not as scary as it sounds. If you made it through all of the knowledge reviews without any trouble, you'll be fine.
You also need to swim 200 meters and be able to tread water for ten minutes. The calm, warm lagoon makes this as easy as it can be.
Diving As A Newly Certified Diver
If you'd told me six months ago that not only would I be able to scuba dive, but that I'd be doing it at night surrounded by sharks, I'd have thought you were a lunatic. But that's exactly what happened.
For my first dive as a certified diver, we headed out to Alimatha, one of the most famous dive sites in the Vaavu Atoll.
Alimatha is well-known as an evening hangout for nurse sharks and there can be up to a hundred of them at any one time. Probably the biggest compliment I can give to Ali, is that after completing my open water course, I felt confident enough to do this dive. It does of course depend on the conditions as to if its suitable as one of your first open water dives though!
Diving with so many sharks turned out to be not only the highlight of my trip, but one of the most amazing experiences of my life so far.
The fact that Fulidhoo has access to so many amazing dive sites like this one, is a great reason to learn to dive here.
Would I Recommend Learning To Dive In The Maldives With Fulidhoo Dive?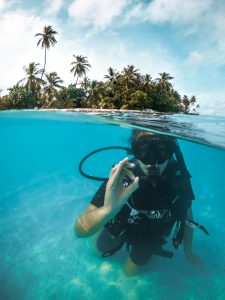 Without any hesitation, yes!
I loved my experience of learning to dive in the Maldives with Fulidhoo Dive. As a PADI Five Star Dive Center, they offer the complete range of dive courses from intro dives to dive master training, and have a full selection of high quality, well maintained equipment. They can also help with your entire trip to the islands – from accommodation (I stayed at Seena Inn) to boat transfers.
With the open water dive course costing $575USD (click here for more info and to book) it's not the cheapest experience you'll ever do on your travels but lets face it – you're then diving the Maldives!
Ali is an amazing instructor who not only communicated everything clearly through each part of the learning process (not easy when you're underwater!), but most importantly, always made me feel comfortable and at ease.
He has left me with a lifelong love of scuba diving and I can't wait to do and see more. I'm already planning to do my PADI Deep Diver Speciality course and then move on to my Advanced Open Water certificate. If you're thinking about learning to scuba dive, do it! It's one of the best things I have ever done.
Where did you complete your open water dive course?
Any recommendations?