Surfing Maldives on a budget – is it possible? I joined the crew of Jailbreak Surf Inn on Himmafushi for a week of waves at Jailbreaks, Sultans and Honkeys to see if it can be done!
Surfing in the Maldives is something many surfers dream of – tropical waters, palm tree backdrops and world class waves…yes the Maldives isn't just tranquil lagoons and overwater bungalows!
And having surfed in the Maldives a couple of times I was keen to experience some new waves but also discover if it was possible to surf the Maldives on a budget too.
After a bit of research I headed over to Himmafushi Island, just north of Male and the International airport and home of the famed surf spot Jailbreaks with the crew of Jailbreak Surf Inn to explore the island and check out their surf camp…
REVIEW: Jailbreak Surf Inn, Himmafushi – Surfing Maldives On A Budet
The Camp
Jailbreak Surf Inn is situated on Himmafushi Island, a local Maldivian Island just 20mins by speedboat from Male City and the international airport – making it super easy and quick to get to, which means less travel hassle and more time surfing Maldives perfection!
The guys at the camp can easily arrange transfer for you as part of your stay and depending on your budget you can choose from the local ferry ($2 one way), public speedboat ($10 one way) or a private transfer ($100 one way).
The camp itself is a pretty chilled and intimate affair – with just 6 twin A/C rooms, inside lounge area and a half undercover al fresco dining area and board storage spot.
Food wise personally I'd recommend at least the half board option as the food is on point (even for veggies like myself!) and Himmafushi itself doesn't have a huge variety of places to eat out.
Plus the last thing you want to do post surf is figure out where to you're going to be eating and going full/half board means you can have you food ready for your return, ideal!
The room themselves are clean, tidy and all have en suite (cold showers only though!) and you can grab the free wifi in all of them – it's not the strongest connection though so if you need access to the net whilst you're there grab a SIM at the airport!
Spacious and clean room, walking distance to the waves, daily surf transfers, A/C and epic food – it has everything you need to make the most of the surf on offer!
[Tweet ""it has everything you need to make the most of the surf on offer!""]
Surfing Maldives – Spots & Seasons
Jailbreak Surf Inn provides daily boat transfers to the following breaks in the area – saving you a paddle out and allowing you to score the best waves for the conditions;
Jailbreaks – right off of Himmafushi, just a 10 min still amongst the palm trees from Jailbreak Surf Inn. This reeling right hand point/reef break offer up some epic rides and barrel sections. The paddle out can be a bit trick negotiating the rocks and reef so make sure you pack your reef booties!
Sultans – just across the channel is Sultans another epic right hander. This serves up some big barrel sections and is slightly more protected from the wind than Jailbreaks. On smaller swell it's suitable for high end beginners and low end intermediates but when it's pumping its experienced surfers only!
Honkeys – one of the main left handers in the area, this is right next to Sultans. Not quite as consistent as the rights but when it works it's a goofy footer favourite!
And if you want to venture further afield to other famous waves in the area like Ninjas, Cokes and Chickens the crew can organised a boat trip for you. This can either be done as a private trip or split with other surfers at the camp (up to 8 per boat) with Ninjas at $40 a trip and Cokes/Chickens at $80.
Season wise the main swell season for surfing Maldives at its best runs from May > October. This is technically low season in terms of weather and pricing in the rest of the Maldives but you'll have to make that sacrifice if you're wanting pumping surf!
For those who want the best of both the shoulder seasons are the way to go, but you wont get the best of the swell.
[Tweet ""the main Maldives surf season runs from May > October""]
Surfing Maldives On A Budget – Is It Possible?
So how much does surfing in the Maldives cost?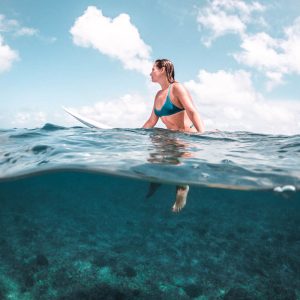 Well Jailbreak Surf Inn is certainly the most budget friendly surf camp I've found in the Maldives – by quite a big margin too!
The nightly rate (B&B) with daily surf transfer is just $65USD…for the room! That means if you're splitting it between two you're only paying $32.50 – which is about the same price as a 10 bed dorm in Australia!
Not the price tag you'd expect for a Maldives surf trip hey!?
If you want to upgrade to full or half board you're looking at an extra $7 per meal for an absolutely solid feed. This can be pre booked or you can simply pick and choose once you're at the camp too.
Plus if you book a 7 night package at Jailbreak Surf Inn you only pay for 6 nights AND they'll throw in a day trip to Cokes/Chickens as well!
Bargain!
A week surfing Maldives perfection doesnt have to cost you as much as your think!
Check availability and book your stay at Jailbreak Surf Inn by clicking here.
Flying into the Maldives is getting super easy and cheap now too with plenty of major carriers (like Emirates) offering connections from Europe), joining together a surf trip from Sri Lanka or even jumping on a low cost carrier like Scoot or Air Asia from elsewhere in Asia like Bangok or Singapore.
In fact I flew Bali to Maldives with Scoot for just $225USD and then onwards from Maldives to Gold Coast, Australia for $250USD!
Check out my full guide to travelling on a budget in the Maldives for more info on getting here on the cheap!
[Tweet ""Jailbreak Surf Inn is certainly the most budget friendly surf camp I've found in the Maldives""]
So Would I Recommend Jailbreak Surf Inn?
The camp wasn't super busy when I stayed (which meant the atmosphere wasn't the best) but honestly there wasn't really anything else I could fault with the camp – so yes I would definitely recommend it.
It's an easy trip from the airport, surrounded by incredible surf breaks and most of all it's really solid value for money – so you can surf in the Maldives without spending thousands.
Sure you wont get the luxury of a private break (like Pasta Point at Cinnamon Dhonveli) but you still get to surf in the Mal-freaking-dives and enjoy warm clear waters and epic waves! And it actually works out even better value than the likes of surfing in the Mentawais too!
[Tweet ""you can surf in the Maldives without spending thousands""]