New Zealand has some incredible natural beauty so I was keen to check it out from a different angle – something Cathedral Cove Kayaks definitely provided!
I used to do a lot of kayaking when I was younger and I remember how much fun it was – kicking back on the water, exploring new places and appreciating a calmer, more relaxed pace of travel.
So when I headed up to Hot Water Beach with the Kiwi Experience I was stoked to discover one of the activities on offer was sea kayaking, any excuse for me to be by the ocean is always good with me!
How NOT to Kayak!
After arriving in the arvo and getting kitted up on the beach with the guys from Cathedral Cove Kayak Tours we were given a safety briefing (basically don't get hit by the kayak and try to stay in it!) and then proceeded to launch in amongst the shore break – something my buddy was not too keen on!
…and the first two kayakers decided to give us a lesson on what not to do!
Within seconds of getting off the beach they were rolled by a wave, capsized and were floundering around in the surf – which was hilarious for me but I could tell it did nothing to help Taras apprehensions about hitting the water!
Natural Beauty
A few minutes and a few soggy backpackers later we regrouped in the ocean and headed along the coastline.
If you thought New Zealand was beautiful from the land you'll be even more amazed by checking it out from the water – jagged coastlines and the volcanic formation of the area have littered the bays with island out crops and created a vast array of coves, caves and arches along the waters edge.
NZ really is all about natural beauty and it was amazing to take it all in from an ocean perspective – including the famous Cathedral Cove, which has featured as a location in many movies and music videos.
As we paddled along our guide Hayden explained how the Maori owners of the land had created a marine reserve, which was now teeming with sea life. This surprisingly includes hammerhead sharks – a creature I've long admired and I'm keen to see in the wild…unfortunately not on this trip though!
He also happened to mention how they're frequently joined by Orca Whales – a massive bucket list tick I've yet to achieve – but something my buddy was not happy on learning about! I think the exact quote was "Chris if a killer whale swims under our kayak I'll kill you myself"!hahaha!
Heaps of Culture…and Coffee!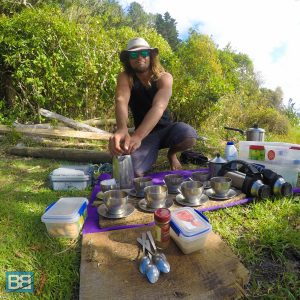 One of the best parts of the Cathedral Cove Kayak tour though was very much down to Hayden. He was full of the traditional stories of the area and the Maori history of it too – so as we paddled along the coastline he explained the fables on how New Zealand was created and the cultural significance of the area.
It was great to combine some stunning views with a bit more knowledge about New Zealand – which despite being the youngest country on the planet has an amazing history and culture within it and is something that I'm always keen to learn about.
Before the final part of the coastline we also beached up for a quick break where the guides rustled up some coffee and cookies to keep us going – not that kayaking is strenuous at all, but any excuse for coffee and snack hey!?
Fuelled up and ready for the final stretch along the bay before heading back to hot water beach we stuck close to the water edge and managed to spot a few of the areas resident stingrays cruising around – which also happen to be the main snacks for the orca population too!
…but unfortunately today wasn't my lucky day on that front!
Still I was stoked to have spent a few hours soaking up some Kiwi culture, enjoying the sun and chilling in the ocean – the perfect way to spend an afternoon after the journey from Auckland, brushing off the city life and getting back in amongst the outdoors that New Zealand is so famous for!
If you're on the Kiwi Experience or just heading to hot water beach it's definitely worth the $105 (or $95 if you book along with a Kiwi Experience or Stray New Zealand PasS) – especially since they upload all the images they take free of charge to their Facebook Page!
You can book your spot on Cathedral Cove Kayak Tours over at RTW Backpackers
**PLEASE NOTE – I received a complimentary tour courtesy of Cathedral Cove Sea Kayaking, but rest assured all opinions are honest and my own**