Planning a trip to Komodo National Park? Here's everything you need to know – from how to get to Komodo, where to stay in Labuan Bajo and the best scuba dive, trekking and sailing trips!
Planning a trip to Komodo National Park can be quite complicated, with heaps of boats, day trips and scuba dive options to choose from as well as figuring out where to stay and even how to Komodo Island!
But as one of the most incredible places to explore in Indonesia and one of the New 7 Natural Wonders Of The World, this group of islands (including Komodo Island, Rinca Island and Padar Island) it should certainly be one of the spots you're looking at travelling to in this part of the world!
So to help you plan your perfect Komodo Island trip I spent some time in this stunning part of Indonesia chasing dragons, scuba diving and sailing around postcard perfect island to help put together this guide to everything you need to know about planning your perfect trip to Komodo National Park.
Time to stop it being a fantasy and tick it off your bucket list!
Planning A Trip To Komodo National Park – Everything You Need To Know
How To Get To Komodo National Park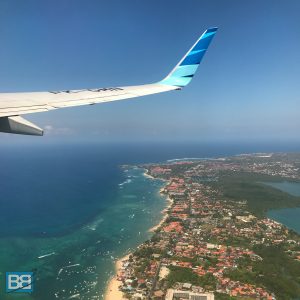 First off you're going to need to know how to get to Komodo National Park. Their are overnight boats from the likes of Lombok and Sumbawa, however the most cost and time efficient (not to mention safe!) option is by grabbing an internal flight.
The main option for flying to Komodo National Park is to head to Labuan Bajo on Flores Island – which is the main gateway to Komodo Island.
You can fly direct into the airport from Bali (DPS) to Labuan Bajo Airport (LBJ) – with operators such as NAM Air, Wings Air and Garuda Indonesia running options multiple times per day. If you're heading to Komodo from elsewhere in Indonesia there are also a range of flight options including direct and with stopover in Bali.
In regards to cost a return flight from Bali can cost as little as $100 in low/shoulder season up up to about $200-250 in high season or if you book last minute.
Your best best is to plug it into Skyscanner for a big range of options, however I ended up getting both of my flights via NusaTrip.com which was the cheapest agent to book through.
[Tweet ""The main option for flying to Komodo National Park is to head to Labuan Bajo on Flores Island""]
Where To Stay In Labuan Bajo
Labuan Bajo is the main gateway to Komodo Island and the National Park, although itself is pretty small but there are a huge range of accommodation options within walking distance of restaurants, dive shops and of course the port for boat trips out to the islands.
Due to the increasingly popularity dorm rooms are no where near as cheap as they are in other Indonesian destination and most will be around 265,000IDR (approx £14 or $20USD) per night for a dorm room.
I ended up staying at Dragon Dive Komodo – which was 265k per night for a 4 share, A/C room which also had a pool and bar. The rooms themselves were fairly basic but the place was clean and centrally located.
Other options to check out include Ciao Hostel and L Bajo Hotel.
My buddy Jess managed to find an awesome little hostel on her trip there though called Hostel Harmoni which was heaps cheaper at 85,000IDR (approx £5 or $6.50USD) a night, so there are bargains to be found it you turn up and wing it a bit more!
And of course if you want something a bit more luxurious there are plenty of hotel options too with Le Pirate Bajo Hotel being one of the most popular – a dorm room is about 200,000IDR (approx £12 or $15USD) per night and double rooms start at around 600,000IDR (approx £32 or $45USD) per night, however they have very limited rooms and book out way in advance.
Check out Booking.com for the most up to date range of places to stay and availability.
[Tweet ""most will be around $20USD per night for a dorm room""]
Where To Eat In Labuan Bajo
Labuan Bajo is a pretty small town, with one main street running along the waterfront which is basically the hub for everything you need – you'll quickly discover that you're walking distance to pretty much everything!
So if you're looking for where to eat in Labuan Bajo I'd check out the following spots that I enjoyed some meals at;
Mediterraneo (seriously good pizza and pasta!)
Le Pirate (part of the hotel of the same name they have an awesome roof top restaurant)
Dragons Dive Hostel
Bajo Taco (I highly recommend the enchiladas! And they do some awesome taco Tuesday deals!)
Blue Marlin Dive Centre (epic breakfast, perfect way to fuel up before a day of diving!)
The above mainly cater for western cuisine but there is also a good collection of local Warungs serving up cheaper options and Indonesian food too.
Top Places To Visit In Komodo National Park
If you're only just starting to plan your trip to Komodo National Park and Komodo Island and aren't 100% of all the amazing things that it has to offer here are some of my favourites…
Visit The Komodo Dragons
Ok you probably already knew this one as its THE major attraction for this part of Indonesia and the Komodo Dragons on Komodo Island are world famous!
Even after watching heaps of nature documentaries growing up I was still blown away by this part of my trip – they're incredible animals and HUGE!
You can actually visit them on both Komodo Island and Rinca Island – Rinca is less busy and overall a better experience but if you're looking to tick this off your bucket list you wont really go wrong with either option!
Padar Viewpoint
Probably the most iconic viewpoint in the whole of Indonesia! The views from the lookout on Padar Island are absolutely incredible and I can honestly say it's the best view I've ever laid eyes on!
I'd easily go as far as saying that Padar was a bigger highlight than Komodo Island too!
White sand beaches, beautiful blue oceans and heaps of islands – it really is the postcard perfect shot of paradise!
The hike itself isn't actually that bad either and anyone with a basic level of fitness will be able to pack their camera full of amazing photos!
I actually hiked it barefoot (standard!) but I wouldn't really recommend that – go with flip flops or some comfortable shoes if possible.
Pink Beach
The whole of Komodo National Park is packed with awesome beaches to explore – and admittedly quite a few of them do have some shades of pink to them!
This is actually caused by millions of fragments of red coral mixed into the sand, and the tide line is the best spot to really appreciate it.
However THE Pink Beach is by far the best of them so make sure you fit that one into your plans – and if you're looking for tips to capture this beautiful hues either get up high and shoot down the beach (ideally with a drone!haha!) or get up close to the sand.
Gili Lawa Viewpoint
Less popular than Padar but still with epic views Gili Lawa is certainly a more strenuous hike to the top – but once again you'll be rewarded by incredible 360 panoramas across Komodo National Park and pack your camera full of awesome pics!
Scuba Diving In Komodo National Park
If you're a keen scuba diver or looking to try scuba diving for the first time you're in luck – alongside to equally famous Raja Ampat, Komodo Island dive sites are world class and scuba diving in Komodo National Park is something you'll never forget!
You can even learn to dive or complete further dive courses in Komodo too.
There are plenty of dive shops in Labuan Bajo which come highly recommended – including Manta Dive, Ora Dive and Blue Marlin Komodo – and of course there are plenty of epic Komodo Liveaboards to choose from too.
I ended up joining the team from Blue Marlin Komodo due to their speedboat (less travel time to/from the best dive sites out the outer islands) and the fact they ran two boats – one for beginners/courses and one for more advanced divers.
This meant as an advanced diver you weren't restricted on the dive sites you could hit up, meaning you got the best locations for the days conditions.
My first dive at a spot called the Cauldron in the Northern part of Komodo National Park was nothing short of incredible and easily the best dive of my life. Heaps of sharks, manta rays, turtles and schools of big fish, I was in underwater heaven!
Be warned though Komodo is famed for its ripping currents, so the more dive experience you have the better, but ultimately this is what brings in all the incredible marine life and makes it such a memorable place to dive. Learn more about scuba diving in Komodo National Park here
If you're looking to scuba dive in Komodo National Park check out my full review here.
[Tweet ""scuba diving in Komodo National Park is something you'll never forget!""]
Day Trips Around Komodo Island National Park
Labuan Bajo is the gateway to Komodo Island National Park and as a result pretty much every other shop in the town is selling tours to it – so you're going to be pretty spoilt for choice or overwhelmed with option depending on how you look at it!
You'll be looking at around £75/$100USD for a day trip which ticks off the main attractions, but there are varying budgets depending on what level of comfort you want and how much you're fitting in.
If you're looking for something flashpacker or just fancy treating yourself then the Le Pirate trips are well worth checking out. These stunning boats cruise around the tropical islands in style – but you do pay for it!
And if you're into scuba diving why not combine two dives in Komodo Island National Park with a hike around Rinca Island on the Dive And Dragons Package with Blue Marlin – at 2,000,000IDR (approx £111 or $150USD) its solid value for money.
When it comes to meeting the world famous Komodo Dragons you actually have two islands to choose from. Komodo Island is the most famous (obviously!) and you can do a guided tour.
The other option is Rinca Island, which is less famous but has a much better experience, mainly due to the fact it's less packed with tourists, but also because they don't tend to feed them there either, which means they're a bit more active and wild.
Overnight Boat Trips Around Komodo National Park
If you want to be a bit more adventurous and spend some time sailing around Komodo National Park rather than doing a few day trips there is good news and bad news.
The good news – there are plenty of options
The bad news – there are lots of options!
I actually headed to Komodo Island as part of the 9 Day Komodo Island Hopper Tour with TruTravels, which started in Lombok, cruised to Sumbawa and then onwards to Komodo and ticked off all the boxes for me.
At £750 this is a bit of a bigger adventure and towards the top end of a budget for Komodo, however it does include heaps of stuff, all your park entry fees, transport throughout and an awesome crew of people to travel with.
For those with less travel budget or time to play with you can easily jump on a 1, 2 or 3 night overnight Komodo sailing boat which will tick off all the main spots like Padar lookout, Pink Beach and of course the Komodo Dragons!
Expect to pay around $100-200USD for a 2 day/1 night trip around the islands depending on the time of year you head and type of boat you're looking at. There are option which can cost waaaay more and cheaper options, but in this instance you usually get what you pay for so choose wisely!
If you want to pack your Instagram full of incredible images then Hype Trip is another amazing option. This overnight option is actually run by an incredible photographer and you'll have a mini photo shoot at all your stops – including drone footage!
Check out their Instagram feed and I'm sure you'll be sold!
The best advice I can give you on choosing the best Komodo sailing trip is shop around and if you're flexible with time try and nab a last minute deal with boats trying to fill the last few spots a day or so before.
It's also worth keeping in mind that many of the boats are exclusive of the National Park fee, which is currently 175,000IDR (roughly $17 or £12) per day – so always ask about that too.
Unfortunately I've heard heaps of stories about boats getting bad reviews and then changing names to avoid missing out on customers, which is obviously a bit of a nightmare – so I'd suggest chatting to some people in the hostel about who they've headed out as an up to date personal recommendation is always going to be your best bet.
Have you been to Komodo National Park?
Any tips or advice you want to share?