Planning a trip to Australia? Avoid these 5 mistakes and make sure you ave an amazing time down under!
Planning a trip to Australia can be a big task – you're flying to the other side of the world and there's a lot to think about. Accommodation, tours, routes…it can be a bit daunting!
Having spent heaps of time travelling to Australia myself and helping people plan their perfect East Coast adventure on my other site RTW Backpackers there are a few common mistakes I've noticed that people make when it comes to planning a trip to Australia.
Luckily they're easy to fix – so I hope you're paying attention!
The 5 Biggest Mistakes When Planning A Trip To Australia
Underestimating The Size Of Australia
Australia is pretty freaking big! In fact you could fit the whole of Europe inside it.
Let that sink in for a second…that's like 50 countries within a single country!
Many people think they're going to take a quick bus between Fraser Island and the Whitsundays and are shocked to discover this is an 18 hour journey!
The East Coast of Australia from Sydney to Cairns is over 2,600km in total and about 29 hours solid driving. So make sure you know how far it is between each destination, especially if you plan on campervanning.
My free Ultimate Australia Guide comes with all the travel distances between destinations so grab that to help you get started!
Check out the below map and click on the destination to find travel times to/from the next major stop.
Trying To Travel Too Fast
And hand in hand with underestimating the size of Australia comes trying to travel around it too fast!
I've chatted to so many people planning a trip to Australia who are thinking about travelling Sydney to Cairns in 2 weeks.
That's nuts!
Yes in theory you can tackle the East Coast of Australia in 2 weeks – but you're going to spend most of that time on a bus watching it from the window!
Personally I wouldn't recommend any less than 4 weeks for Sydney to Cairns or 5 weeks from Melbourne to Cairns.
If you REALLY need to squeeze it in quicker it can be done, but I wouldn't advise it! Check out my How Long To Tackle The East Coast post for some sample itineraries or my How To Spend A Month In Australia to find out what I'd include in a month down under!
Not Budgeting Enough For The East Coast
Unlike countries like Thailand which are very budget friendly, Australia is pretty pricey.
In fact I've calculated that when planning a trip to Australia you'll need to budget roughly $3000AUD (£1875GBP) to do the East Coast properly over a month.
Which is a travel budget of £62 per day.
Big ticket items like Fraser Island and sailing on The Whitsundays will set you back about $940AUD (£587GBP) alone, so make sure you're not going to spend the whole time eating instant noodles and sitting around to save money!
Check out my How Much To Budget For A Month In Australia post for a full breakdown off all the major expenses and make sure you take it all into consideration when planning a trip to Australia.
Trying To Cut Corners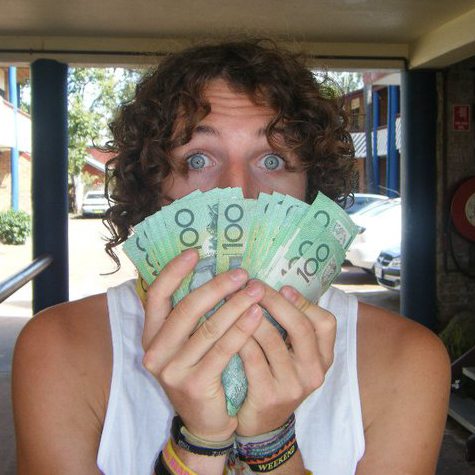 When planning for a trip to Australia people do tend to panic a bit when they realise how much they need to budget. Which also means people then try and cut corners to save money – which is totally understandable.
However people then focus on the money, rather than the experience.
One of the easiest ways to save on Fraser Island would be to do a Fraser Island day trip instead of an overnight Fraser Island camping trip. Sure this will save you about $300AUD, but you'll then be spending one day on the island instead of 3.
You'll also then also be sat in a tour bus being driven around the Island rather than being able to drive your own 4×4 along the beaches and through the rainforest with a heap of new backpacker buddies.
Which basically means you'll miss out on heaps of the fun!
Don't reduce your experience in favour of money – it's better to suck it up and do it properly than to regret not doing it how you really wanted to. Even if that means delaying your trip so you can save a bit longer, trust me it's worth doing properly.
[Tweet ""people then focus on the money, rather than the experience.""]
Booking Last Minute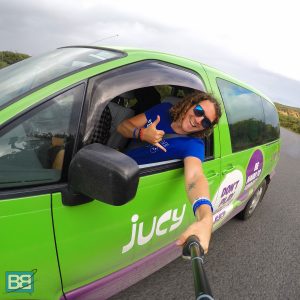 Since Australia is a super popular backpacker destination things can get pretty busy – especially during peak season and over key dates like xmas and new year.
So if you're currently planning a trip to Australia it pays to book a few things in!
Sure, some people love to wing it and want to be flexible. I get that. But when it comes to trips like Fraser Island, campervan hire, The Whitsundays and accommodation in Sydney over New Years Eve you can't expect to rock up a few days before and just book it in!
In fact over peak season boats on the Whitsundays book out 7-14 days in advance! So if you have a specific trip in mind that you want to join get it locked in and avoid missing out.
In low season sure you can be a bit more casual about sorting everything but in my personal experience there's nothing more frustrating than having your heart set on a trip only to find out it's now not available.
If you have plenty of time to do the East Coast then by all means chill out and try and grab some last minute bargains – but if you're limited by your time frame in Australia then it's not worth risking it.
Do your research and be prepared!
As you can see though it's pretty easy to avoid these common mistakes and plan an epic trip to Australia – it's a case of being clued up, doing your research and mapping out what you want to get out of the trip.
If you need some help putting together your perfect trip check out my custom East Coast Package builder and make sure you download my free Ultimate Australia Guide which contains heaps of tips on where to go, what to do and where to stay!
Do you have any tips for planning a trip to Australia?
Share them in the comments!