Looking for a new backpack to travel with? Check out my full Osprey Farpoint Backpack Review and find out why it's my favourite backpack!
Over the last few years of travelling I've tried and tested a number of travel backpacks – with a varying degree of results.
So when the guys at Gap Year Travel Store asked me to put together an Osprey Farpoint Backpack Review on my latest adventure I was stoked to get my hands on it and put it to the test!
In the last few months I've taken my Osprey Farpoint backpack through the Maldives, Sri Lanka and around Australia putting it through its paces and seeing how it handles life on the road.
And I'm stoked to say it has quickly become my favourite rucksack to date!
Ladies – if you're looking of a rundown of the best backpack for women check out this post
My Osprey Farpoint Backpack Review
So what makes the Osprey such a good backpack for travelling?
Well here's my full Osprey Farpoint backpack review – a rundown of the pros, the cons and how its handling life on the road…
Heaps Of Space
Having been on the road solidly for 7 years now I've gone through numerous packing lists and backpacks perfecting the amount of stuff I need (and want) to lug around with me! I've gone from 80L on my first trip to Australia (waaaaaaay too much) to 25L of hand luggage for a few months in Asia.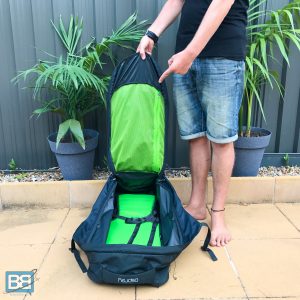 But I've reached a point where I want enough to cover a few climates and adventures, but I've successfully slimmed down my life into a manageable weight!
With that in mind I was going for the 40 carry on but in the end I opted for the Osprey Farpoint 55 – which gave me a little extra room – so I wasn't struggling to ram all my possessions into a bag each time I repacked!
And I'm stoked to say that the 55 size has turned out to be perfect!
Teamed up with 3 [easyazon_link identifier="B01EW63PBI" locale="UK" tag="backpbante-21″]packing cubes[/easyazon_link] all my clothes, cables and extra fit neatly inside with heaps of room to spare.
The main compartment of the Osprey Farpoint is 42 litres and opens up in a suitcase style making it easy to load and locate your stuff without going rummaging around elbow deep and not being able to see what you're looking for!
It doesnt open full in half which I found strange at first, but with further use this has proved a good design option as I can use that section for stuff I don't need alot of access to.
[Tweet ""I'm stoked to say that the Osprey Farpoint 55 size has turned out to be perfect!"]
The Day Sack
The Osprey Far point also comes with a detachable day sack which adds an extra 13 litres to the pack (on top of the main 42 litres) – and its location make sit perfect for items that you need quick access too such as chargers and a change of clothes.
Unfortunately – and like every other backpack I've tested – the day pack doesn't really go far enough to make it very useful. Admittedly it's more comfortable than a lot of other day packs I've come across but for the most part it stays strapped to the main pack as some extra storage!
So if you are going to grab the Osprey for your next adventure I'd looking into grabbing a solid day pack too – with the Slicks Carry On Backpack being my top pick.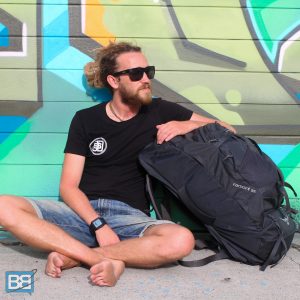 Perfect For Travel
One of the most annoying things I've found about backpacking is the way people throw your stuff around!
From airport to ferries and overnight buses the wear and tear of people grabbing it by the straps constantly means those are the parts which suffer most.
The Osprey Farpoint allows you to quickly and easily pack away the main straps under a durable cover – which is ideal for checking it onto a plane and keep everything from getting tangled up when it inevitably gets piled up in a heap during overland travel!
Not only that but as I've already mentioned the day pack is well secured to the main backpack which is rater reassuring too!
It's the little things that can make a big difference, especially to the lifespan of your backpack.
[Tweet ""quickly and easily pack away the main straps under a durable cover""]
Solid Yet Comfortable
If there's one main thing I want you to take away from this reviews it's the fact the Osprey Farpoint is easily the most comfortable backpack I've used.
Generously padded straps and back supports are awesome for long stints of walking and the fact you only have 55 litres of luggage anyway also makes it even nicer to carry around!
For long term travellers I can also assure you that this comfort doesnt not come at the cost of construction and the Osprey Farpoint feels solidly built – even the straps and mechanism to attach the day sack to the main bag some sturdy and built to last.
The material used throughout should definitely handle everything your adventures throw at it and I'm pretty sure this backpack is going to last me for a long, long time!
Although the Osprey Farpoint may lack any major "gimmicks" or "breakthroughs" they've nailed the basics and produce a solid, well performing piece of kit – which ultimately is what you need from your backpack.
[Tweet ""the Osprey Farpoint is easily the most comfortable backpack I've used.""]
How Much Does It Cost?
Surprisingly the Osprey Farpoint isn't the most expensive bag I've tested out either – with the 55 litre coming in at around £110 – not bad for a solid investment when it comes to travel! Especially one that feels so durable and long lasting.
It does however lack an inbuilt rain cover (which I suggest you grab) and that will set you back about £25 for the official one, but you can grab a non branded version for cheaper.
Even with that factored in the Osprey Farpoint is solid value for money.
[Tweet ""the Osprey Farpoint isn't the most expensive bag I've tested out either""]
Osprey Farpoint Backpack Review – The Final Verdict
Overall the [easyazon_link identifier="B014EBLI7Y" locale="UK" tag="backpbante-21″]Osprey Farpoint 55[/easyazon_link] is now my favourite backpack and I doubt that will change anytime soon!
With it's solid build, comfortable straps and perfect size I think I've finally found my perfect backpacking luggage – I'm looking forward to putting it through the rigours of traveling for the next few years.
And if you're looking too travel hand luggage only the 40 litre version is also a solid version to consider – with all the same features, but smaller in size.
So if you're on the market for your first pack or a new one I can highly recommend checking it out!
PLEASE NOTE: I received a free Osprey Farpoint Backpack to review from Gap Year Travel Store, but rest assured that all opinions are honest and my own.