The last month of my travels has been Kiwi all the way (bar the odd day in Oz at the end) and I've been stoked as with everyday of it!
New Zealand is such a beautiful country and I've had so much fun exploring it. Admittedly I've only explored some key places as I'm heading back here at some point for a couple years on a working holiday visa and wanted to leave some new places to hit up, but each place I visited blew my mind – from the chaos of Queenstown to the natural beauty of simply driving from place to place, it's epic for some great travel photography and really getting back into the fresh air and outdoor lifestyle I love.
The beginning of the month was made even more amazing as my parents joined me for the adventure and we hit up some of the best parts of the south island together and had a good catch up after not seeing them for over a year!
With all the bouncing around though the second half of my month was a bit more laid back, catching up with some buddies including my boss from my job in Ecuador and a friend from home now working in Wellington. Then after a quick facebook convo with a surf buddy I first met on my Bali Surf Charter late last year he  joined me for some surfing fun in the hippy wave fuelled town of Raglan – which has been the first place in a while that I've been uber keen to finally explore!
I spent my final week in NZ kicking back their on the beach and enjoyed it so much I opted to ignore Auckland altogether this time around and head straight to the airport and maximise my beach time!
And onto the budgets and stats…
Overland Distance; 3127 kms
Flight Distance;  2158.75 kms
Total Distance = 5285.75 kms
Countries; New Zealand, Australia
Main Spots; Queenstown, Wanaka, Franz Josef, Christchurch, Kaikoura, Wellington, Hamilton, Raglan, Sydney
Transport Taken; campervan, helicopter, ferry, kiwi experience, car, intercity bus
Flights – 2; AKL-SYD (Emirates), Franz Josef Glacier Helicopter Flight
Money Breakdown
Australia – £35 over 1 day (all on duty free!) = £35 per day
New Zealand – £731.10 over 29 days = £25.21 per day
Total spent – £766.10 over 30 days = £25.53 per day (not inc the £500 I spent on a new surfboard setup!)
…again the beginning of this month was spent campervanning the south island of New Zealand with my parents, who refused to let me spend much and I didn't have to pay for any transport or accommodation either! If you were to include trips like my Franz Josef Glacier Hike, dolphin watching or Doubtful sound you could easily add an extra £500 to my  NZ budget and that's without a weeks worth of hostel or bus journeys.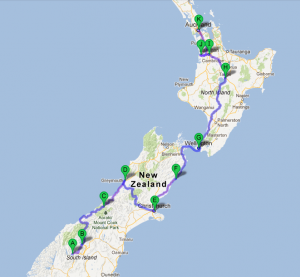 Cheapest Place – Much like the end of last month I can't really lie and say I covered all my costs, the parents did treat me alot! Wellington was pretty cheap though given the fact I was crashing with a mate and there's alot to do there on the cheap. Raglan takes the crown though for ultimate cheapness, with a great value hostel (Raglan Backpackers), free lifts to the beach and the surf being free (or only $25 a day if you need to hire kit!)
Most Expensive Place – Queenstown! That town is an amazing place to be (and you should pencil in heaps of time there on your NZ trip) but with so many things on offer you could easily splurge most of your monthly budget there! In saying that though there's alot of reasonably prices places to eat and drink.
Biggest Splurge/Unforeseen Expense – I sorted out my new surfboard, which cost just over £500 (I haven't included this in my budget though!). Trip wise it would be my heli hike at £200.
Highlight – Without a doubt the highlight of the last month was my Glacier Hike on Franz Josef, it was an amazing experience, you can view a heap of pics and my post on it here.
Lowlight – more goodbyes – this time my parents. I've no idea where or when I shall see them again but their parting words were "keep doing what you do" which fills me with even more travel stoke!
Top Shot
I've taken so many pictures over the last month (here's my 12 pics to inspire you to travel to New Zealand) My stand out shot from the last 4 weeks has to be this one of an ice cave on Franz Josef. It was such a tight squeeze but well worth the effort to juggle around cameras, balance on the ice and hold onto the safety rope to get this picture!
What's Next?
Well I've just landed back in Sydney Australia – where over the next couple of days I will be catching up with some travel buddies of mine before a group of us jump in a campervan and head up the East Coast backpacker trail. It'll be weird revisiting places I haven't seen since 2010 again but I'm super stoked to be heading back to one of my favourite places on the planet – Byron Bay!
At the moment the plan is to base myself between Noosa and Byron for the rest of the month, enjoying hostel living again and surfing as much as I can!
Sweet as!