Heading to Australia on a working holiday visa soon? Trying to figure out where to start? Well here's why Melbourne is the best place to kick things off…
It's not a secret that Byron Bay is my favourite place in Australia, but it's not exactly the best place to get started on your trip down under.
I'm also the first to admit that I'm not a huge fan of cities either – but I know heaps of you are and that if you're planning a working holiday visa in Australia Melbourne and Sydney are probably top of your list for places to kick things off and there are plenty of incredible travel jobs available in both spots.
My good buddy Darryl has travelled all over Australia and he knows his stuff – so there must be a reason he chose to set up his travel company Welcome To Travel in Melbourne.
So I decided to rope him in to give you the low down on why he believes Melbourne is the best place to start your working holiday visa in Australia…
Is Melbourne The Best Place To Start Your Working Holiday Visa In Australia?
First off Darryl, give us a quick rundown of your Australia travel credentials…
It's an odd one, as I was always a bit of a home bird. When I was a child and we drove 10 miles out of my hometown of Scarborough, UK, I used to ball and wail for my parents to turn the car around, thankfully that changed.
In 2010 after finishing my Film and TV degree at uni (not sure when I'll ever use that, but hey I got a degree) along with my best friend Adam, I bought a backpack and a one-way ticket flight out of England for my 6-month adventure away from the UK.
7 years on and I have only been back to the UK twice, visited every single continent apart from Antartica (but that's on the list) convinced my parents to go backpacking and now they live in Thailand and I settled in Melbourne, Australia where I am now a True Blue Aussie Citizen…with a Yorkshire accent.
Australia had this appeal and hold over me from as soon as I landed in 2010 and have travelled all over the massive bloody country, Melbourne is the place that made me feel at home, away from home.
I'm not here to brag about my own experiences because there are a lot of hard times which people don't talk about, like when I had to catch chickens for a job, wake up at 5 am to plant trees when the weather was freezing (yes it does get cold in Australia) or when I only had $100 to my name. Hard times, but its character building, as I kept saying to myself.
Thankfully through persistence, I managed to score myself a second-year visa which lead to getting a job within the travel industry, helping backpackers make the most of their time in Australia as an agent for the largest backpacker travel company in Oz.
Over the course of five years, I went from meeting and greeting people in the store, to overseeing 18 shops along the East Coast…quite the jump. Having to make that jump, required me to leave my beloved Melbourne and live in Byron Bay.
Ok, so it's safe to say you know what you're talking about! So if you had to pick just one reason why will people absolutely love Melbourne?
Melbourne is the city with a buzz about it, with a bit of an edge and a coolness which can't be found in many cities in the world.
Even now I find myself just walking through the city and stumble across a laneway I have never seen before with the most breathtaking street art. You'd walk down there and find there is a quirky little café, with the best busker you have ever heard playing opposite. That pretty much sums up Melbourne as a city.
Outside of it, you have some of the best coastlines Australia has to offer. If you go west you're going to hit the Great Ocean Road (check out Chris' video) Head east and you have a hidden gem to backpackers, but popular amongst locals Mornington Peninsula, with some of the best beaches in Australia.
Nice! So what else does Melbourne have to offer?
Its easier to say what Melbourne doesn't offer haha. It has been voted the most liveable city in the world for the past seven years and is the sporting capital of Australia.
Want to see a game of AFL its here, world-class tennis event Australia Open is held here, Grand Prix held here. Also, has the world famous Rip Curl Surf Tournament held just outside of Melbourne, it's crazy how much there is.
Did I mention the rooftop bars and cinemas?
No?
Oh well has hundreds of rooftop bars and one even has a cinema on there too!
And what are your personal top 5 things to see/do in Melbourne?
Find a hidden bar – my favourite is Sister Bella, make sure you order a pirate drink
Grab a Melbourne coffee – I never used to like coffee and still don't like coffee back in England, but Melbourne coffee will convert you…not like that
ACMI– bit of a movie nerd but its the Australian Centre of Moving Image…check it out, its free
Finding new art– it is literally everywhere is the street art. Sometimes you can spot an original Banksy
Head down to Mornington – wineries, breweries and beaches what more do you need in life
Why do you think it's the best place to start your working holiday?
I'm going to reference Drake here, you ready?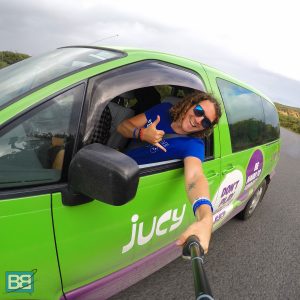 Sure!
'Started from the bottom, now we're here'
You're looking at me like I have two heads, but geographically it makes sense. Melbourne is the most southern point with a major international airport, which means if you start in Melbourne the only place which you're going to go is north.
When you go backpacking around Australia there are two major journeys you want to take either the East Coast or the Outback.
Head west you're going to hit the Great Ocean Road which will then lead you to Adelaide, from there you head north and experience the outback. Travel east and you're going to see Sydney and then experience the East Coast.
Along with the list which I have reeled off before about Melbourne, go compare flights between Melbourne and Sydney…Melbourne 9/10 is cheaper to fly in to.
Now the big debate – why is Melbourne better than Sydney?!
Ok I'm biased because I love Melbourne, but I did live in Sydney for 10 months, so I will try and be as objective as I can.
Sydney is iconic it has the Opera House, Harbour Bridge and Bondi three places which have been etched into my mind from an early age…and even later once Finding Nemo came out.
You have to go to Sydney to see these places, but I'm just saying start in Melbourne, then see Sydney after.
But personally, to me Sydney has no character, compared to Melbourne. I think the best way I have ever heard the two described is this.
Imagine the city's as people from the opposite sex.
Sydney is the one night stand kind of city, Melbourne is the type city you take home to meet your parents.
Any personal advice for people planning their trip to Australia?
Get as much advice from as many people as possible, if friends or family have been, talk to them. Read blogs like this, I know it might sound like a plug but I read Chris' blog when I was travelling South East Asia, before I met him.
Get as much information as possible so you know what you would like to do and where you would like to see. The best person to know that is you.
Chris – and make sure you download my FREE Ultimate Australia guide for heaps of tips and advice!
Ok, shameless plug time – why should people book the Welcome To Melbourne Package?
I and Adam run a tour around Melbourne for new backpackers and we think its awesome and we have had great feedback from everyone who has joined so far.
It covers everything that you need when you first go backpacking from your essentials like personalised airport shuttle and accommodation, to things you may not realise you need like a Tax File Number for work and employment help to the cool stuff like a city food tour, learning how to surf, seeing kangaroos and koalas.
It is the best way to meet people and after a week it becomes like a family…that sounds cheesy but its true…The best thing about it, I may be your guide haha.
The journey which you're about to go on is scary, I know I have been in your shoes, but we're just trying to make sure everyone sees the best of Melbourne and Australia, whilst meeting people just like you.
Check us out at welcometo.travel or head to RTWBackpackers for more advice.
Plus use the code MEL50 for $50 off!
Well guys I hope that's given you a bit more of an insight into what Melbourne has to offer and why you should seriously consider it as your starting point for a working holiday visa in Australia!
If you have any questions about living, working or travelling around Australia drop me an email anytime and I'd be stoked to help you out.
Have you guys visited Melbourne?
Any tips or advice you'd like to share?