Travelling the Maldives on a budget and want to visit a local island? Here's the complete guide to Maafushi – including accommodation, budget and what to do.
Maafushi is easily the most well known and popular local island in the Maldives and if you've been digging around the Maldives section of the site you'll have already come across my guides for travelling the Maldives on a budget and have realised the easiest way to explore paradise on the cheap is by heading to the local islands.
With its close proximity the the international airport, variety of accommodation and a range of day trips on offer it's pretty easy to see why it's a convenient option for those wanting to travel the Maldives on a budget.
So if you're planning a trip to Maafushi here's my complete guide to where to stay, what to do and most importantly, how much everything will cost!
[Tweet ""Maafushi is easily the most well known and popular local island in the Maldives""]
Maafushi Island – A Complete Guide To The Maldives Local Island
How To Get To Maafushi
Since Maafushi is really close to Male and one of the most popular local island destinations there are plenty of departure times from both the airport and Male City.
Depending on your budget (and time frame) there are 3 main options to get to Maafushi, these run from both Male City and also from the International Airport;
Local Ferry – this is the cheapest but slowest option, taking about 1.5 hours but only costing $3USD
Local Speedboat – the best balance of time and cost, it takes around 35 mins and is $25 per person
Private Speedboat – if you dont want to wait around for the public options or are travelling in a group a private speedboat transfer will take 25mins and is around $150
If you're opting for the public speedboat or private speedboat options you can easily book them online at iCom Tours – and you can simply pay when you jump on the boat.
[Tweet ""the cheapest way of getting to Maafushi is the local ferry from Male at $3USD""]
Where To Stay On Maafushi
As one of the most popular local island in the Maldives to visit and the fact it's such a short distance from Male there is a good range of accommodation on Maafushi – from quaint little guesthouses to full blown hotels, so no matter what your budget you'll be able to find something.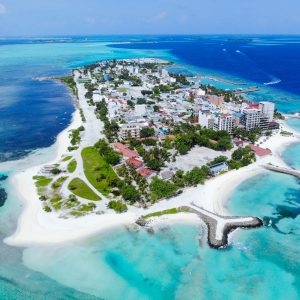 Here are some of the best rated options – click on the links to check availability and book your stay;
On my trip to Maafushi I ended up staying at Alaka – mainly due to the fact it was the cheapest option! I was actually really stoked with it and wouldn't hesitate to recommend it at all. Good size rooms, solid A/C, plenty of chill out areas and the in house food was really tasty and reasonably priced too.
The staff were super friendly and helpful – and you could sort all your day trips and onwards travel with them too. Plus they had free bike and snorkel hire so you could make the most of the island!
[Tweet ""Maafushi is pretty geared up for a variety of budgets""]
Things To Do On Maafushi
Keep in mind that most of the local islands offer very similar day trips (which I'm sure you'll figure out if you look through a few of my Maldives local island guides) so if you're bouncing around a few locations try and spread them out!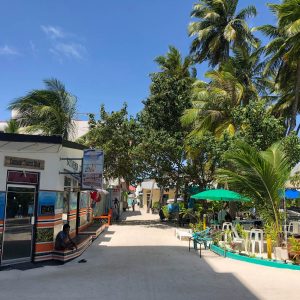 Tourist/Bikini Beach – the Maldives is a Muslim country so it's respectful to cover up (especially shoulders and knees for the ladies), so don't expect to wander around in just bikini or boardies! However most local islands (Maafushi included) have a dedicated bikini/touristy beach where you're all good to shed some layers, swim and top up your tan!
Dolphin Watching – there are thousands of dolphins who call the atolls of the Maldives home and one of the easiest ways to see them is a dolphin watching cruise – perfect for those who dont want to get wet either! If you find them the local spinner dolphins always put on a show
Turtle Snorkelling – there are a couple of reefs off the island home to an abundance of turtles, so if you want to chill with these awesome little dudes this is the perfect day trip
Snorkelling Day Trip – these trips go to reefs closer to the island than the other specialised snorkelling trips so are a bit cheaper, prefect if you're travelling on a budget
Sand Bank Trip – head out to a stunning sandbank for a picnic lunch, an awesome spot to snap heaps of beautiful pictures and enjoy the clear waters
Scuba Diving – although I didn't dive on Maafushi (I headed to Fulidhoo for that) there are plenty of dive centres on the island and it's relatively cheap to dive there. The South Male Atoll has plenty of dive sites for all levels of diver too.
Resort Day Trip – Maafushi is surrounded by quite a few luxury resort islands and you can head over to them for the day, many of which are all inclusive and you can enjoy a cold beer or cocktail (you can even head to Anantara Dhigu for the day which is where I stayed on one of my previous trips!)
Kitesurfing – up by the bikini beach is a watersports centre which offers kite surfing rental (if you already know what you're doing!) or if you fancy learning they do lessons as well.
Jetskis – not my cup of tea but hey if you fancy jumping on a jet ski for you fast paced fun they're available!
Floating Bar – just off of Maafushi there's a floating hotel by Kaani which has a full bar, so you can bob around in the ocean with a cold beer (or G&T in my case!) and relax with views of the island. There's a free dingy transfer which runs twice an hour and it's the perfect spot for some dolphin watching.
For things like kitesurfing, jet skis, kayaks etc there are a couple of big watersports centres on the island where you can easily arrange those activities.
[Tweet ""Keep in mind that most of the local islands offer very similar day trips""]
How Much To Budget For Maafushi
So how much should you budget for your stay on Maafushi and how much is everything going to cost?
As with anywhere in the world the biggest outgoing you'll have wherever you travel in the Maldives is going to be your accommodation (rooms on Maafushi sort from around $40 per night including taxes) so where you choose to stay will have a big impact on your overall budget.
Aside from that here are some of the main costs you'll need to take into account for a trip to Maafushi;
Local ferry from Male – $2
Speed boat from Male – $25
Guest house – $40 per night (inc taxes)
Mid range hotel – $70 per night (inc taxes)
Local style meal – $5
Western style meal/dinner buffet– $10-15
Scuba diving (certified, 2 tank dive) – from $30
Scuba diving (introductory scuba dive) – $75
Dolphin watching trip – $30
Manta snorkel trip – $30
Turtle snorkel trip – $35
Snorkelling day trip – $20
Sandbank Trip – $35
Fishing trip – $35
Resort day trip – from $70 (all inclusive)
When To Go To Maafushi And How Long To Stay
As with the rest of the Maldives Maafushi follows the standard high/dry season and low/wet season pattern;
High/Dry Season = Dec > March
Low/Wet Season = May > Oct
Peak Weather Season = Nov > April
Peak season obviously offers the best option in terms of weather, however if you're really wanting too travel the Maldives on a budget shoulder and low season aren't something you should rule out. Less demand for rooms means lower prices, epic last minute deals and also cheaper activities too.
In terms of how long you should stay on Maafushi it really depends on your reasons for visiting and what you're looking to experience.
Personally I'd say if you want to add in Maafushi, a 3 night package is long enough to relax on the island and pencil in a couple of day trips, but as I've already mentioned you're going to want to spread those across all the places you're visiting.
However if you're only exploring the Maldives for a short period of time (say less than a week) and dont want to travel too far it's a good spot to head to as it's close to the airport, has plenty of boat services to/from the island and there's enough on offer to keep you busy.
My Final Thoughts On Maafushi
For me Maafushi reminded me less of a Maldivian Island and more of a European style holiday destination – the array of hotels and building going on did take away from the vibe you might be expecting by visiting the Maldives.
Sure there's a lot going on and yes the fact it's relatively easy to get to does make it a bit cheaper and with a larger variety of accommodation to choose from, but honestly I still think out of all the local islands I've visited Fulidhoo is still easily my favourite…and that's one of the next main island down.
Maafushi isn't going to be for everyone but if you're looking to link a few islands together in your trip or want somewhere in close proximity from the airport with plenty of things to do then it's a good addition to your itinerary.
Travelling to the Maldives soon? Check out these other posts;
Have you hit up Maafushi or any other local islands?
Any tips, costs or advice you'd like to share?