The Great Ocean Road is one of my favourite road trips on the planet & is a must do in Australia – so where is it, how can you travel it and why is it so epic?!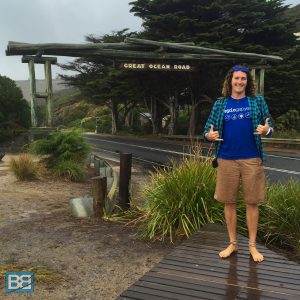 Between Melbourne and Adelaide lies the Great Ocean Road – the largest war memorial on the planet, stretching hundreds of kilometres along the coastline.
But apart from commemorating the fallen soldiers of WW1 The Great Ocean Road is easily one of my favourite drives in the world and if you're heading to Australia I urge you to pencil it into your plans…it's an epic road trip and takes in some incredible Aussie landscape!
I've recently campervanned it for the second time so I thought I'd put together a mini guide of how to tackle it and more importantly why it's one of my favourite road trips…
How To Travel The Great Ocean Road
Where Is The Great Ocean Road?
The start of The Great Ocean Road is situated just outside of Melbourne in Victoria and extends all along the south of Australia to Adelaide, for the most part it hugs this incredible coastline – taking in stunning views and generally being an awesome experience to drive!
Although technically not all of it is classified as the GOR that's pretty much the standard route – although if like me you're slightly pushed for time (or don't fancy visiting Adelaide!) you can simply do it as a round trip from Melbourne – driving just past the famous Twelve Apostles and back again.
How To Travel The Great Ocean Road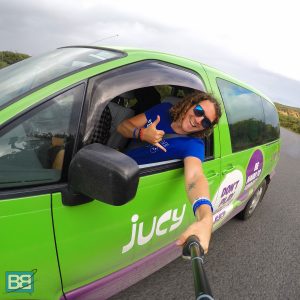 The biggest appeal of the Great Ocean Road is the fact it's an incredible drive and one of my favourite road trips on the planet – so for me the only real option is to do it in a car or a campervan!
Check out companies like Spaceships and Jucy, Britz and Travellers Autobahn for camper rentals ranging from 2 berth people carriers to full on campers with showers and toilets – prices vary depending on the season, length of rental and van you rent.
There are tour companies that do it as day trips and short tours but if you've got the time and company driving it yourself is definitely the ideal way to see it!
One of the best reasons to put it into your Australia travel plans is the fact the entire route is littered with places to stop off – from secluded beaches to waterfalls, small coastal towns and forest filled with native wildlife, so you can take it whatever suits you and it'll be a huge highlight of your trip down under.
Because of this the time you take is pretty flexible too. I personally wouldn't take any less than 3 days/2 nights to do the trip Melbourne – Melbourne but the longer you have to explore the more you'll get out of it!
Here's a quick overview of the itinerary I worked with though;
Day 1;
Campervan Pickup @10am
Melbourne – Torquay
Torquay – Lorne
Day 2;
Lorne – Apollo Bay
Apollo Bay – Cape Otway
Cape Otway – 12 Apostles (inc Gibson Steps, Lord Arc Gorge etc)
12 Apostles – Princetown (or Apollo Bay if you don't want to do sunrise)

Day 3;
Princetown – 12 Apostles (for Sunrise)
12 Apostles – Melbourne
Campervan Drop Off @ 2pm
Ideally though I'd say adding in an extra night would make it perfect, meaning the return journey is a bit more broken up, perhaps with another night in Lorne or Torquay.
Alternatively you could also use that extra night to head further up the coast to Port Campbell too.
This extra day would also mean you could take more time to explore the beaches en route…lets face it extra time always means less stress when it comes to travelling!
When it comes to time of year it's balancing crowds with weather really – too much into winter and the weather will be pretty rubbish and you wont get to enjoy the beaches and stop off as much, slap in the middle of summer and you'll be wading your way through the crowds to get pics, so choose wisely if you have a flexible schedule.
What To See & Do On The Great Ocean Road
Without a doubt the biggest draw of the Great Ocean Road is the scenery – the road winds along some of the most beautiful coastline I've ever seen and there are heaps of bays, beaches and look out points along en route for you to stop off at.
With this is mind make sure you take your time and aren't rushing it, you'll be pulling over heaps to soak in the views, snap heaps of pictures and enjoy the Aussie landscape!
Of course with all this ocean there's also some pumping surf too – so if you have your board in tow you'll be spoilt for choice!
Surf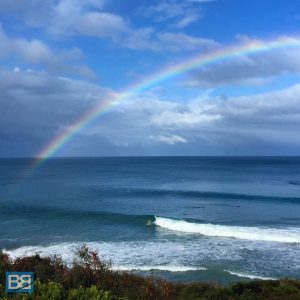 It's also home to one of surfings most famous spots – the infamous Bells Beach. Although I STILL haven't managed to paddle out there I've enjoyed lunch watching it from the cliff and it's an incredible view from the cliffs onto some of the most amazing waves I've laid eyes on and is something I'm sure you can appreciate whether you surf or not.
Just north of Bells is the town of Torquay (which will probably be your first stop after leaving Melbourne) which is the birth place of surf brands Ripcurl and Quiksilver. As a result there's heaps of surf shops and factory outlets to explore….yaaaaaaay shopping!
If you're hunting for a bargain I'd actually avoid the main branded outlets as they don't offer major discounts, instead head around the back of the Surf City plaza, just around the backleft of the Ripcurl Store to a shop called Baines Beach Surf Factory Outlet – here you'll regularly find 50% off sales from all the major brands and it's a great place to grab some serious bargains.
Wildlife
One of the highlights of my trips along the Great Ocean Road has to be the native wildlife and this trip will give you plenty of opportunity to get up close and personal with some fluffy and feathered Aussies locals!
In Lorne you'l find heaps of cockatoos munching on the grass along the sea front and at most of the campsites in town you'll be sharing breakfast with more than a couple of them – and they aren't afraid to jump on a shoulder!
Further down the road at Kennet River you can pull over at Koala Cove Cafe where l and kookaburras will pop over to say hi.
The biggest draw of this stop though has to be sleeping up in the trees – looks around carefully and you'll spot a few of the local Koalas napping amongst the eucalyptus branches!
Cape Otway is also another epic spot for wild koalas too!
If you're staying overnight in Princetown there's an awesome campsite just after the main town towards the Apostles and there are always heaps of kangaroos kicking around, so a stay there is always highly recommended!
The Twelve Apostles
The main reasons most people head along the Great Ocean Road though is to visit the Twelve Apostles – one of the iconic natural attractions that Oz has to offer.
Located just past Port Campbell they're a series of stone pillars stranded in the ocean. I know that was a terrible way to describe them but trust me they're heaps more impressive in real life!haha!
Although they're called the 12 Apostles there's actually only 9 of them and a couple extra that have been tagged along into the mix!
One you've made it to them there's a few viewpoints you can check them out from and grab some snaps – but if you want to go all out you can also take a helicopter trip over them which really puts them into perspective. It's about $145AUD for a 15min trip up the coast, but it's a great bucket list tick and worth the view!
Making it there for sunset will give you the best opportunity for photos and if you can stay overnight near them and get sunrise in too you'll be winning all round! If you cant that in try to arrive mid morning or mid afternoon to avoid the rush of day tour visitors stopping off.
The bottom line on the whole thing is that the Great Ocean Road is an epic road trip and a great opportunity to take in some of the Australian landscape and coastline.
Have you road tripped the Great Ocean Road?
Any tips you'd pass on or places you'd suggest stopping off at?