Despite it's small size there's some serious miles to be covered in this beautiful part of the world – and whether you head to New Zealand for a couple weeks holiday or a full blown gap year you'll want to make the most of your time, and of course budget.
And after a month in New Zealand I've managed to cover over 3,000km through a variety of transport options – so I think it's safe to say I can pass on some tips on how to backpack around NZ!
So I've put together a few ideas to help you plan your trip around the land of the long white cloud and hopefully clue you up on what suits your time and money requirements…
Intercity
The Intercity system is basically the Kiwi version of national express and runs nationwide. You can easily book trips online, but the earlier you book the cheaper it is. It's not the most comfy way to travel but if you're switched on it can be a good money saver and opens up some routes which some other bus and travel companies no longer take.
They also offer some flexible saver packs which are great value if you intend to use them quite a bit.
Best For – alternative routes/bolt on travel, medium budget
This is the famed backpacker bus network of NZ. It has a rather profound reputation as "the big green f**k truck" but I'd take that with a massive pinch of salt!
I used Kiwi for a few legs of my trip and as a solo traveller it was heaps good to meet new people. It's also great if you want to simply sit back and relax – with the knowledgable drivers chatting through what you can get up to, booking your onwards journeys and even sorting your accommodation out too – with a door to door hostel service!
It's not the cheapest option but it comes with a whole heap of discounts, route options and is super flexible – just make sure you're pretty organised in peak season when buses get full very quickly.
To nab a bargain keep and eye out on some of the sales they have – especially on their bigger passes.
Best For – solo backpackers/people wanting to meet more people, variety of routes, sorting transport budget in one hit, flexible/longer stays
Stray Bus
Much like the Kiwi Experience Stray offers a great variety of pass options and many added extras too.
To be honest your route and budget will be the main decider in who you choose out of the backpacker bus options as they're very similar.
Best For – solo backpackers/people wanting to meet more people, variety of routes, sorting transport budget in one hit, flexible/longer stays
Naked Bus
Don't be fooled by it's name – you dont really need to be naked! This bus company is pretty much the mid ground between the backpacker buses and intercity. And with fares starting at $1 per journey you can rack up some epic savings.
If you want the flexibility of the backpacker buses without being surrounded by alot of probably hungover younger people this could well by the option for you.
Best For – those who want the flexibility of a backpacker bus but without the drunken backpackers! variety of routes, flexible/longer stays
Local Buses
Local buses operate some of the smaller routes, yet still encompass some great travel spots. For example the easiest way to get to the surfing mecca of Raglan is via Hamilton where you need to grab the local bus or shuttle service for the 40min drive to the coast.
Best For – less common routes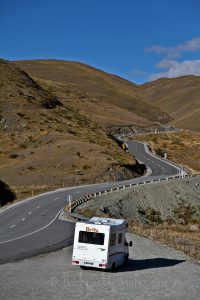 Campervan
For those who want the ultimate in freedom campervan is my preferred option! Being able to move around freely and have all the facilities you could need on wheels is the best way to travel.
Unfortunately this freedom does come at a price and it can be one of the more expensive options to go with. But if there's a small group of you it's bound to be heaps fun and worth every penny.
I used Brtiz Campervans for my trip around New Zealands south island – but there's a variety of companies who offer numerous types of van depending on your group size and comfort level!
Best For – small groups/families, alternative routes, people looking for a bit more adventure, medium to high budget.
Car
Still want the flexibility of a campervan but without the added cost? Car rental is a great option.
If you're basing yourself in NZ to work or want to link together small parts of your trip a couple days rental may well be all you need, and with pick up and drop off depots all over the country it's certainly an option you should consider.
Best For – small groups, alternative routes, shorter trips, medium to high budget.
Internal Flights
If you're short on time and want to cover some serious distance then much like Australia NZ has a good internal flight network. Companies like Air New Zealand and Jetstar offer flights from all the key points (Queenstown, Wellington, Christchurch, Auckland etc) and they wont burn a huge hole in your pocket either.
Best For – covering large areas quickly, short trips, meeting international flights
Hitch Hike
The ultimate in budget backpacking travel has to be hitchhiking! Personally this isnt something I did myself in NZ but I met alot of people who did. The Kiwis are lovely people and most of my backpacker buddies who hitched hardly had to wait at all before being offered a lift. So if you're traveling light, have a sense of adventure and love the unknown go for it!  (Just be careful!)
Best For – budget travellers, those with a crazy sense of adventure, meeting the locals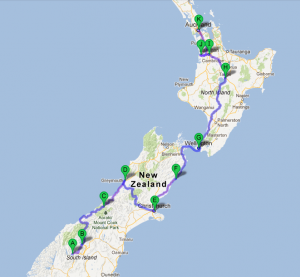 Inter Island Ferry
At some point you'll probably find yourself needing to travel from one island to the other – and this is where the inter island ferries come in (unless of course you opt to fly internally).
Sorting a ferry is heaps easy and can be done online or through your hostel or backpacker bus company. It's a beautiful journey too (especially when entering/leaving the south island) so get up on deck and bring your camera!
If you're taking a campervan between islands it's handy to prebook this in advance.
Best For – those overlanding between the two islands
If you like to travel in comfort, have your budget all sorted in advance or make the most of a short trip to New Zealand then doing it with a tour might be worth a look. That way you can have all you excursions and route already planned and you can simply sit back and enjoy a stress free trip!
Best For – solo travellers, medium to high budget, first time travellers, shorter trips
 Have you travelled around NZ? What modes of transport would you recommend, anything to avoid?