When I was in Byron Bay 3 years ago I stayed and played for nearly 6 months – during that whole time there was one activity I really wanted to tick off my travel bucket list (despite there being heaps of things to do in Byron Bay), and that was diving at the Julian Rocks Marine park.
Everytime I surfed it was sat on the horizon and the dive boats navigated the surfers as they departed and came back.
It was one of those annoying "I'll do it later" items that I just didn't get around to doing!
So after being in Byron for nearly 6 weeks this time around I wasn't going to make the same mistake – so accompanied by some buddies I FINALLY got around to putting my money where my mouth is and getting it all booked up
The Draw Of The Sharks
Julian Rocks is rated amongst the top 10 dives in Australia – a pretty solid ranking considering the country is home to some amazing dive sites, including the Great Barrier Reef (which I dived just last month) and the sligthyly overlooked but spectacular Ningaloo Reef on the west coast.
This particular dive site is famed for 2 main species of marine life – manta rays and grey nurse sharks.
Having dived with mantas whilst camper vanning around WA last time around I wasn't too fussed by them for this dive (despite the fact they're majestic and amazing creatures to share the water with) so I was stoked to find out that I booked my dive right slap in the middle of the grey nurse shark mating season.
Sweet!
Incase you're not in the know about the men in grey suits – nurse sharks are the ones with all the crazy jagged teeth, terrifying to look at yet incredibly placid and intriguing to dive with.
That was the main aim of my dive, to get up close and personal with some sharks!
Hitting The Water
After squeezing myself into 5mm of wetsuit (something I haven't done since my last surf session in Devon nearly 2 years ago!) we hit the water, weaved our way through the surfers at the Pass and started the 10 min boat journey out to JR.
Up close they were actually far less impressive than I'd imagined from the shore. I'd envisioned steep cliff faces towering above the water – yet they weren't actually that big!
Still I hadn't come to look at some rocks – I'd come to get under the water and see what was lurking around in the ocean around Byron!
After back rolling into the water (which was rather refreshing!) I tagged alongside my buddies Kaelee and Raija who were on an intro dive.
As soon as we descended I became aware the ocean floor was literally swarming with Wobagong Sharks – these weird looking sharks look like algae covered rocks until they move and come in all shapes and sizes – from ruler right through to well over a metre.
From then on the entire dive was filled with amazing marine life. We cruised alongside sea turtles – who didn't seem bothered by us in the slightest – massive stingrays hunting around the reefs and shoals of all manner of fish.
Literally everywhere we turned there was something awesome to look at – and despite the 10m visibility (somewhat less than I was used to diving in Thailand, but apparently pretty good for Byron this time of year) I was kept heaps busy swimming around trying to photograph everything.
Save The Best 'Til Last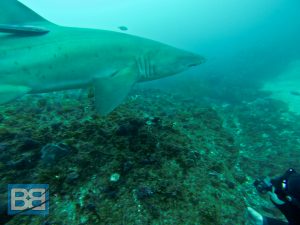 There was one thing that was lacking though and as my tank began to empty I began to think it wasn't meant to be…where the hell where all the sharks?!
But then out of the blue I saw a shadow looming towards me – a fully grown male nurse shark cruised into view just feet in front of me.
Stoked as!
I've dived with sharks before, but never this active or large. Being in the water with them at their level gives you a whole new appreciation for them.
As a surfer I should naturally be terrified of them, but as a diver I've realised they're beautiful and agile creatures marred by a reputation for death and destruction.
With everyone in out group in awe we swam around the next corner – to be greeted by 2 more sharks who stuck around, circling the group slowly and checking out who we were.
It was everything I'd hoped for!
Even more stoked but with tanks draining through the excitement we headed back to the mooring line and a safety stop. After being sat there for about a minute taking in the dive I noticed something below us and signalled towards my buddy and our dive guide.
Slowly cruising about a few feet below us all was a bull ray.
A HUGE bull ray – easily 2m across!
What an incredible end to one of my favourite ever dives!
Have you ever dived with sharks?! How did you find it?