I've just wrapped up the first half of my backpacking trip through New Zealand – just over 2 weeks travelling around the South Island of this country.
It's a backpacker hotspot and I know alot of you will be planning on heading this way as part of your gap year or round the world trip so I thought I'd put together a mini guide and summary of what I got up to during my time here to help you pan your trip – just because I'm nice like that!
Over 19 days I covered 2202kms, stayed in 7 different campsites and taken 1000's of photos (my iPhone South Island Top Shots are already online) – it's been an epic adventure! So here's a round up of where I've been and what I've been up too.
(I've also inserted a heap of links to all the posts about certain areas and activities incase you want some more in depth info)
Christchurch – I really wasn't sure what to expect from Christchurch given the 2011 earthquakes. I'll even admit I wasn't sure how much damage had really been done. So when I took the Red Zone Tour I was completely taken aback by the utter devastation and rebuild that's going on – only about 16 buildings in the CBD will be left standing and there's a solid 10 years of reconstruction to get underway. It's almost apocalyptic in feel! Don't let that put you off a visit though, there's still stuff to do including the amazing
Re:START shopping centre – where businesses are now operating out of converted shipping containers – it's a great place to see to see the fighting spirit of the city and also grab a coffee too!
Lake Tekapo and Lake Pukaki – although I didn't stop over at either of these lakes (there are campsite if you have some more time to explore) it's worth mentioning these two lakes which we drove by en route to Queenstown from Christchurch as they'll produce some of the best landscape photos you could hope for.
Queenstown – without a doubt the backpacker hub of New Zealand QTown serves up a whole host of entertainment and is the adrenaline capital of NZ. Get stuck into Skydiving (I even convinced my Dad to join me!), white water rafting, jet boating – just to name a few! This was also my main stop off in the south and I spent about 6 nights here in total – but it's easy to plough through your budget here!
You can always take it easy though and enjoy some scenic walks around the lake, head up to the Skyline Gondola to take in the panoramic views of Queenstown, enjoy a coffee on the waterfront, gorge yourself on the famous Fergburger or even enjoy a cocktail in the ice bar. Make sure you pencil some serious time and money in!
Te Anua and Doubtful Sound – I used Te Anua as a bounce pad for Doubtful Sound (but you can also use it for Milford Sound too if you don't do it from Queenstown). To be honest there wasn't crazy amounts to do here, although there's plenty of walks if you like a good wander! Doubtful Sound itself is a beautiful day trip where gorgeous landscapes, waterfalls and boat rides will let you get up close with some of the more untouched sides of NZ
Wanaka – After an amazing drive through the mountains from Queenstown you'll come to Wanaka and it's magnificent lake. In the winter season this is a major hub for the ski fields in the area and as such it has a very alpine up market ski resort feel to it. Off
season it's a great place to relax for a few days after the adventure of Queenstown and offer some great lake side tracks to stroll around in the afternoon sunshine.
Bruce Bay – again another little random place to stop, this time between Wanaka and Franz Josef (about half an hour north of Haast). All along the side of the road people have collected the white rocks from the beach and written messages on them – I love quirky little travel stuff like that – look out for my Backpacker Banter one!
Franz Josef – Franz Josef is second only to Queenstown in my places to explore in the south island, it's a gorgeous little town. From here I jumped on a helicopter to go glacier hiking on the Franz Josef Glacier, which is without a doubt the single highlight of my trip so far! Slightly further south is the town of Fox Glacier where you can head out to Lake Matherson for the 1.5hour long walk around it through the rainforest – which is something I highly suggest you find an afternoon to do…and don't forget your camera!
Kaikoura – My time Kaikoura (a town about 2.5hours drive north of Christchurch) was mainly to accommodate a trip which is on par with my Glacier Hike for my highlight of the south island. The Dolphin Encounter boat journey was a perfect sunny afternoon where I got to swim with wild dusky dolphins – but not just one or two, not even a dozen – there was over 500 in the water surrounding me and it's an experience I'll never forget!
Campervan – Ultimate Travel Freedom
And exploring it all via campervan is the perfect option in my view. There's nothing quite like having the freedom to explore at your own pace, pull over enroute and take as many detours as you like!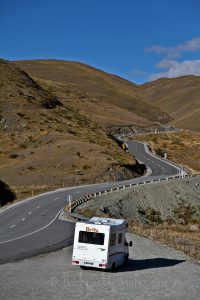 As part of my collaboration with 100% New Zealand I worked with Britz Campervans for my roadtrip and can highly recommend their fleet of campers – spacious, clean, modern and kitted out with everything you need for life on the road.
When it comes to parking up for the night just make sure you know the rules. Alot of NZ allows freedom camping (provided you're travelling in a self contained van with toilet and grey water storage) and it's a great way to explore the landscape also save some money!
If you want a dash of luxury to your trip – or you're in one of the areas where you can't freedom camp – NZ has a whole heap of camp sites to suite every budget.
Throughout my stay we used the Top 10 Campsites chain which were nothing short of campervan flashpacking and ideal for a bit of restbite!
There's no need to win the lottery or strike lucky in golden bingo to afford it either – expect to pay around £15-£20 per night for 2 people but you get great value for money with sites having everything from wifi and hot showers through to saunas and hot tubs included in the price!
If you plan on sticking with Top 10 get yourself a membership card too for an extra discount – it's $49 for 2 years but you'll save yourself 10% on every stay and a whole heap of local discounts at each location too so it'll quickly pay for itself!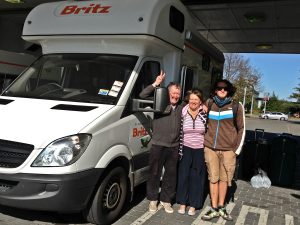 Overall
For me the South Island contained everything I was expecting and hoping New Zealand to be – beautiful scenery, friendly locals and more outdoor activities than you can shake a stick at!
Time wise you'll need at least 2 weeks to cover the main spots. You could afford slightly less time  but you'd be bouncing around too much to properly enjoy it or relax in my opinion.
I still missed out the far north and south sections (although I'm coming back again so I'm not too worried – I've got to leave something fresh to do!) so obviously the longer you can spend the more you do and see.
Although I've only just left for the north island I'm already stoked to get back and give it some serious travel time…but I'm also intrigued to see what the north island is like in comparison!
Have you travelled the south island of New Zealand? Any places or experiences that should be on the backpacker to do list?