Can you travel the Maldives on a budget? Yes you can! From accommodation and transport to food, here's how to travel the Maldives on a budget
Could I travel the Maldives on a budget?
It was a tough question to ask myself as I was planning my first trip to the Maldives.
I was dreading the dent it was going to put in my travel budget. I'm used to $5 a night hostels and guesthouses and the Maldives is marketed as a luxury travel destination – could I travel the Maldives on a budget?
Was I about to totally screw up my travel funds and land in Australia totally broke?!
To be honest finding information online about how to travel the Maldives on a budget is pretty difficult, there's not much out there about staying on local islands and day to day costs – it's all about resort islands and over water bungalows, which seem to cost more per night than my entire monthly budget!
Luckily though I took the risk – roped in some awesome local guidance from my Maldivian buddy Ni and decided to check it out for myself.
And as always I noted down every little bit of my spend – from accommodation and transport to food and drink so I could pass on that info to you guys!
So here's my guide to how to travel the Maldives on a Budget…
(also FYI all costs in this post are in $USD as the Maldives also uses this alongside their own currency)
[Tweet ""here's my guide to how to travel the Maldives on a Budget""]
You Can Travel The Maldives On A Budget!
How To Find Cheap Accommodation In The Maldives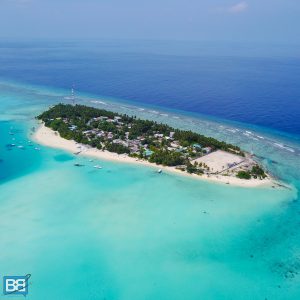 Until pretty recently the only real way to stay in the Maldives was through a private island resort – which was never going to be budget friendly!
But recently the government changed the laws so that the locals could open and run guesthouses – which is great news for the local tourism industry (with money going into the local communities rather than corporate business accounts!) but more importantly this is epic for those wanting travel the Maldives on a budget!
Surf tourism is starting to become a big industry in the Maldives (it has some world class waves) and islands like Thulusdhoo have a range of surf camp options available and Himmafushi offers an epic budget surf camp package from $65 for two people per night!
The other huge draw of the Maldives is also the incredible scuba diving on offer, and islands like Fulidhoo are the perfect place to get into the big blue without breaking your budget!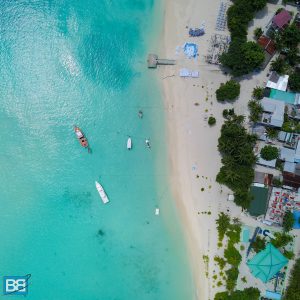 If surfing isn't your thing or you want something a bit more local then your best option at the moment is actually Air B n B and there is a growing range of properties to choose from.
In fact you can grab a double room from $50USD per night – including breakfast! That's incredible value for a country where you'd used to have to fork over nearly ten times that!
And if you're new to Air B n B sign up using this link to save $35 on your first booking!
[Tweet ""your best option at the moment is actually Air B n B""]
With the rise of local guest houses bringing competition to the market its also meant hotels are becoming more affordable too – so if you want to splash out you can still treat yourself without having to be a millionaire!
With this is mind check out Booking.com and you'll find a whole heap of mid range hotels in the $50-100USD (£38-75) price range too, so there's a lot of options to choose from depending on what you want and most importantly how much you have to spend.
I stayed at Kinan Retreat on Fulidhoo for around $60USD (approx £45) per night for a double room right on the beachfront!
For comparison I also indulged in an overwater bungalow at Cinnamon Dhonveli (which comes with it's own private surf break!) which set me back $600 (£450) per night for the room for two people, all inclusive and with that of also came unlimited booze too. Not bad if you do want to treat yourself! Check out my full review of Cinnamon Dhonveli here.
How Much Does It Cost To Travel In The Maldives On A Budget?
On my first trip to the Maldives I split my time in two sections – one week of budget travel in the Maldives and one week of luxury travel in the Maldives.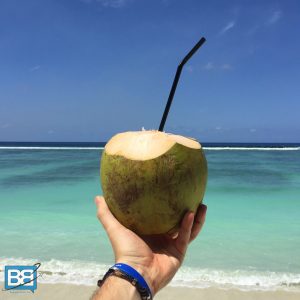 My budget travel week in the Maldives included the following;
Ferry from the airport to Male = $0.60 (49p)
Taxi to Male ferry terminal (I use the phrase ferry terminal loosely!) = $0.80 (59p)
Ferry from Male to Thulusdhoo = $1.40 (£1)
Accommodation = $40 (£33) per night
Food (as it was Ramadan we shopped at the local stores and cooked all our meals, split between 2) = $4.5 (£3.48) per day
That's a total of just $340 (£257)!
If you weren't cooking all your meals though expect to pay between $5-10 per meal, which would bring your total to $396 (£302)
Sure this isn't as budget friendly as Thailand or Cambodia – but that's only $56 (£43) per day FOR THE MALDIVES!
That's still less than how much you'd need to budget for Australia – where you'd be staying in hostel dorms not a private double!
Just as a comparison my luxury week in the Maldives included;
$130 (£100 speedboat) (from Thulusdhoo > Dhonveli and then Dhonveli > Airport)
7 nights accommodation in an over water bungalow, all inclusive = $1800 (£1400) (that's my half, splitting the room with my girlfriend)
MUCH more pricey at $1960 (£1500) for the week!
…but $260 (£200) a day, fully inclusive in an over water bungalow still isn't as crazy as I thought it would be! And of course you don't HAVE to go for the over water bungalow option – you can stay in mid range resorts in beach bungalow options (which are still stunning) for much less!
[Tweet ""That's still less than how much you'd need to budget for Australia""]
Basic Costs In The Maldives
To help give a better breakdown of budget travel costs in the Maldives here are some of the main non accommodation expenses you'll be dealing with when travelling to local islands;
Grab A Local Sim Card For Your Insta Shots!

Local meal – $5 (£3.80)

Western style meal – $10 (£7.50)
Bottle of Water – $0.30 (22p)
Ice Cream – $2 (£1.50)
Chocolate bar – $1 (75p)
Packet of crisps – $1 (75p)
SIM Card with 15GB of Data – $32 (£24)
Speed boat to Maafushi – $25 (£19)
Speed boat to Fulidhoo – $40 (£30)
Speed boat to Thulushdhoo – $30 (£22)
Local ferry to Maafushi – $3.5 (£2.60)
Local ferry to Fulidhoo – $3.5 (£2.60)
Local ferry to Thulushdhoo – $1.5 (£1.20)
[Tweet ""here are some of the main non accommodation expenses you'll be dealing with In The Maldives""]
Popular Islands For Budget Travel In The Maldives
Admittedly I haven't explored a huge chunk of the Maldives – there are over 20 Atolls and in excess of 1,000 islands to cover – however these are a few of the local island options I've checked out and been recommended by other travellers;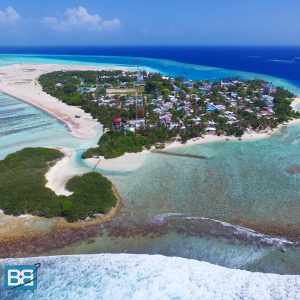 Maafushi (South Male Atoll) – out of all the local island options this is certainly the most popular and easy option. It's only a quick 30 minute speed boat from Male Airport and there's a huge range of accommodation and food options for all budgets. It's a great option of you want to smash in a lot of day trips (including a trip to a luxury resort) and want to have the best budget option for you trip. Check out some budget Maafushi maldives package deals here.
Fulidhoo (Vaavu Atoll) – I headed here for a week of scuba diving with Fulidhoo Dive and absolutely loved it! Not only was the scuba diving incredible (we saw sharks, manta rays, turtles and more!) but the island itself was beautiful too. Only about 200 people live here and it's a super sleepy and quiet spot to relax. We managed to grab a room at the beachfront Kinan Retreat for just $60 (£45) a night.
Check out my Complete Guide To Fulidhoo Island here
Thulusdhoo (North Male Atoll) – my personal favourite just because of the amazing surf it offers up and there are some awesome surf and stay packages on Thulusdhoo! For non surfers there are still plenty of accommodation options, snorkelling and good beaches to enjoy. The lagoon section is also full of baby shark swimming around which are super cute to watch!
Ukulhas (North Ari Atoll) – this island is noted for its green island credentials and eco ethics, so kudos to them! This is also a great location for snorkelling with manta rays and they even have hammerhead shark diving here in the right season.
Himmasfushi (North Male Atoll) – another epic little surf island just 20 mins by speedboat from Male and home to famous surf spot Jailbreaks. It's also one of the best budget surf destinations in the Maldives, with rates from around $65USD per room per night including breakfast and daily surf transfers (click here for more info)! For non surfers it offers much the same as Thulusdhoo – including snorkelling, resort trips and beaches.
Basically you want to head to any of the islands which are in the Atolls within a short speed boat/local ferry of Male Airport to keep the cost down!
[Tweet ""there are over 20 Atolls and in excess of 1,000 islands to cover""]
Things To Do In The Maldives
When you think about travelling in the Maldives you probably just imagine grabbing a cocktail by the ocean and watching the world pass you by – and to be honest you should certainly indulge in that whilst there, but for those who fancy something a bit more active the Maldives has some more items for your bucket list and there are heaps of things to do in the Maldives…
Surfing
Think the Maldives is just clear, blue, flat ocean? Think again! Some of the island are blessed with incredible surf! From spots like Cokes (off Thulusdhoo) to Chickens, Sultans and of course Pasta Point (the private break off Cinnamon Dhonveli) there's waves for all levels of surfer.
Check out this surf and stay package on Thulusdhoo or this budget Maldives surf camp on Himmafishi for more details.
Scuba Diving
With so many stunning island it should come as no surprise that the Maldives also has some amazing scuba diving too. So whether you want to try it for the first time or you're an experienced diver there's a solid range of dive sites to check out.
Areas such as the South Ari Atoll (all-year, and whale sharks too!) or Hanifaru Bay in Baa Atoll ( May-November) are famed for the annual Manta Ray migration so it's the perfect location to tick diving with these gentle giants off your bucket list!
On my most recent trip the the Maldives I spent time diving at Cinnamon Ellaidhoo (a mid range resort) and on the local island of Fulidhoo and had an amazing time. In fact we saw sharks on EVERY dive (which for me was awesome!), swam with manta rays and just had an all round amazing time!
It'd actually pretty reasonable to complete your open water dive course or even divemaster training out there too! Find out more info on the cost of diving in the Maldives here
Day Trips
As well as lazing around on the beaches there are also a range of day trips you can do in the Maldives. These vary from island to island but day trips include;
Snorkel tours
Local island excursions
Dolphin watching
Manta ray snorkelling
Whale shark snorkelling
Sand bank picnic trips
Basically there are heaps of awesome ways to fill your time in paradise. And of course you can always hire a kayak or SUP and explore the lagoons around the islands too.
[Tweet ""for those who fancy something a bit more active the Maldives has some more items for your bucket list""]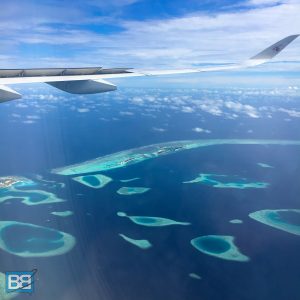 Ok admittedly the Maldives isn't going to be your cheapest stop off in Asia, but if you're wanting to tick off one of the most beautiful destinations in the world it's actually not as pricey as you might think – the trick is to stick to the local…islands, food, accommodation and day trips.
Obviously accomodation is going to be your major cost (as with any country) but there's much more of a range to choose from than you might first think – so it's easy to tailor your trip to suit your personal budget.
However you decide to travel the Maldives though you'll leave with a camera packed full of amazing photos and a strong desire to return – trust me, I'm already planning my next visit!
Travelling to the Maldives soon? Check out these other posts;
Have you travelled the Maldives on a budget?
Any awesome tips you want to share or islands you'd recommend?