The Philippines is an amazing destination to travel. Surf, sun, islands, diving it has it all! But what does it cost and what should you budget for a month there?
Since first visiting the Philippines late last year it has quickly become one of my favourite countries to travel and I'm annoyed at myself for not venturing there sooner given the amount of time I've spent in South East Asia over the last few years!haha!
You've only got to check out my Philippines In Photos post to see why!
With a heap of you asking me questions about cost I thought I'd get on the case and add it to my "How Much To Budget For A Month In…" series, breaking down the main cost you'll be faced with when travelling there so you can plan your trip with money in mind!
You can check out my Thailand Monthly Budget, Australia Monthly Budget and Bali Monthly Budget too if you're heading that way.
Here's a run down of my costs during my time in The Philippines to help plan your own adventure there…
How Much To Budget For A Month In The Philippines
Cost Of Accommodation In The Philippines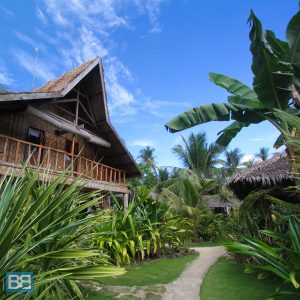 The accommodation throughout the Philippines really varies on where you head – everything from Surf Camps on Siargao (like Kermit Siargao Surf Resort) through to guest houses in El Nido. Most places have a great variety too and there's a selection of choice for budgets, styles and location.
Unlike the rest of South East Asia (Thailand in particular) there aren't a huge array of hostel style setups in some locations, but there's usually somewhere to crash amongst fellow backpackers in the more established locations like Coron and Manila. There's even some epic flash packer accommodation springing up too like Z Hostel in Manila which are great for a bit of extra comfort!
Cheapest Bed – Marleys Guesthouse, Coron – £5 per night (double fan room)
Average Bed – Biolina Guesthouse, El Nido – £11 per night (double fan room)
Most Expensive Bed – Palo Alto – £80 per night (double a/c cottage)
Average nights accommodation (double/twin room) £8-10
Estimated monthly accommodation costs (per person) – £240 (if you opt for one of the Siargo Surf Camp this drop to £184 as they include accom)
Cost Of Food and Drink
Throughout the Philippines I found it pretty easy to find a variety of places to eat and to be honest I actually didn't eat heaps of Filipino food, mainly as it wasn't massively veggie friendly!
Depending on your taste or budget there's lots to choose from though – eat some of the street food or chow down in a pizza restaurant! Some guesthouses and hostels also include breakfast too so you can cut your costs even more!
Cheapest meal – Veggie Fried Rice (Seadive Resort, Coron) – 90p
Average Filpino meal – around £2
Average western meal – around £3
Meal in a more established restaurant/chain (inc drink) – around £5-6
Average cost of beer (San Miguel, corner shop) – 70p
Average cost of beer (San Miguel, restaurant) – £1.75
Filipino Rhum and Coke – 90p (or on Siargao 80p single, 70p double or 60p triple!)
Favourite place to eat – a veggie restaurant called Brujita in Coron which served up an amazing array of curries and veggie treats (and also some meat options too!) my all time favourite dish there had to be the freshly cooked pita breads and hummus!
Other Top Tip – apart from the fact the Filipino Rhum is insanely cheap to drink (it's as cheap as a beer in a bar, sometimes cheaper) the seafood in the Philippines is supposed to be incredible (I don't eat fish though) – if you're feeling really up for challenge eat one of the local delicacies – Balut….a fertilised chicken or duck egg!
Estimated food cost per month (30 Filipino dishes and 30 western dishes) – £150
Cost Of Transport In The Philippines
One of the biggest issue with travelling the Philippines is the fact you need to be a tad bit organised since there's over 7,000 islands to choose from! Because of this boats and planes are the main way you'll be getting around and in some cases you'll need to cover some serious ground between places.
If you land and wing it you may well find prices have gone up – but booking in advance with a rough plan linking key spots will save you heaps of dollar. Check out my post on the best places to visit in The Philippines to give you an idea on where you want to vgo!
Manila – Cebu – £30
Cebu – Siargao Island (return) – £70
Cebu – Oslob – £40 (return, private minibus)
Cebu – Coron – £30
El Nido – Coron – £20
Coron – Manila – £30
Puerto Princesa – El Nido – £10 (shared mini bus)
Airport Transfers – between 100PHP and 400PHP depending on location
Also keep in mind that the airport departure tax is now 700PHP (roughly £10)
There are also some epic Philippines group tours which can help you explore heaps of what the country has to offer without having to worry about booking internal transfers. Check out RTW Backpackers for a great range of Philippines trips!
If I was to combine and condense my 2 trips there I'd say in a month you could happily fly into Manila, down to Cebu for a few days (to include the whale sharks) do a week long surf trip to Siargao then onwards to Palawan and spend a couple of weeks exploring El Nido and Coron before heading back to Manila for a few days before hitting up your next destination. This gives you a few days leeway in each location and you could even squeeze Borocay in there if you really wanted!
Flights are based on what I personally paid – check out Philippine Airlines and Cebu Pacific for some great fares
Which would be an estimated transport cost of £190 including the airport departure tax.
Activities In The Philippines
The Philippines is packed full of cool stuff to do, although I must admit that most of my time was spent either island hopping, surfing or diving! If you love the ocean you're in for a massive treat heading out there as the water clarity is beautiful!
PADI Open Water – 3 days, El Nido – £285
Swimming With Whale Sharks in Oslob – £15
1 week Guided Surf Camp, Siargao – £370 (inc accommodation)
1 week Learn to Surf Camp, Siargao – £385 (inc accommodation)
Freedive course in Cebu (3 days) – £185
Island Hopping Trip, Siargao – £10
Lagoon Trip, Siargao – £15
Island Hopping Day Trips (El Nido, Coron and Puerto Princesa) – between £10-20
Full body Massage – £5
Underground River, Puerto Princesa – £22
Tao Sailing Trip (El Nido – Coron) – £375
One Life Adventures 10 Day Philippines Adventure – £560
If you were to combine what I did on my two trips there and squeeze the best bits into a month, as per the transport average you'd be looking at a week learning to surf in Siargao, both day trips in Siargao, the Whalesharks in Oslob, at least 3 island hopping trips in Palawan (I averaged that at £15 a trip) and the underground river trip from Puerto Princesa which comes in at around £492 or £107 without the surf camp experience.
Cost Of An Average Month In The Philippines
So, based on my personal experience and estimates a month in The Philippines will set you back around £1,016 – or roughly £33.80 per day.
If surfing isn't your thing and you just head to Siargao to enjoy the beauty of the island this drop to £687 or £22.90 per day.
This would include accommodation, meals, transport and some of the key activities.
As with all my monthly budgets one of the key exclusions in this estimate it ALCOHOL though, so if you're intending on partying expect this overall cost to rise! Drinking in the Philippines isn't heaps expensive though and I only spent around £40 a month.
Keep in mind that this is a guide only and costs can vary and you can easily smash it out of the water by jumping on some big day trips or upping your level of accommodation and food. Still it serves as a good guide for your planning!
Found this post helpful? Check out my other How Much To Budget Posts!
**PLEASE NOTE; This is to be used as a guide only – currency and cost fluctuate depending on season and exchange rates. Information was correct at the time of writing**