Looking for things to do in Byron Bay? From surfing and kayaking to beaches and markets, here are 25 of the best things to do in Byron Bay
There are heaps of amazing things to do in Byron Bay – which is why it's such a popular spot to visit in Australia!
And after living, working and enjoying the Bay for years now here are 25 of the best things to do in Byron Bay I'd recommend to everyone planning trip there…
25 Of The Best Things To Do In Byron Bay You Can't Miss Out On!
Kayaking with dolphins
Cost = $69
One of the most popular things to do in Byron Bay has to be the ocean kayaking. Now not only does this half day trip give you epic views of the famous Cape Byron Lighthouse but more often than not you'll find the local dolphins swim past to check you out!
There's also the potential to spot heaps of the resident sea turtles and if you're in Byron during May to October the migrating whales too!
Starting from Clarkes Beach the general route (weather and tide dependant) is to head along the coastline, past the surfers at The Pass and then around to Wategos and Little Wategos before heading back.
Whale watching
Cost = $89
The first half of the season the whales are migrating up the coast to their breeding grounds, but the real fun begins in the second half as they make their way back down to Antarctica with their new calves.
This is when you'll get to see heaps of breaches and tail slaps as they teach the new borns how to communicate and jump!
Although you can easily see them for free from viewpoints and the beaches, the best way to witness the migration is on a dedicated whale watching tour, which lets you get really close to the action.
…and if you're really lucky you'll have a few pop up when you're surfing too, which has happened to me on numerous occasions now!
Byron Lighthouse Walk
Cost = FREE
Without a doubt one of the best free things to do in Byron Bay is the famous lighthouse walk. Kicking off from Main Beach you can follow the sand all the way around the bay, then at The Pass you'll join the coastal path.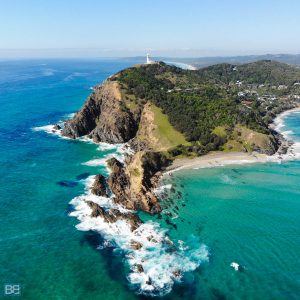 You can also use the proper path for the whole route all the way from Main Beach too – which is ideal for those looking for a jogging loop or if you dont fancy wandering along the beach.
This then winds along the coastal cliffs to the stunning Wategos Beach – which is perfect for a swim or a lunchtime BBQ/picnic if you've brought some supplies with you!
Then you'll head up around past Little Wategos to the most Easterly Point in Australia – so make sure you stop off there for a photo and keep your eyes peeled for rock wallabies playing on the grass and of course heaps of marine life in the ocean.
Next up is the stretch up to Cape Byron Lighthouse itself and although this walk is awesome anytime of the day, the best times have to be getting to the lighthouse for either sunrise or sunset as you'll get some truly stunning views.
For your loop back into town you can cut down to Tallows Beach through the forest track (hang a left) or follow the road on the right back down into town.
The whole walk should take you about 1.5 hours in total, but you'll want to take your time to enjoy all the views and beaches along the way.
Day trip to Nimbin
Cost = from $55
Often referred to as the "Amsterdam of Australia" Nimbin is mainly infamous for it's cookies…which are often plant based if you know what I mean!
…if you don't basically Nimbin is full of leather skinned hippies selling hash cookies and all manner of rather illegal substances!
Originally famed due to the Aquarius Festival in 1970, Nimbin has remained as a Mecca for hippies and dope smokers.
To be honest I thought the town was massively over rated and since the Weed Museum burnt down (pretty ironic hey?!) there's not crazy amounts to see and do – but it's made the list as it's still a big draw for a lot of people!
That being said the day tours here are great fun (mainly due to the guides and people the tours attract!) and they also stop off at some awesome waterfalls en route too.
One word of advice though – dont eat more than half a cookie at a time!…seriously!
Sunset at "The Wreck"
Cost = FREE (unless you buy beers!)
Byron has a whole heap of spots for an epic sunset – but my personal favourite has to be at the carpark overlooking "The Wreck" – one of the most iconic things in Byron.
Kick back here with a cold beer as the sky lights up all kinds of oranges and reds – which is pretty insane given the fact the sun is actually setting behind you, so in theory it should be a terrible spot!
And of course you'll get to enjoy the tunes of the sunset drum circle too – so expect lots of drumming and crazy hippies dancing around!
Learn to surf
Cost = from $69
Surfing is the whole reason I've spent so much time in Byron Bay over the years and the original reason it was even on my hit list for travelling Australia.
And Byron Bay is still one of the best places to learn to surf in Australia too – with heaps of fun, mellow waves whilst are ideal for learning.
As a result there are quite a few Byron Bay surf schools to choose from, but personally I'd recommend Gaz and the crew of Style Surf. Not only is Gaz a total legend, but unlike many "Byron Bay" surf schools they hold one of only 2 permits to teach in Byron Bay itself.
All the others head out of town 15 minutes down the coast, telling customers it's due to the fact the conditions are better there, which is pretty freaking cheeky if you ask me!
So if you actually want to learn in Byron – they're the way to go!
…and for experienced surfers there are plenty of epic surf spots around Byron Bay which will keep all levels of surfer happy. Check out they epic Byron Bay Surf Guide for all the info.
Oh and if you really want an epic Byron Bay surf experience book yourself onto the Weekend At Wilkos with pro surfer Matt Wilkinson for some serious surfing luxury and professional coaching!
Enjoy a beach BBQ
Cost = Whatever you decide to cook!
Have you even really been to Australia if you havent had a beach BBQ?!
Well Byron Bay is the perfect spot for it!
There are plenty of free BBQs all along the coastal path which you can use, however my 3 favourite spots are the ones next to the lifeguard building (near the Wreck), the one up by The Pass carpark and the ones around at Wategos – which are easily the best ones if you get round there!
The only thing you need to do is clean them after you leave – so make sure you do the right thing!
Chill out at Tallows
Cost = FREE
As nice as the beaches are in the heart of Byron, if you want to escape the crowds and really chill out then make the extra effort to head around to Tallows.
It's about a 5 minute drive from the centre of town, but has limited parking – so sometimes the walk is the better option.
Here you'll find awesome views up to the lighthouse and miles of beautiful beach, which runs all the way along the coast to Broken Head.
…and if you want to top up your tan on your naughty bits there's a nudist section part way down on the right hand side!
Scenic helicopter flight
Cost = $500 (for 2 people)
Check out the stunning coastline around Byron Bay from a different perspective with a scenic flight!
There are a few companies offer both plane and helicopter options, with lengths to suit a range of budgets.
The most popular loops takes around 30 minutes and takes in an aerial loop around the Lighthouse and Cape before coming back via the Byron Bay Hinterland.
And of course in whale migration season you can get some awesome views of the whales too!
Sunrise hot air balloon
Cost =
$269
Dont fancy a plane or helicopter? Well how about a tranquil sunrise hot air ballon ride?
It's the perfect way to start the day, taking in epic views across the stunning Byron Bay Hinterland.
Although you don't really need an excuse to do it – it's the ideal awesome for a special occasion or even a date day!
Eat your way around the famous breakfast spots
Cost = depends how hungry you are!
There are heaps of amazing breakfast spots all around Byron Bay, so make sure you go out there and sample some epic brekkie options during your stay!
From the Aussie favourite of smashed avo on toast to all manner of tasty treats there's something for everyone and pretty much all dietary requirements are well serviced too.
Stand out favourites of mine include The Rocks (the vegan skillet is amazing), Topshop (a hipster hotspot) and Mokka.
…let me know in the comments if you find any epic meals!
Sunrise at the most Easterly Point of Australia
Cost = FREE
If you can drag yourself out of bed after a fun night of partying in Byron Bay, then try to start the day at either the most Easterly Point of Australia or even down at Little Wategos.
Watching the sunrise over the ocean is pretty epic and trust me, it's well worth the early start!
Enjoy a Sunday Session
Cost = whatever you drink!
Aussies love a good Sunday Session and if you're wanting to kick back for some cheeky day drinking in Byron Bay then head to the Beach Hotel – aka the Beachie.
This beachfront venue is bustling on a Sunday and hosts heaps of live music and DJs too, so go join the locals for a cold one.
Scuba dive at Julian Rocks
Cost = from $99 (certified dive) or $210 (intro dive)
If you love scuba diving then Julian Rocks is somewhere you have to get into the big blue.
Voted amongst the top 10 dive sites in Australia it's one of my favourite places to dive as there's heaps of awesome marine life to check out.
From May to November get ready for some up close encounters with the chilled out Grey Nurse Sharks (who look heaps more scary than they are!) or from December to May you'll be joined be inquisitive Leopard Sharks who are always amazing to dive with.
Alongside the sharks expect plenty of rays, schools of colourful fish and heaps of turtles too.
During whale migration season you'll also get to listen to the whale songs whilst you dive, which is truly magical.
No worries if you haven't dived before either, you can also do an Intro dive here too – with no previous experience needed. It's a great way to try diving for the first time without committing to a full open water course.
Or if diving isn't your thing snorkelling in Byron Bay is also a solid shout too!
Paraglide
Cost = $265
Time to hit the skies and see Byron from the air!
When the weather conditions are just right you can head up towards the lighthouse and launch yourself off the cliffs overlooking Tallow Beach for some paragliding.
Enjoy the thermals and silently glide through the air, taking in all the epic views of the lighthouse, beaches and ocean.
Grab a pizza at the Treehouse
Cost = depends what you order!
If I had to single out the restaurant in Byron Bay I'd most recommend I think it would have to be the Treehouse.
Situated out at Belongil (a 10 minute walk along the beach, or 5 min drive) they do some epic wood fired pizzas.
As well as serving up heaps of awesome food, they mix up some mean cocktails and there's usually heaps of live music going on too.
My top recommendation though has to be the warm olives – total game changer!
…oh and it's a favourite haunt of Chris Hemsworth and his family too, so keep an eye out for them!
Check out the street art
Cost = FREE
Byron Bay is well known for it's creative vibes and as a result there's plenty of incredible street art to check out.
Head to "Surf Alley" – opposite from the Northern Hotel – for some Insta worthy backdrops and at night you'll often find buskers set up here too.
As well as that spot you'll also notice all the electricity boxes around town are also sprayed up too!
Other notable spots includes the side of Aquarius Backpackers, Golden Breed surf shop and the side of the Fishmongers too!
Drunkenly eat a pie at the 23 hour pie shop
Cost = around $5 a pie!
After a few too many beers everyone gets the drunken munchies on the way home – and there are few places I'd choose over the 23 hour pie shop to get my fix!
They do a huge range of awesome pies – with vegans and veggies catered for too – but head there quick as it gets pretty busy around kick bit time!
…I've also bene known to buy a whole cake on more than one occasion!
Oh and if you discover the 1 hour a day they're shut let me know, I still havent turned up when it's not open!
Enjoy heaps of live music
Cost = from FREE
At the core of Byrons hippie vibes is the huge array of live music the town offers up.
Venues like The Northern, The Rails and The Beachie host a whole array of live bands throughout the year – including heaps of international artists and home grown Aussie talent too.
There are loads of incredible buskers performing around town each night too, with the spots by The Balcony, NAB Bank and Spar Express being 3 of the top spots. I've seen everyone from Donnovan Frankeriter and Ziggy Alberts to Wolf Mother busking around town!
And of course there's the festival scene too – with Splendour in the Grass and Bluesfest as big events on the Byron calendar – just be aware accommodation is hard to come by and super pricey when they're on, so dont get caught out!
Dance on a table at Cheeky Monkeys
Cost = your dignity!
You haven't been a backpacker in Byron Bay until you've drunkenly danced on the tables at Cheeky Monkeys – one of the most infamous bars on the East Coast!
And you know you've spent too much time in Byron Bay when you've also drunkenly fallen off those tables and woken up with a few injuries!
Enjoy!
Make a didgeridoo at The Arts Factory
Cost = varies
When you think about Australia most people visualise kangaroos, Sydney Opera House, brach and of course the sounds of the didgeridoo.
So what better momentum to take back from your time in Oz than a didgeridoo you've made yourself?
Join the crew at the Arts Factory Lodge (you know, the one from the Inbetweeners Movie!) and hand carve your own didge.
It's an awesome way to learn more about the traditional culture of Australia, learn how to play and of course something super cool to take home too.
Skydive
Cost = $314
Want a bit more adrenaline with your stay in the Bay? Well how about jumping out of a perfectly good plane at 15,000 feet?
Skydiving in Byron Bay offers up some insanely good views (not that you're really paying attention to them at the start once you throw yourself out of the plane!) but as your parachutes deploys you can take them all in.
Certainly an epic way to start the day and wake you up!
Alongside Mission Beach, Byron is one fo my favourite drop zones in Australia.
Grab a coffee at all the hipster joints
Cost = depends what you order!
Aussies freaking love their coffee – in fact you need a full blown certification to get any work as a barista out here!
So if you're a lover of coffee you'll be stoked to know that Byron has heaps of hipster coffee joints to choose from.
Topshop is a popular choice but my personal favourite is The Rocks cafe next to Aquarius Hostel – Pat and the team make a mean coffee and the Chai Latte is freaking epic too.
Sit in and enjoy brekkie with it or get a takeaway (bonus points if you bring your own keep cup) and wander across the road to the beach to chill with your brew.
Peruse all the local markets
Cost = FREE (well unless you buy heaps of stuff!)
If you time your trip to Byron Bay right you'll also get the chance to check out some of the local markets they put on throughout the year.
The weekly Byron Bay Farmers Market is every Thursday until midday and is a great place to great heaps of fresh fruit, veg and meals
The main Byron Bay market though is held on the first Sunday of each month and is packed full of amazing local business selling everything from handmade jewellery through to canvases and clothes, so it's well worth spending some time wandering around.
A few times a year they also hold a bigger market event along the beach front walkway with lots of local vendors and food places on show too.
Check out the full rundown of all the markets on at the moment on this link
So there's my 25 best things to do in Byron Bay!