Looking for the best places to visit in Australia and the top things to do in Australia? Well here are 40 of the top spots and trips – as recommended by some epic travel bloggers!
Incase you hadn't realised Australia is a pretty freaking big place to travel around and figuring out the best places to visit in Australia can be a bit of a nightmare because there's simply so much to see and do!
Luckily though Oz has heaps of amazing destination to visit no matter what your passion or style of travel.
So to help get you started I asked some awesome travel bloggers for their personal recommendations on the best places to visit in Australia.
Whether you want to go shark cage diving in Port Lincoln or relax with some wine tasting in Adelaide here are some awesome suggestion to add into your Australia travel plans…
40 Of The Best Places To Visit In Australia And What To Do There
1) Melbourne  – Street Art and the Best Damn Cup of Coffee
Melbourne is quite possibly my favorite city—in the entire world. That's saying a lot for someone who has been traveling for 6+ years! With how easy it is to get around and the plethora of everything you can think of in a 10 mile radius, it's not a surprise it's been voted the world's most livable city – 7 years in a row!
Although it sounds so simple and plain, one of my favorite (and free) things to do in Melbourne was get lost in all the alley ways that were covered from top to bottom in trippy street art! I'm not talking about just regular gang tags here and there either, some of these are works of art! Total masterpieces.
While Hosier Lane is Melbourne's most popular street, you'll find plenty of alley ways covered with magical and vibrantly colored splashes of street art. Some of my favorites require you to get lost in the Carlton and Fitzroy area, where I used to live.
Be sure to stop at one of Melbourne's coffee shops to rest your feet and have some of the best coffee you've ever had in your life. And that's no joke!
Pro tip: Don't you dare ask for a "coffee." Get specific and tell them what coffee you want, there's NO regular drip coffee in Melbourne(or Australia)—looking at you America—so save yourself from getting eye balled and ask for a long black, cappuccino, latte or the like. Aunty Pegs and Black Cat are a couple of my favs!
2) The Red Centre
As recommended by Full Suitcase
We have travelled to many places in Australia and while each region is beautiful in its own way, there is just something about the Red Centre that makes it more special than the rest. Endless deserts of red sand, spectacular sceneries, indigenous Aboriginal culture, and a variety of wildlife you would rather see from the safety of your seat in front of TV than meet in person…
If you go to Australia, you really should visit the Outback – it's a unique place, the heart of Australia.When you arrive in Alice Springs by plane, you are left breathless by the vastness of this read desert underneath. And when you step outside and feel the heat of the desert, it's really difficult to imagine that any life is possible here.
Most people travel to the Red Centre in order to see the famous Uluru (formerly known as the Ayers Rock). It's an incredible place, well worth a visit, but you would be missing so much if you only go there. There are so many spectacular places and hidden gems in the area,- I recommend to spend at least a few days here.
Some of our favourites are the stunning gorges of the West MacDonnell ranges, the impressive Kings Canyon, and also the rock formations of Kata Tjuta that change color and shape depending on the light and the angle from where you look at them…
You can find more information about all these places in our suggested Australia Red Centre itinerary.
3) Bingil Bay (near Mission beach) in Queensland
As recommended by Travel Monkey
There is no doubt, Australia is amazing all around, but there are just certain places that touch you all the way to your soul. I've been road tripping Australian East coast for over a month and have seen many beautiful spots, but Bingil Bay, Queensland left a lasting impression on me. Maybe because it was the first wild beach on our trip down to Melbourne or maybe because of its tropical beauty.
From the first sight this place is nothing more than just a long yellow-sand beach, but when you stay longer, you understand that this is a beach JUST FOR YOU. Why? Because there are almost no other people here which makes it for such a wonderful experience. Especially if you are staying at Bingil Bay campground where you can sleep in your car or a tent.
This campsite is literally right on the beach! Just imagine waking up to amazing sunrise views right in front of your station wagon every morning, having a breakfast overlooking the seaside while having your toes in the sand. There are no shops or cafes nearby (you have to drive about 15 minutes to the closest shop), which gives you an amazing chance to really reconnect with nature.
Bingil Bay is the place to really chill out and let go of all the worries. The only pity is that, as in many other places in Australia, swimming in the sea could be dangerous as some crocs and stingers are found in the area.
4) Margaret River – Wine Tasting
As recommended by Mum On The Move
Margaret River in Western Australia is one of the best wine regions in Australia for wine tasting. Although the region produces just 3% of Australia's wine, that results in 20% of its premium wine production, meaning you know you are looking at a lot of high quality wine here.
With a similar climate to the Bordeaux region of France, Australia's Margaret River wineries particularly focus on Cabernet Sauvignon, Sauvignon Blanc, Semillon and of course its famous Chardonnays. There are over 200 wineries here and although it is particularly notable for its small boutique wineries, some of the more famous ones you may have heard of include Cape Mentelle, Voyager, Vasse Felix and Leeuwin Estate.
Most of the Margaret River wineries have friendly cellar doors open to the public for tastings and many of them also have amazing restaurants for lunch too. A great way to explore the wineries, without having to worry about having a designated driver, is to join a wine tour.
There are several wine tour companies in Margaret River, but our favourite for a fun, laidback, yet informative tour is Wine for Dudes. The tour guides at Wine for Dudes really know their stuff and will take you to some of the smaller boutique wineries you may otherwise not have heard of. They even throw in visits to some of Margaret River's gourmet food producers and a brewery too.
Although Margaret River has made its name through its wine, beyond the wineries, the area is beautiful. It has some of the most beautiful beaches in the world, plus a network of show caves to explore.
5) Wild Dolphin Feeding On Moreton Island
Take an easy day trip from Queensland's capital of Brisbane to Moreton Island, a large sand island just over an hour away from the mainland via a scenic ferry ride across Moreton Bay.
Moreton is a sunlovers paradise with pristine beaches to lie on, shipwrecks to snorkel or for the more adventurous huge sand dunes that visitors are welcomed to surf down.
Day-trippers make the short pilgrimage over for one thing and that is is the nightly natural occurrence where resident Moreton Bay bottlenose and Indo-Pacific humpback dolphins come into the sheltered cove by the jetty for a opportune feed. They have been hand fed for generations and each family cohort teach their young that a quick snack can be had, like clockwork by eager admirers on Moreton Island.
Qualified marine staff at Tangalooma Resort manages the nightly dolphin feeding to protect the wild dolphins from too much attention and interaction from humans. It's one of the only places in Australia where you can hand feed wild dolphins and I'd argue the easiest to get to.
For those wanting to linger a little long on the island gem, Tangalooma Resort offers a range of affordable accommodation options and a plethora of resort activities from fish feeding, helicopter joy rides, organised island tours, snorkelling and segway tours combined with fab facilities including a private beach, jetty, swimming pools and tennis courts on a rambling resort
6) The Great Ocean Road
As recommended by The Travelling Tom
The Great Ocean Road is undoubtedly one of the best road trips you can do in Australia! Located in Victoria, not far from Melbourne, the Great Ocean Road is a 243km stretch of road between the Victorian cities of Torquay and Allansford.
There are a number of beautiful sights to see along the way that make it a must-do road trip in Australia. The primary attraction is the Twelve Apostles. They are giant stacks that stand out from the cliffs off the shore of Port Campbell National Park.
As well as the Twelve Apostles, there are a number of sights along nearby. London Bridge is named for its similarity to it's namesake, although part of it collapsed in 1990. There is also The Grotto, which is a sinkhole formed by erosion. You can walk down to The Grotto and wander about and explore the area, admiring the beauty all around you as you do!
The start of the road near Torquay is an ideal place for surfers. One of the most famous beaches in Australia, Bell's Beach, is not far away. It's legendary for it's great surf, and is worth checking out even if you're not a fan of surfing!
The Great Ocean Road is full of beautiful sights, and great places to visit. It should definitely be included on your Australian itinerary!
7) Fraser Island
As recommended by The Barefoot Nomad
One of our more memorable activities in Australia was spending four days on Fraser Island. Fraser Island is just off the coast of Hervey Bay, is the largest sand island in the world and includes 120 kilometers (76 miles) of beautiful beach.
There are huge sand dunes in the center, 100 tiny fresh water lakes spread out everywhere, a naturally formed ocean swimming pool and even an all sand tubing channel. There's also a sizable dingo population on the island, so spotting a wild dingo is relatively easy there.
 With minimal places to stay, most people rent a 4×4 SUV, alone or as part of a Fraser Island group tour, and take the ferry over for three or four nights and camp along the beach. As the island is all sand, the roads are all sand and you can drive along the only beach highway in all Australia.
Driving on the beautiful beach within a few feet of the surf, and across the islands pathways is lots of fun if you enjoy off roading and even pleasurable if you don't as the views are breathtaking. Micki and I enjoyed our time on Fraser Island tremendously and would definitely go there again.
As recommended by The Crowded Planet
Australia is known for its dangerous animals and as far as marine life go, the daddy of them all is probably the great white shark.


Cage diving is a popular bucket list activity for backpackers and other Australia visitors, but not many people are aware that most boat operators use a practice called 'chumming' to attract sharks to the boat – buckets of foul-smelling entrails and fish blood are thrown into the ocean, making for those graphic 'bloody fangs' shark pictures.
However, chumming has been related to an increase in sharks attacks, as the sharks become conditioned to associate the idea of humans with food.
Luckily, Adventure Bay Charters, an operator in Port Lincoln, is pioneering an ethical shark diving technique, using music instead of chum to attract the sharks to the boats.
Guess what music? Heavy metal, of course!
I visited two years ago and had a wonderful experience. Sightings are not always guaranteed, but at least you're diving with the awareness that you're not interfering with the sharks' natural behaviour.
9) Whitehaven Beach
As recommended by Our 3 Kids v The World
There's no denying it, Whitehaven Beach would have to be the most photographed beach in Australia and is famous for having the whitest and finest sand of any beach in Australia. The sand doesn't retain heat and is composed of 98 per cent silica and is often referred to as being as fine as powder.
Whitehaven Beach is a 7 km stretch of sand along Whitsunday Island, on the southern end of the Great Barrier Reef. It is accessible by boat, seaplane and helicopter and we visited on a day trip from Airlie Beach with Ocean Rafting. You can also visit from Hamilton Island and Hayman Island.
The best place to view Whitehaven Beach from the ground is from Hills Inlet and Lookout. Ocean Rafting and various other companies, conduct day tours that take you snorkelling in Chance Bay then you hike up to Hills Inlet where you can take in the sheer beauty of Whitehaven Beach.The tour allows 30 mins or so to take photos and enjoy the amazing view.
…and Holiday From Where
After having grown up and travelled extensively in Australia Whitehaven Beach is still one of the most incredible destinations I have ever visited.
I decided to camp on the island, which I can highly recommend because being a tourist destination out of one of Australia's biggest tourist towns means it can get a little crowded.
However when camping, there is an allocated amount of people that can camp at any one time so that means that before 9am and after about 4pm you will have the whole place to yourself and just a handful of others, which means sunrise and sunset on one of the most incredible beaches in the world pretty much all to yourself.
Once on the beach there are activities such as swimming, snorkelling and kayaking.  The snorkelling in particular is pretty incredible as the water is amazingly clear and there is an abundance of sea life once you get amongst the reefs.
You can rent gear from almost any tour agency in Airlie beach. I would recommend renting both. Having a kayak gives you fast easy access to all parts of coast that are good for snorkelling it also allows you the ability to cross the inlet to an incredible look out with a view over the entire white sand beach and incredibly coloured water with its wide array of blues.
10) Gold Coast Waterfalls
As recommended by 50 Shades Of Age
The green behind the gold, the verdant green Gold Coast Hinterland is made up of several mountain ranges littered with Gondwana Rainforest, breathtaking scenery and refreshing mountain streams.
It is extremely popular with visitors and locals alike to escape the summer heat for the coolness and lushness of the mountains for a day trip or a weekend escape.
You don't need to go chasing waterfalls in the Gold Coast Hinterland because they are very easy to access, with most being only a short bushwalk through the rainforest.
Springbrook mountain and plateau is only 32 kms from the Gold Coast. Spectacular waterfalls, lush rainforest, ancient trees, impressive views, exceptional ecological importance and natural beauty make this extremely popular for bushwalkers. There are several waterfalls including the 100m Purling Brook Falls, Rainbow Falls and Twin Falls.
Within the Springbrook National Park in the Numinbah Valley there is another very popular waterfall at Natural Bridge. Visit this extraordinary place by day to see a unique waterfall or after dark to discover the park's amazing glow-worms.
Tamborine Mountain, 40 kms drive from the Gold Coast offers a vast area of rainforested national park areas on the mountain with abundant birdlife, a variety of flora and spectacular waterfalls. Choose from Cedar Creek Falls, Witches Falls and Curtis Falls.
I recommend seeing the waterfalls after recent rainfall when they are at their best with lots of water gushing over the escarpments.
As recommended by Thrifty Family Travels
Noosa is not only a beautiful part of the Sunshine Coast, but with the Noosa National Park, Main Beach and Noosa River, it is a great place to get out in the great outdoors.
The Noosa National Park offers both picturesque coastline as well as a variety of walking tracks from easy to moderate.  Tracks go through the rainforest and woodlands and of course along the gorgeous coastline.  Walking tracks start from a few hundred metres to 5.4 kilometres.
Some of the best Noosa beaches can be found in the Noosa National Park.  Check out Tea Tree Bay, Winch Cove and Granite Bay.  Just outside the park you will find my favourite Noosa beach – Little Cove.
The calm crystal-clear waters of the Noosa River are ideal for getting out and exploring in a kayak.  You can bring your own kayak, hire your own kayak from one of the various vendors along the river or join a kayak tour group.  My favourite thing is to hire a kayak and paddle it right out to the mouth of the Noosa River.  Here you will find many sand islands where you can hang out on your own deserted island for as long as you like.
Of course, with the various surf beaches around Noosa other popular activities include swimming, surfing, boogie boarding and even snorkelling around some of the secluded bays around the National Park.  There are also several pathways around the area perfect for biking, walking and running.
12) Swimming with Wild Dolphins in Bunbury
As recommended by the ZigaZag Mag
When I lived in England, swimming with dolphins was a bit of a dream – something you did, if you were lucky enough, on an exotic holiday. When we moved to South West Australia imagine our delight when we found out that Bunbury is renowned for its wild bottlenose dolphins that live in Koombana Bay.
For visitors, the not-for-profit Dolphin Discovery Centre is a fabulous place to visit. Under supervision you can walk down to a viewing spot on the beach and wade out into the shallows to get close to the dolphins. This Interaction Zone, as it's known, is frequented regularly by up to 10 bottlenose dolphins.
Alternatively you can book a Swim on the Wild Side Tour or an Eco Cruise which takes you into the bay to a spot known as The Cut, which is the entrance to the Leschenault Estuary. You'll be given an interested guided commentary, and once anchored, all being well on the swim tour, you'll be in the ocean and swimming with the dolphins.
Back at the Dolphin Discovery Centre, there's a fabulous interpretative display including a 3D dolphin movie and marine life displays which give you a much better and interesting insight into the bottlenose dolphins and their habitat.
There are over 200 identified Dolphins  between Binningup and Busselton in the South West of Western Australia and 40 to 50 visit Koombana Bay each day. Of these, 8 to 10 visit the interaction zone regularly.
I truly think that a dolphin encounter can be a life changing experience, as they are such magical, mystical, playful characters and it's not everyday that you can get up close and personal with them.
13) Spotting Platypus at Eungella National Park
As recommended by Tracys Travels In Time
Eungella National Park can be found about an hour's drive west of Mackay in Northern Queensland. As well as offering spectacular views of the Pioneer Valley and lots of great hiking trails the park is also home to one of Australia's strangest animals – the platypus.
At Broken River in the park you can, with a high chance of success, see platypus in the wild.
The platypus is such a strange creature that when a stuffed example was taken back to Europe by explorers in the 19th century is was laughed off as a hoax. It is easy to see why they couldn't believe their eyes – with a duck's bill, tiny eyes and huge webbed feet it is certainly the oddest creature I have ever seen.
It is one of the only 5 monotreme species found in the world. A monotreme is a mammal that lays eggs! The other 4 monotremes are types of echidna which are also found in Australia.
Platypus can only be found in Queensland, Victoria, New South Wales and Tasmania so they are not widespread across the country. At Broken River there are viewing platforms and you can sit and wait for these elusive creatures to show. Early morning or late afternoon is peak viewing times though we have seen them in the afternoon too.
As well as spotting platypus at Eungella keep an eye out for some of the other animals found in the park such as possums, pademelons, quolls and bush turkeys.
14) Loch Arch Gorge
As recommended by Explore With Erin
The Loch Are Gorge is a fairy-tale destination with a fairy-tale tale. The gorge is named after a ship, called the Loch Ard, which ran aground on nearby Muttonbird Island in 1878.
There were 54 passengers and crew, but only two teenagers survived. One of them was a young 15-year-old named Tom. After washing up on shore Tom heard cries for help from 17-year-old Eva.
Tom dove straight back into the water to rescue Eva. Knowing she needed warmth, shelter and possibly medical attention Tom then climbed out of the gorge to seek help. What a hero.
If that story doesn't leave you inspired, the view surely will with its breathtaking high walls and the insistent ocean waves striking the warm yellow sand. Enjoy the view from the top, but make time to actually climb the stairs down and let the sand get between your toes and the water lap at your feet.
I recommend staying nearby at the Port O Call Motel in Port Campbell and tag on a sunset visit to the 12 Apostles before enjoying a picturesque day at Loch Ard Gorge the next day. You may also like to make a stop at the other rock masterpiece, London Bridge  while you are travelling the Great Ocean Road. It's an absolutely unforgettable drive.
15) Kuranda Scenic Railway
As recommended by Flights To Fancy
Iconic rail journeys have long been a favourite with travellers but they often come with a hefty price tag that puts them out of reach of mere mortals.
Not so the Kuranda Scenic Railway near Cairns in Tropical North Queensland. As one of Australia's most famous railways, KSR offers a unique experience deep in the heart of the Wet Tropics World Heritage Area.
During your time on board the historic railway you will journey 34klms, rise 328m above sea level, cut through 15 handmade tunnels and traverse 37 bridges.
The train travels at a leisurely pace so that passengers can take full advantage of the spectacular scenery passing by the sash windows. The three stunning waterfalls are a highlight and the train makes a brief stop at Barron Falls.
Make sure you have your camera ready!
I highly recommend upgrading to Gold Class which includes a dedicated carriage with comfy lounges, welcome mocktails, a fabulous morning or afternoon tea and beer and wine onboard. Once you reach Kuranda make sure you spend a couple of hours exploring the quaint little town before making your way back to Cairns via the Skyrail Rainforest Cableway for a completely different view of the Daintree Rainforest.
While Cairns and the tropical north are famed for offering easy access to the Great Barrier Reef, savvy travellers will save one day in their itinerary for the Kuranda Scenic Railway.
16) Diving the Great Barrier Reef (From Airlie Beach)
One of my favourite destinations in Australia is the Great Barrier Reef.  I first visited the reef in 2004 and its where I became PADI certified and took my first dive.
There's much more to the Great Barrier Reef than Cairns.  I wanted to explore the lesser known Southern Great Barrier Reef which is less touristy and has amazing sea life and ship wrecks.
I decided to do a live aboard cruise through the Whitsundays and the reef meaning we would live on the boat for a week and get certified.  Our boat left from Airlie Beach and then headed to Hamilton Island before heading out to the Whitsundays and the reef.  Here we would dive for 5 days checking out different spots along the reef and seeing tons of fish, corals, sharks and turtles.
The coral is an underwater playground for the fish and for those of us who were diving to be able to watch.  I was also able to dive the Yongala shipwreck which is regarded as one of the best dive sites in the world.  Its in an area of the Great Barrier Reef near Townsville.  The ship sank in 1911 and sits 28 metres (92 feet) below the surface.  This is definitely an advanced dive site where you can see lots of different species of sharks, giant trevally, tons of different fish and even some sea snakes.
17) Hiking in the Freycinet National Park of Tasmania
As recommended by Rocky Travel
Tasmania is known for being a top hiking destination in Australia but having +18 national parks, 2000km of walking tracks and 1.38 million hectares of wilderness world heritage area, it can be quite overwhelming to choose where to go hiking.
Recently I went on a solo travel adventure in Tasmania, road tripping and hiking alone across the beauty of a truly pristine environment. I picked the East Coast of Tasmania because I had ticked off the island 10 year ago.
I was truly blown away by the beauty and the Freycinet National Park which is my top pick if you love hiking in a coastal national park.This is surrounded by water on all sides by a myriads of inlets, secluded bays, white sand beaches and breath taking views from lookouts.
There are many walking trails that you can choose from, but one I can recommend on a warm and dry day is the 12 km circuit walk that takes you from the car park to Wineglass bay Lookout and the Wineglass Bay beach, from there it continues to Hazards Beach and along the coastline back to the Frecynet Carpark.
It's quite a long hike (5-6 hours) and it can become quite tiring as it meanders through the coastal track and hills, so start early in the morning and take food and plenty of water to maximise your time and enjoy your stops along this beautiful hike. You can read more about my adventure on the East Coast of Tasmania here.
18) Tackle The Gibb River Road, Western Australia
As recommended by Finding The Universe
One of my favourite activities from the year I spend driving around Australia in my Toyota Landcruiser was the time I spent exploring the Gibb River Road, high up in the northern part of Western Australia, in the part of the state known as the Kimberley's.
This road was originally built to transport cattle from the beef ranches in the area, and stretches for 660km from near Wyndham in the east through to Derby in the west.
It can only really be tackled in the dry season, as it tends to flood in the wet, plus due to the various river crossings and road conditions, it's highly advisable to take a high clearance four wheel drive vehicle with long range fuel tanks (or spare fuel containers). Read more on preparing for four wheel driving in Australia here.
So what is so great about the Gibb River Road? Well, it's a true adventure through a wonderfully wild bit of Australia. There are stunning gorges and waterholes to visit along the way, where you can stop off for a refreshing dip, or just to take in the amazing scenery. Some of the highlights include the Windjana Gorge National Park, Tunnel Creek National Park, Bell Gorve, Lennard Gorge, Manning Gorge and Adcock Gorge. You're definitely going to want to bring your swimming trunks for this one.
Accommodation along the route varies from basic campsites through to ranches. For the real experience, I'd definitely suggest camping – you can't beat spending nights under the stars by a campfire in the Australian outback. Other highlights of the route include unique flora and fauna, plus there are Aboriginal rock art locations along the way. But the real highlight for me is having a true Australian outback adventure and getting back to nature.
If you have a chance, this is one Australian adventure not to be missed.
19) The Three Sister & The Blue Mountains
As recommended by Jen On A Jet Plane
Sydney has everything you could ever want in a city—perfect weather, world class entertainment venues and a thriving center of commerce. The only thing Sydney doesn't offer is mountains. Thankfully, the Blue Mountains are just 90 minutes west of Sydney and provide a welcome escape from the hustle and bustle of the city.
After spending a summer living in Paddington, a neighborhood with high rents and small apartments, I yearned for fresh air and open spaces. I heard of a sight called the "Three Sisters", a rock formation famous for its shape resembling three women encased in stone. After consulting with friends, we decided to take a road trip up one weekend and see the sight ourselves.
I was surprised to find you could drive right up to the viewpoint. Even on an unusually cold and foggy day, the mountains were impressive and spanned for miles. Having seen nothing but skyscrapers for the last few weeks, it felt like I was hitting the reset button to be amongst trees again.
My friends and I spent the day hiking, taking in the scenery and watching out for any animals, since by default anything native to Australia is the deadliest of its kind. Thankfully, the day went by without incident and ended on a sweet note with a cup of hot chocolate and giant marshmallows at a small cafe nearby.
Even in the best cities, we all yearn for a return to simplicity at times. Those seeking a breath of fresh air should take a day to visit the Three Sisters.
20) Snorkel With Whale Sharks in Exmouth, WA
As recommended by Adventurous Retirement
I was quite excited to learn that our planned visit to Exmouth, Western Australia fell in whale shark season.  Few people can claim swimming with whale sharks, the biggest fish in the sea.  It's exhilarating; pictures can't possibly convey the excitement one experiences when swimming with these huge fish, and all the life that hangs around them.
Exmouth Diving Centre van picked us up at 7:15 AM at our accommodation, and took everyone to their shop in town for the equipment each needed, then transported us to the harbour with the gear and food.  Our Captain picked us up in a small boat to motor us to the 55' boat for our full day trip.
During our motor out to sea, we, stopped to see a dugong and a pod of dolphins.  Divemasters gave a snorkel lesson before the required checkout snorkel and an in-depth safety briefing.
Exmouth Dive Centre employs a spotter plane to find whale sharks, and alert our captain.  One staff gets in the water to watch for the whale shark approach while guests await the signal to quietly slip into the water as the whale shark comes into view.  If the whale shark is swimming in a straight line, guests kick as hard as possible to keep up with this gentle giant.  It's lucky when a whale shark swims in a circular pattern so snorkelers kick less to keep up.  We swam with 5 whale sharks throughout the day; one had a school of small fish swimming around its open mouth, and another had 2 sharks circling.  Whale sharks can be as long as 18 meters (60'), and the average size is 12 meters (40').
Morning and afternoon tea, a buffet lunch, and a champagne toast at the end were all included.  What a great day!
21) Sea kayaking at Fitzroy Island in Tropical North Queensland
As recommended by 2 Aussie Travellers
The islands of the Great Barrier Reef in Tropical North Queensland are stunning all year round.  Fitzroy Island is one of the best and is perfect for snorkelling, kayaking and generally blissing out on its gorgeous beaches.  It's easy to get out here on one of several daily transfers from Cairns and only takes around 45 minutes.
Fitzroy Island is home to Nudey Beach, regularly voted one of Australia's top 10 beaches and it really is spectacular but hire a kayak, SUP or join the kayak tour and you can find some even more secluded and stunning bays.
The tour switches up where it goes each day depending on the wind, tide and swell.  It was all pretty calm on the day we were there so we headed around the island and crossed the channel to Little Fitzroy.
Mostly it's easy paddling in the shelter of the island but you need to keep the nose of the kayak into the waves as you make the crossing then turn into the beach at the last minute as the channel flows pretty fast and you don't want to get tipped out by a rogue wave.  We all made it across dry but didn't stay that way long.
You're on a fringe reef within the World Heritage listed Great Barrier Reef so you'll want to grab your snorkelling gear from the back of the kayak and head into the water.  There's coral, sea turtles, colourful fish and much more to see all around the island.
Depending on your confidence level in the water there are calm waters to explore or head into the channel and take a lazy ride on the current for a while.  Fitzroy Island really does have something for everyone.
22) Kangaroo Island
Just 110km southwest of Adelaide lies the third largest island in Australia, Kangaroo Island. With over 4,500 people living on the island, the land is largely remote creating the perfect conditions for a thriving wildlife population of koalas, kangaroos, sea lions and more!
Tiptoe underneath large eucalyptus trees at Hansen Bay Wildlife Sanctuary to spot sleepy koalas or stroll through Seal Bay Conservation Park among endangered sea lions. Fewer people means more opportunities to see amazing creatures in action!
Wildlife encounters aren't the only thing worth visiting on Kangaroo Island though. It's also known for its variety of unique natural formations such as Admirals Arch and the Remarkable Rocks found in Flinders Chase National Park. Shaped and eroded over millions of years, the Remarkable Rocks are massive lichen-covered boulders which are most exquisite during golden hour at sunrise or sunset. You can marvel at them from a distance or get up close and personal by walking through the formation.
Whether spending several nights exploring the island or just one day, the best of Kangaroo Island can be seen through personal vehicle or a tour company. If you have a couple days, take the time to soak in the sights, relax on the beach and enjoy the mouth-watering seafood.
If you are limited in time, I suggest a tour. It's hard to do a day trip to Kangaroo Island, however, SeaLink provides a 'highlights' sixteen-hour day tour which includes transportation to and from Adelaide. It's much better to spend the down time napping or daydreaming out the window instead of driving a sixteen-hour day!
23) 4 Wheel Driving Stockton Dunes, NSW
As recommended by Delve Into Australia
Stockton Dunes are the largest moving sand mass in the southern hemisphere, 32 kilometres or 20 miles long, starting immediately to the north of the city of Newcastle and finishing at Birubi Point in Port Stephens.
The dunes are part of the Worimi Conservation Lands, and there are plenty of signs of indigenous people living there for millennia, especially the shell middens where they used to congregate to eat, in the higher dunes.
Stockton dunes are essentially a mini-desert and the only ways to access them are by 4-wheel drive or quad bike. You can either drive yourself (permits cost $10 for three days), though you can't drive in certain areas, or you can book a tour. Sand Dune Adventures operate both 4WD tours and quad bike rides.
The dunes are an astounding landscape, and form the backdrop to a vast beach. In the middle of the dunes you'll come across the bizarre Tin City, a collection of ramshackle fishing huts constructed from corrugated iron and whatever waste metal the owners could get their hands on. It's a surreal, other-worldly spot, and some scenes from the Mad Max film were supposedly shot there.
For many years tours took visitors down towards the Newcastle end of the beach to see the Sygna, a Norwegian ship wrecked there in 1974, but a 2016 storm broke up most of what was left. The Birubi Point end of the beach has become more popular in recent years with the opening of Crest, a café and restaurant with an outstanding view back down the beach and dunes.
24) McLaren Vale Wineries
As recommended by Hello Raya
Australia is an absolutely beautiful country filled with so much great things to do and explore. One things Australia also has is amazing wine, and so another wonderful way to explore this beautiful country is through its wine.
The South Australian region, in particular around the city of Adelaide is bustling with wonderful wine regions to explore. No visit to Adelaide is complete without exploring McLaren Vale, Adelaide Hills and the Barossa Valley…all of which are between 45 mins – 2 hours drive away from Adelaide.
Famous brands including Jacobs Creek and Penfolds call the South Australian wine region their home. The weather and soil in the area provide ideal growing conditions for Australian wine.
The wine regions are just oh so romantic to visit – gorgeous views with greenery reaching as far as the eye can see. Many of the wineries is home to some well-manicured gardens, which provide the perfect setting for wine tasting and in many cases delicious food.
Almost all wineries are open to the public, with wine cellar doors opening either free or paid tastings. And best of all, the cellar door offers wines for purchase, including wines that can only be purchased at the winery itself.
25) Top End Road Trip
As recommended by Travelnuity
One of my favourite parts of Australia is the Top End, aka the northern part of the Northern Territory around Darwin. The region has so much to offer, from the cultural heritage of the indigenous Aborigines, through to rivers and wetlands full of man-eating crocodiles, to some gorgeous waterfalls and rock holes that are safe to swim in (perhaps!)
To best explore this area, I recommend hiring a car or campervan and heading out on a road trip.
Firstly, you should head east towards Kakadu National Park, one of the best national parks in Australia. On the way, consider stopping at the Adelaide River to take a jumping crocodile cruise, an unforgettable spectacle. Alternatively, once you're in Kakadu, take a Yellow Water Cruise. You'll likely also spot plenty of crocodiles, albeit at a more sedate pace.
While in Kakadu, heading to one of the gorgeous waterfalls is a must. If you don't have your own 4WD vehicle (Maguk and Jim Jim are strictly 4WD only, and while Gunlom is 2WD accessible, most hire car companies forbid usage by 2WD hire vehicles), consider taking a day trip with Spirit of Kakadu. Don't also miss the magnificent rock art sites at Nourlangie and Ubirr, with Ubirr making a great sunset destination.
Finally, spend a day or two chilling out at Litchfield National Park. Both Florence and Wangi Falls are accessible to even 2WD hire cars. But my pick is the spa-like pools of Buley Rockhole, on the way to Florence Falls, the perfect way to wrap up your trip.
26) Go Surfing Around Sydney 
It's either Sydney or Melbourne, they say. Well, I say Sydney and here is why: This big city really does have it all.
Whether it's a proper CBD with all the shops and cafés that you need, beachy districts, that offer breathtaking views over the sea or hipster quarters with your wished dose of flat whites and bearded men. Apart from that, it's also the surrounding area of Sydney, that hosts some great terrain for activities.
Manly, is one of these places. Easily reached by ferry, this coastal town offers some of the best surf opportunities for beginners, intermediate and pros alike.
It takes not more than 30 minutes until you reach Manly from Sydney Harbour. Now, simply head down to the beach, walk into the first surf school and hit some waves.
We took a surf class at the Manly Surf School and can highly recommend them. Indeed, surfing is always subject to weather conditions. However, if you are lucky enough, you'll have one of those days, on which you paddle out and hit one wave after the other.
A surfing daytrip to Manly feels like taking a holiday from the holiday. Manly is calm, chilled and super easdy to navigate. Apart from that, it offers great walking trails and restaurants. Hungry after surfing? Walk all the way along the coast towards "The Boathouse". This actual boathouse has been transformed into a yummy diner. They have great burgers, but also healthy options – the best after-surf-cure.
27) Queensland Tablelands
As recommended by Eileen from Pure Wander
Of course we spent the majority of our time in tropical north Queensland swimming with the rainbow of marine life. But as we drove through the forever changing landscape, it was just as thrilling to check out the trials through jungle, plains and tons of endless greenery.
When we eat on the road, we love to graze. Picking up some fruit here, sampling some chocolate there – it's the ideal way to have a meal in a new place while trying local bites. So when we ended up taking a day-long, leisurely road trip through the Tablelands of North Queensland, we were delighted to find all sorts of treats to try.
This part of Australia has the perfect conditions for growing many types of consumables, and guests can sample them all straight from the source. There's great little towns and villages to explore while you take a few hours or a few days to soak up all the incredible scenery.
Take time to enjoy distilleries that offer everything from rum to vodka – the tasting room at Mt Uncles is a favorite. The most fun was had at Coffee World, where you can pay a small fee to sample all the coffee and chocolate you'd like. Take a break at Eacham Lake for a cool swimming spot and picnic area alongside the locals.
The drive can be done in the day for the ideal side trip from the coat to grab local eats and relax with tons of interesting pit stops.
28) Cape Tribulation
As recommended by Kate from Travel For Difference
Tropical North Queensland is a place surrounded by so much natural beauty; beaches, waterfalls, balmy weather and best of all… The Daintree Rainforest!
For those that have never heard of this incredible ecosystem, the Daintree Rainforest is the oldest rainforest in the world, reaching the ripe old age of over 165 million years! It spans across 1200 square kilometres of Northern Queensland, but the very best place to immerse yourself in its beauty is at Cape Tribulation.
Around an hour from Port Douglas, Cape Tribulation is also known as the place where the rainforest meets the reef. It's the only place in the world where two World Heritage Listed sites meet in one location; the Daintree and the Great Barrier Reef! Pretty incredible right?
This remote headland in the Tropical North really is a location so unlike anywhere else in the world; its focus on ecotourism means that you truly are immersed in a location that's barely been touched by man.
Drive along the windy coast in search of cassowaries, enjoy the beautiful beaches, freshwater swimming holes and the unfathomable beauty of this ancient ecosystem!
For those that like a little more thrill, you can snorkel the reef or glide through the treetops on a 'jungle surfing' adventure.
Australia is home to some incredible ancient landmarks, but here in the Daintree at Cape Tribulation, some the plants even existed with Dinosaurs… This is a place you certainly don't want to miss!
29) Magnetic Island
One of the many striking things about Townsville's Strand, is the eye-catching island sitting regally off shore. Here in North Queensland, Magnetic Island is known simply as Maggie or The Island.
The good news is that Sunferries (passenger) and Fantasea (car) ferries both depart regularly from nearby Ross Creek.
The first Island bay that comes into view is Picnic with it's long white jetty. Once a regular ferry stop the jetty is now used exclusively for fishing and after dinner strolls. Around the next headland, the A-Frame huts of Base Backpackers, venue for Full Moon Downunder parties, can be seen jutting up behind the beach. Recovery parties are held around the beachfront pool.
After docking at Nelly Bay terminal, public buses connect passengers with Picnic, Arcadia and Horseshoe bays, but with a rented Topless car or scooter the island is your oyster. Major roads are sealed and in good condition, but some access roads are more rustic.
Arcadia does not have a swimming enclosure, like Picnic and Horseshoe Bays do, but it does claim the favoured local swimming spot of Alma Bay.
The Forts Walk, popular for koala sightings, leads to WWII installations and 360 degree views swinging south to Cape Cleveland and north again to the Palm Island Group.
Accommodation on Magnetic Island ranges from affordable backpacker, to an ultimate beach house to call your own.
Look for magical bays below the hoop pines, bury your toes in deserted sands, go horse-riding, hang out in bars with views that spill onto palm lined beaches, snorkel around giant boulders, feed wild rock wallabies, or snooze beneath the whispering She-Oaks.
Do everything or nothing at all.
30) Karijini National Park
As recommend by Claires Footsteps
I'm convinced Karijini National Park, in the Pilbara region of Western Australia, is enchanted. It's the only plausible reason for the existence of the bluest of waters, fed by tranquil waterfalls situated in deep red gorges, in pretty much the middle of nowhere.
Karijini National Park is not at all well connected – if you're driving from Perth to Broome, you'll be faced with an eight hour drive from Exmouth to Karijini – the reverse drive means a four hour journey from Port Hedland. It's in the middle of a barren outback landscape, which makes its beauty even more mind-blowingly beautiful.
It's a haven for adrenaline-seekers; a few of the tracks are grade 5, which means that they are challenging, to say the least! In Karijini, hiking tracks include more than walking – you may find yourself swimming, climbing and even spider-walking to reach the end of each trail. But there's always a fantastic reward at the end; whether that's a refreshing (and incredibly cold!) pool to dip in, a secret cave that feels like nobody has ever been there before, or a spectacular vantage point.
If this isn't quite adventurous enough, you could try abseiling down one of the gorge faces; enjoying the unique views of the Pilbara region while being suspended a few hundred metres in the air, or hiking to the top of Mount Bruce, a challenging ascent which summits one of the state's highest peaks.
Once you're adrenalin-ed out, there's a lot of chilled out activities in Karijini too – like exploring the bottom of gorges, taking in the scenes at various lookouts or swimming in plunge pools and watering holes. Camping is the accommodation of choice in Karijini, so once your day of adventuring is complete, kick back around the campfire with a bottle of beer, watch the stars and enjoy the magic that can only be found by roadtripping in Western Australia!
31) Philip Island
There's no better place to see Australia's renowned wildlife in their natural habitat than Phillip Island. The day trip from Melbourne, Victoria takes you along beautiful scenic coastline, before reaching the small island connected by bridge to the mainland.
If you don't have access to a vehicle to self-drive to Phillip Island, a tour with Gray Line is an excellent way to make the most of your day trip. Starting out early in the day, you'll get the chance to visit Churchill Island Heritage Farm to understand a little more about Australian farming practices, history, and culture. At the farm you'll likely see familiar animals such as sheepdogs, horses, and sheep – you can see each in action at various points on your visit such as sheep shearing and dog training!
Next stop; a koala conservation centre! Walking along a tall boardwalk you'll be closer than ever to these protected wild animals cuddled up in the trees. A great experience to capture the essence of Australian wildlife in all its glory
Onwards to The Nobbies is a chance to take in more of the breathtaking views across the coast. Keep an eye out for the wallabies hopping through the grassy banks, if they keep still for long enough you might even catch a photo!
For the grand finale of the day trip as the sun lowers towards the horizon is to stop by Summerland beach, where you can witness the famous penguin parade as fairy penguins make their way to shore after a hard day fishing. This is absolutely the highlight of the day, as onlookers eagerly await the moment the penguins scurry across the beach back to their burrows. A magical moment made even more special by the beautiful beachy views.
If seeing native animals from marsupials and flightless birds takes your fancy, then Phillip Island is certainly the place for you!
The south coast of Australia has some of the country's best surfing beaches, and Phillip Island is one of the perfect examples of this. The water is cold, the waves are rough, and the current a typically quite strong, however the surf is incredible.
Those looking for great surfing conditions almost all year round have to head down to Woolamai Beach or Smiths Beach. Beginners are in luck with board shops right near both beaches. Hire gear is easy to pick up and priced fairly. Be sure to ask the locals for the location of the best waves, rips and rocks, you will enjoy the day out in the water a lot more.
After a couple of hours surfing you will probably be exhausted, cold, and keen to get out ot the water. Instead of heading straight back to Melbourne, check out Pyramid Rock Lookout for a great panoramic views over Storm Bay. Alternatively, if you are done with the ocean, then head over to Cowes for lunch and a drink at one of the local pubs.
Phillip Island is located just two hour's drive south of Melbourne. It is close enough for a day trip, but far enough to be a weekend away from the city. However you decide to go, it is one of Australia's top destinations!
32) Nitmiluk Gorge (NT)
As recommended by Time Travel Turtle
Nitmiluk Gorge is about three hours' drive south of Darwin and is at the southern border of Kakadu National Park. It is near the town of Katherine and, for this reason, used to be called Katherine Gorge. The new name – Nitmiluk – means 'place of the cicada dreaming' in the local indigenous language.
The landscape at Nitmiluk Gorge is stunning. Water runs through a canyon and the red cliffs on either side have a light dusting of trees and shrubs on them. Rocky outcrops on the side of the water along the way create shapes that change in the light.
One of the most popular activities at Nitmiluk Gorge is to take a boat trip on the water. It's actually a series of gorges – thirteen in total – with rapids and waterfalls in between. So there are a couple of spots where you get out and walk over to a new boat on the other side, to explore different sections.
It's one of the Northern Territory's most beautiful national parks and has a wonderful blend of natural sights and cultural heritage.
The boat trips are led by a guide from the local Jawoyn people, who have lived here for tens of thousands of years. The guide will tell you stories about the indigenous way of life before Europeans arrived, and the special connection they have to the land here.
There are other activities you can do around Nitmiluk National Park, including hiking, kayaking, and cultural experiences..
33) Kitesurfing in Perth
Perth in the summertime has two distinguishing features. One is the incredible beaches and amazing turquoise waters. The other is the damn wind. While the first is easy to love, the second takes slightly longer to get used to. That's unless you get into kitesurfing – the ultimate summertime activity in Perth and for most of West Australia's coastline. The only problem is, that once you get hooked, you'll probably never want to leave this town.
Thanks to the consistent seabreeze and relatively unpopulated beaches, Perth has become one of the best places in the world for kitesurfing and offers endless options of where to kite. The kitesurfing season in Perth runs roughly from October to February, with plenty of windy days scattered throughout most of the year.
There are many kitesurfing schools along the Perth coastline that operate during the summertime. The flatwater, wide, sandy beaches and strong cross-shore winds offer ideal and safe learning conditions. My top pics for lessons are in Safety Bay, at the southern end of Perth or Pinnaroo Point in the north.
Once you get going, there's loads of variety, including awesome freestyle spots at Woodman Point and the Pond in Safety Bay. Wave spots can be found around Scarborough and City Beach and foil racing has taken off too. Kitesurfing is also the most thrilling way to explore the rest of the WA coastline and the perfect way to experience the Indian Ocean.
34)  Bondi to Coogee Coastal Walk, Sydney
As recommend by Gretas Travels
The Bondi to Coogee coastal walk is considered one of the best things to do in Sydney and should feature on everyone's Australia bucket list. The walk is approximately 6km long and takes at least two hours, depending on how many stops you do. During the walk you will see some epic views over the sea and there will be lots of pretty beaches at which you can stop to swim, so be ready for it to take more than two hours!
I actually recommend doing the walk the other way around, starting in Coogee and ending in Bondi. Coogee is pretty but I find Bondi is more iconic, so while you're walking and you see the famous pool of Bondi Icebergs Club show up on your right you know you've reached your destination without having to double check a map.
All along the road you will easily find bars and restaurants where you can grab a drink or food to break up the walk. There are also plenty of water fountains where you can top up your water bottle for free. Regardless of what end you decide to start the Bondi to Coogee coast walk at, it's a beautiful location and a very fun activity to do in Sydney.
35) Norfolk Island
Norfolk Island, one of Australia's external territories, is quite possibly the most idyllic Australian destination. Whilst teeny tiny (its entire landsite is a minuscule 34.6 km²), this incredible location offers a bounty of attractions and landmarks for the traveller to explore.
Whilst the East Polynesians are reputed to have once settled for some time on the island, it wasn't until the British set up their penal colony on the island back in 1788 as part of their settlement of Australia that the island landscape began to be transformed. Those who like history will adore roaming the historic site of Kingston, one of the 11 UNESCO convict sites of Australia.
However, the English abandoned Norfolk Island in 1825 leaving it to decay until the Pitcairn Islanders, descendants of the Bounty mutineers, arrived and settled the island on  8 June 1856. Today the island has distinct culture all of its own, with its own Norfuk language and traditions.
Emily Bay is a favourite swimming spot for locals and visitors alike. With its double reef, and warm water that laps its pristine sandy shore, it is the perfect place to relax from the stress of modern life. It offers a gorgeous reef to snorkel where you will often spot a turtle or two.
Anson Bay is the most spectacular secluded beach on the island, although you will need to walk its steep incline down to access it (there is a path!). For those loving an adventure, head over to Phillip Island with its incredible red landscape and view over Norfolk.
When it comes to accomodation, there are a range of offerings for varying budgets. Many include car hire with your booking. Flights to Norfolk Island are available throughout the week from both Brisbane and Sydney via Air NZ
36) Launceston, Tasmania
As recommend by Travelling Honeybird
Launceston in Tasmania really is a delightful little city. One that for many years Australians have pretty much ignored. Only stopping by for snacks and a toilet break to/from the Launceston airport on our way to much more fun and fabulous places in Tasmania. Well my friends, let me tell you this, Launceston is all grown up and is a fantastic place to explore.
This little city has a lot to offer. With some of the most stunning historical buildings that make up the city, to delicious food and wine. With the CBD area so small, compared to it's larger main land city cousins, it's the perfect city to walk around and enjoy coffee during the day and cocktails at night.
As if the ease of walking around enjoying the city wasn't enough the people are genuinely friendly and fun to talk to!
Tasmania truly is a delicious state. So don't count the calories just enjoy the abundance of fresh produce and some seriously talented chefs.
37) Night Kayaking In Brisbane
As recommended by Food Fun Travel
If you are looking for a truly unique experience in the capital city of Queensland, then I suggest heading to the Brisbane River for a bit of kayaking. But not just any kayaking – this is night time kayaking!
Kayaking along the Brisbane river at night is not something that you would think that you can do. There are boats and ferries transporting people up and down the river, there is a well known current that runs along the river, and well…it's night time! But when we heard that the local adventure company Riverlife ran this tour plus a good old fashioned Aussie BBQ we signed up straight away.
Riverlife is located at Kangaroo Point at a perfect location in the centre of the city to start your tour. You don't have to worry about bringing anything except clothes that you don't mind getting wet, a spare change of clothes and a water bottle. Riverlife supply you with everything else you need. The kayak, safety gear, lights for the kayak, a guide, and also lockers so that you can keep your valuables in.
The entire tour takes 90 minutes where as a group you make your way along the Brisbane river with the guide pointing out interesting facts along the way. Seeing Brisbane (in particular the Eagle street pier and the Storey Bridge) at night is absolutely spectacular and the city buildings illuminating the night are quite special. One awesome part of the tour is when you get to kayak under the Story Bridge, an icon of Brisbane that is quite often lit up with various colours and displays.
On our particular tour we were lucky (or maybe the guides were super clever) but as we kayaked up the river we had the tide helping us along the way and when it was time to turn back it was at the time when the tide changed too, and our arms got a rest as the tide carried us back to where we started.
Once the kayaking was over we were treated to ice cold beers, wine, and soft drinks, and a ready to eat BBQ dinner by the waterfront. It looks like they have changed the tour a bit since we went and it's now called Friday "Night Paddle & Prawns" so you can expect some buckets of tasty, freshly caught ocean king prawns…yum!
The perfect end to a perfect night on the water.
and of course there are a few other spots I'd personally recommend you check out too!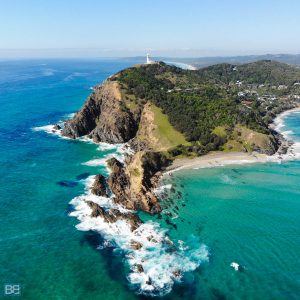 If you've been following my adventures for a while you'll know that Byron Bay is not only one of my favourite places in Australia, but in the world in general!
This little hippie town in Northern New South Wales, sits on the most Easterly point of mainland Australia and is a place where beach vibes, barefoot living and surf culture all mix together with travellers from all over the world.
And there's plenty to see and do here too – from kayaking with dolphins and witnessing the annual whale migration through to learning to surf or taking a stroll along the coastal path to Cape Byron Lighthouse.
It's certainly going to be one of the highlights of your East Coast trip so make sure you pencil in plenty of time to explore, relax and enjoy.
And if you need some help planning your Byron adventure click here for my full guide to Byron Bay.
39) Yamba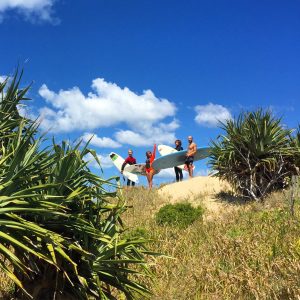 Yamba is one of those places that I absolutely love but I'm also kind of reluctant to spread the word about it over fear of it changing too much!
Often referred to as what Byron was like 30 years ago (which probably explains why I like it so much!) this sleepy beach town is full of incredible beaches, wild kangaroos and friendly faces.
For the surfers out there you'll be spoilt for choice with heaps of uncrowded breaks and for everyone else there's plenty of slices of sand to relax on and top up your tan.
Make sure you stay at Yamba YHA and meet the owners Shane and Justin who are total legends – Shanes $10 tour is a must too.
40) The Great Barrier Reef (from Cairns)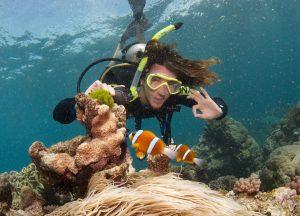 Although a couple of people have mentioned the Barrier Reef, the most popular spot to access this incredible natural wonder is from Cairns and there are plenty of options to suit all styles and budgets.
When it comes to Barrier Reef Day trips you can snorkel, fun dive or for those wanting to give scuba diving a go an intro dive is one of the most popular ways to experience the coral gardens, with no dive experience necessary.
If you have a bit more time and budget to play with why not complete your open water dive courses in Cairns and for dive fanatics and overnight scuba dive live aboard on the barrier reef is a must do, especially for the night dives!
You dont have to get wet to enjoy the Great Barrier Reef either – and there are a range of scenic flights and helicopter tours from Cairns for those who want to check out the gorgeous views from a different perspective!
Have you travelled to Oz?
What would be your best places to visit in Australia?