Back in 2016 I got my first bamboo tattoo done in Thailand – a traditional Sak Yant 5 Lines design down my ribs.
It's not the first travel tattoo I've had done – in fact I've racked up a few – but I definitely prefer getting my ink done the bamboo way – it's heaps less painful and without the buzz of a machine the vibe is just, well, much more relaxed and nice!
So if you're thinking about getting a bamboo tattoo in Thailand here's everything you need to know – from the history behind the Thai Sak Yant Tattoos to to questions I always get asked like does it hurt, how long does it last and how quickly does it heal…
Getting A Bamboo Tattoo In Thailand – Everything You Need To Know!
The Traditional Thai Tattoo Technique
For those of you new to the concept of bamboo tattoos (the traditional Thai tattoo technique – try saying that one 3 times fast!) it involves a "hand poke" technique so ink is applied in a manual, poking method, rather than a traditional tattoo gun – which penetrates the skin anywhere from 50 to 3,000 times a minute!
To achieve this the tattoo needles are attached to a bamboo stick
Don't worry though – this technique can still be as safe and hygienic as a standard gun tattoo when don't correctly and using fresh needles, which is something you should insist on.
Alongside a fresh set of needles you should also check and insist on a fresh ink pot (both the ink and the pot!) for you tattoo. Watch your tattooist finish up someone else's piece and keep an eye on whether they ditch all the towels, ink and pot.
Some places do sterilise and reuse needles, but to be honest I wouldn't personally trust that – ask for fresh needles and make sure you watch them unwrap them to be sure.

Sak Yant Tattoo
One of the most traditional Thai tattoos is certainly the most recognisable is the Sak Yant taboo – which became heaps famous when Angelina Jolie showed off hers.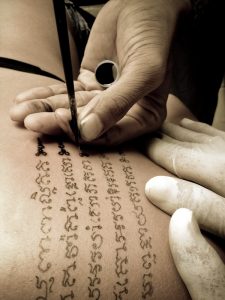 The Sak Yant isn't actually a single design – but a style using sacred design, geometry and animals.
They are said the pass on power, fortune and other benefits to the person receiving the tattoo and are traditionally done by monks and blessed as part of the Sak Yant ceremony.
The Sak Yant 5 Lines Tattoo is the most common of these (and the one I got done) – is traditionally known as the Hah Taew and dates all the way back to 1296!
Originally written in an ancient version of Khmer, called Khom, the 5 lines of script have altered slightly over the years but each line (known as a Yant) has a scared meaning or spell;
Line 1 protects you from unjust punishment and protects your home
Line 2 protects against bad fortune
Line 3 protects against curses and black magic
Line 4 boosts your success, fortune and good luck
Line 5 is all to do with love – boosting your charisma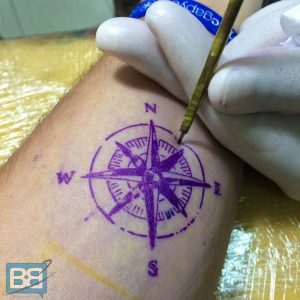 Alongside the 5 lines tattoo are 2 other common Sak Yant tattoos. The circular design is know as the 8 directions or Paed Tidt and the triangular one is the Buddha peaks or Gao Yord
Unless you're simply getting one out of the fact you like the look of them it's well worth the time to research the meaning behind the Sak Yant Tattoos or better still opt for the traditional experience where you chat with the Monk and they decide which is best suited for you.

Where To Get Your Bamboo Tattoo
Ah now here's the million dollar question – where do you get your bamboo tattoo? I'm not talking about placement, but which shop to get inked at!
Well based on my personal experience your best bet is to go with a personal recommendation or do your research as there are thousands of bamboo tattoo shops all over Thailand – from full modern shops to road side shacks.
Deciding where to get tattooed is a big decision so I wouldn't rush into it at all – so chat to some other travellers who have got inked recently and get their feedback.
Although it was a while ago (so there's no telling if they're still open or still good!) I got my Sak Yant on Koh Phi Phi at Can Do Tattoo – a tattoo shop on the arrival side of the island which was actually located underneath the room I rented whilst doing my divemaster course in Thailand!
My compass on the other hand was in Khao Lak at a little place called Top Tattoo – great artist, clean setup and I know several people who have had bamboo tattoos there, all with great results.
Some things to keep in mind when getting a bamboo tattoo though and deciding on which shop to get inked;
Take your time deciding on the design
Shop around for price
But pay more attention to their portfolios
Personaly recommendations are to be taken strongly
Chat through everything, design, time…a good artist will happily do so
Check needles are new – they wont take offence to you asking to see them be opened
Avoid getting one whilst wasted on a night out!
Enjoy!
Guided Bamboo Tattoo Experiences
Want to get a traditional Thai tattoo done in bamboo in a safe and organised way?
Well my buddies at Where The Sidewalk Ends have a range of awesome Sak Yant Tattoo Experiences in Thailand – with their Bangkok option being a great fit for anyone wanting to Geta traditional bamboo tattoo and also learn more about the history and culture behind the experience too.
Including a local guide, hand picked trusted tattooist and a full blessing ceremony at a temple it's an amazing way to get your traditional Sak Yant tattoo!

Does It Hurt?
Compared to modern tattoo techniques, bamboo tattoos hurt a lot less – in my experience anyway! As a series of small punctures rather than the painful "dragging' of a gun tattoo its a much more pleasant experience.
Dont get me wrong, its still not pain free, but its certainly a much more chilled experience!
How Quickly Does It Heal?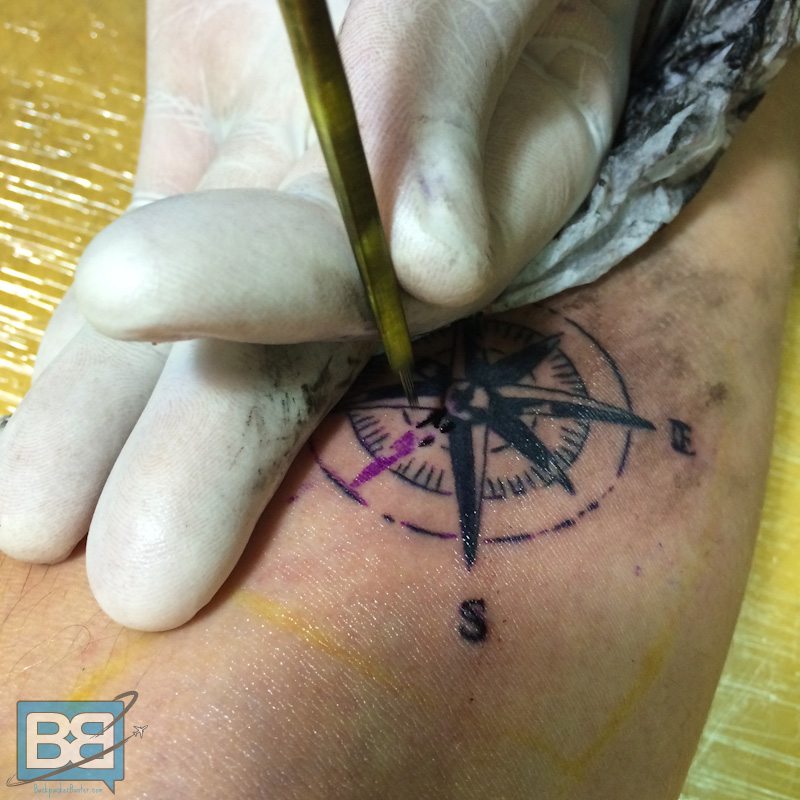 Bamboo tattoos heal much quicker than standard gun tattoo. In fact it's pretty safe t head back into the water 24-48 hours after getting one done, which is the main reason I opted to use bamboo for my latest piece of ink as I was diving in Thailand at the time!
How Long Does It Take?
I was actually surprised by how quickly and efficiently a good bamboo tattooist can work! The Sad Yant on my ribs took around an hour to complete, which also included a break to drink a bucket!
My compass took around 30minutes, but is considerably smaller.

Can You Only Get A Bamboo Tattoo In Thailand?
Whilst Thailand is famous for bamboo tattoos, the technique is pretty common all across Asia – with spots like Bali also becoming increasingly popular for getting them.
You can also get a Pambabatok tattoo in the Philippines which is pretty similar, although I've heard some pretty horrendous stories about the local ones getting pretty infected…so maybe steer clear of that one!
How Long Do Bamboo Tattoos Last?
Like the modern tattoo gun, bamboo tattoos are still permanent tattoos – so be sensible on what you get inked on your skin as it'll be there for life!
Do Bamboo Tattoos Fade Quicker?
Technically yes, bamboo tattoos do fade quicker as the application of the ink isn't as deep as modern techniques. Apparently this is more noticeable with colour tattoos though.
Personally speaking although my compass has faded slightly after 4 years it's still holding up strong and I'd expect any ink to fade slightly over that time – especially with the amount of sun and salt water mines exposed to!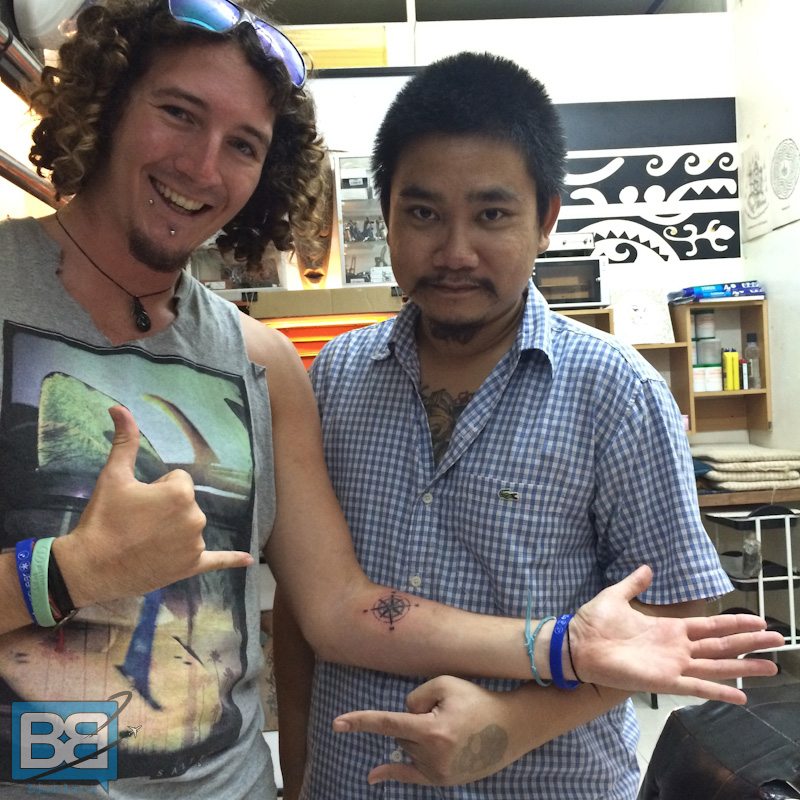 Cheers to the guys at Top Tattoo in Khao Lak for the awesome ink session. Stephen from a Backpackers Tale came along and decided to get his first sleeve started with a world map around his arm…so we bought some beers, cracked on some reggae tunes and let the bamboo get to work…the perfect way to get inked!
Both my compass (including design) and Stephens map outline took around 1.5 hours and set us back 1,500 baht each – roughly £30. An absolute bargain given the skill doing it via bamboo and quality of the final ink.
Stoked as!
Have you already got an epic bamboo tattoo?
Any places you'd recommend using?