Plan your perfect Bali itinerary! Whether you're looking for a 7 day Bali itinerary or 2 weeks in Bali – here's where to go and what to do!
Planning a trip to Bali and trying to figure out the perfect Bali itinerary for you?
Whether you're putting together a 7 day Bali itinerary, 10 day Bali itinerary, 2 weeks in Bali or even longer here's everything you need to plan your perfect trip!
From where to visit in Bali and what to fill your time with to sample Bali itineraries – I've got you covered!
Plan The Perfect Bali Itinerary
When To Go
First off what's the best time to visit Bali? Well like a lot of South East Asia, Bali has two main seasons – wet and dry.
Bali dry season = May to September
Bali rainy season = October to April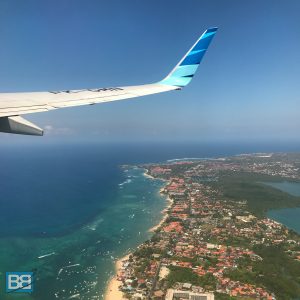 Obviously if you're looking for the best time in terms of weather the dry season is your best bet – however keep in mind this is also the busiest, so you'll need to book accommodation in advance and tourist hot spots will be a lot more crowded.
Travelling in the wet season is certainly cheaper and a lot less crowded, but you will have a trade off when it comes to weather, it is wet season after all!
If you want a good mid ground of price, crowds and weather then the shoulder season (September/October and April/May) is a good balance of the two.
Where To Stay In Bali
If you're only just getting started with putting together your Bali itinerary here are some of my favourite spots to explore on this stunning island – including the top things to do – so you can pick which spots suit you best…
Canggu
The hipster capital of South East Asia! Canggu has grown in popularity over the last few years and from its humble beginnings as an off the track surf destination it's now packed full of amazing guesthouses, hotels, restaurants and bars.
If this is your first time in Bali Canggu is the perfect place to start!
Surf lesson
Eat your way around town
Party at Old Mans
Sip cocktail at the Lawn
Check out an epic guide to Canggu here
Ubud
If you love jungles, yoga and shopping then Ubud is for you! Situated towards the centre of the island, Ubud is famous for the Monkey Forest and rice terraces – but also offers a huge range of yoga retreats and incredible jungle hotels.
Including those famous Bali swing photos you see all over instagram!
Monkey Forest
Tengalang Rice Terraces
Visit the Palace
Barter for trinkets at the local markets
Mount Batar sunrise hike
Nusa Lembongan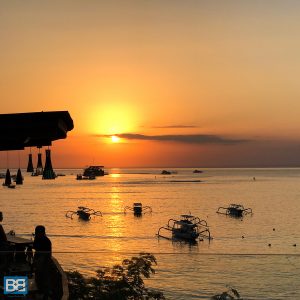 One of my favourite spots in Indonesia – Nusa Lembongan sits just a 30 minute speedboat off the coast of Bali and is certainly a whole different vibe. Think barefoot living and a MUCH slower pace of life!
The huge draw here (aside from the sunset cocktails) are the manta rays – and whether you choose to snorkel or scuba dive it should definitely be on the to do list!
Also a great spot for surfers, with a variety of epic reef breaks.
Sunset cocktails
Surfing
Snorkel with manta rays
Scuba Dive
Day trip to Nusa Penida (including the famous T-Rex Beach!)
Gili Trawangan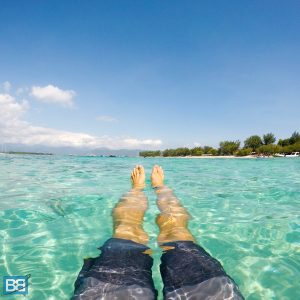 Yes yes I know, the Gili Islands are more Lombok than Bali, but it's certainly a destination I know a lot of travellers will parcel into their Bali plans!
A 90 minute ferry journey off the coast, these beautiful islands are super chilled and relaxing. Gili Trawangan (aka Gili T) is the most famous of the 3 and offers a huge range of accommodation and activities.
Chill out on one of the famous swings or hit the water and snorkel with the local turtles…and who doesn't like turtles?!
Get a picture on an ocean swing
Sunset beers
Cycle around the island
Visit the underwater statues
Snorkel with turtles
Scuba dive
Click here for an epic guide to Gili T
Seminyak
The mid ground between the chaos of Kuta and the hipster vibes of Canggu, Seminyak is a bustling hot spot in Bali – filled with a huge array of restaurants, hotels and bars – including the famous Potato Head club which pretty much kickstarted the whole Bali Beach club scene!
There's not a huge range of attractions actually in Seminyak but it's another good base for day trips around the rest of Bali.
Kick back at the famous Potato Head beach club
Learn to surf
Party the night away at spots like La Favela and Ku De Ta
Uluwatu/Bukit Pensular
One of my personal favourites, a stop in Uluwatu or other spots on the Bukit (like Padang Padang, or Bingin) is ideal if you're looking for beaches and chilled vibes.
A couple nights here is a perfect addition to your Bali itinerary for some epic sunset (Single Fin at Uluwatu being the famous spot!) pumping surf (or just watch!) and also the Uluwatu Temple with the sunset Kecak Dance.
Sunset at Single Fin
Watch the waves
Surf (if you're an experienced surfer!)
Uluwatu temple
Nusa Dua
For those on the hunt for relaxation, luxury and white sand beaches then Nusa Dua is the spot to hit in Bali to tick all those boxes.
Famous for it's array of high end resorts and hotels Nusa Dua is also the perfect destination for those on honeymoon wanting to kick back with an all inclusive.
Much like Seminyak there's not a huge amount actually going on, but its a good base for high end accommodation and to explore more of the Bukit Peninsular.
It's also one of the only spots on mainland Bali with white sand beaches too.
Treat yourself to a luxury hotel
Relax on the white sand beaches
Indulge in a spa day
Hit the shops at Jalan Laksmana
Amed
If you want to escape the crowds and take things a little slower on mainland Bali then Amed is the perfect spot to head. It's a little bit of a mission to get to, but well worth it for gorgeous snorkelling, epic rice terraces and truly local vibes.
Rent a scooter and explore the coastline
Scuba dive the USS Liberty (just up the road in Tulamben)
Soak up some epic sunset views of Mount Agung
Click here for my full post on where to visit in Bali – including a detailed breakdown of where to stay, eat and party!
Bali Itinerary 7 Days
Only got a week in Bali? No worries – here's how to make the most of it with my 7 day Bali itinerary;
Canggu – airport pickup and relax by the beach
Canggu – Surf lesson, eat heaps of epic food!
Lazy checkout and head to Ubud. Afternoon exploring the markets
Ubud day trip – including Monkey Forest, Rice Terraces and waterfalls
Early morning boat across to Nusa Lembongan, Afternoon of cocktails and sunsets
Manta ray snorkel tour or scuba dive on Nusa Lembongan
Head back to Bali
Bali Itinerary 10 Days
Got a bit longer? Happy days – add in some extra time at 2 of my favourite stops and add in an extra destination too with my 10 day Bali itinerary;
Canggu – airport pickup and relax by the beach
Canggu – Surf lesson
Lazy checkout and head to Ubud. Afternoon exploring the markets
Ubud day trip – including Monkey Forest, Rice Terraces and waterfalls
Travel down to Uluwatu – sunset beers at Single Fin watching the surf
Uluwatu – check out Uluwatu Temple
Early morning boat across to Nusa Lembongan, Afternoon of cocktails and sunsets
Manta ray snorkel tour or scuba dive on Nusa Lembongan
Free day exploring Nusa Lembongan or head across to Nusa Penida on a day trip
Head back to Bali
Another alternative would to follow the same format as the epic 10 day Bali trip with TruTravels I jumped on a while back;
Canggu – airport pickup and relax by the beach
Canggu – Tanah Lot temple
Canggu – Surf lesson
Head to Ubud. Afternoon exploring the monkey forest, maybe even a cooking class
Ubud day trip – including Rice Terraces and waterfalls
Ubud – volcano ridge hike
Head over to Gili Trawangan
Gili T – snorkel day trip including turtles, underwater statues and lunch on Gili Air
Gili T – free day exploring and cycling around the island
Head onward to the next destination or back to Bali for your return flight
And if you'd prefer to jump on a tour than do itself click here for more details and to book your spot!
2 Weeks In Bali
Got a full 2 weeks to explore Bali? Now you're talking – smash some time in on the Gili Islands too with these 2 weeks in Bali;
Canggu – airport pickup and relax by the beach
Canggu – Surf lesson
Free day to spend more beach time in Canggu or even check out Tanah Lot Temple
Lazy checkout and head to Ubud. Afternoon exploring the markets
Ubud day trip – including Monkey Forest, Rice Terraces and waterfalls
Free day in Ubud exploring more or perhaps even do the sunrise hike at Mount Batar
Early morning boat across to Gili Trawangan. Spend the afternoon cycling around or relaxing
Gili T – full day snorkel tour, including turtles, underwater statue and lunch on Gili Air
Free day to explore Gili T, or perhaps fit in a scuba dive or afternoon on a SUP
Early morning boat across to Nusa Lembongan, Afternoon of cocktails and sunsets
Manta ray snorkel tour or scuba dive on Nusa Lembongan
boat back to Bali and then transfer to Uluwatu – sunset beers at Single Fin watching the surf
Check out Uluwatu Temple and free afternoon enjoy the area
Time for the next adventure…
Got Even Longer?
If you've got even more time to play with you can obviously afford to be a bit more fluid with your plans – extending your stay in your favourite locations, fitting in more days trips and of course getting a larger variety of destinations in their too.
Honestly the more time you can spend in Bali, the more fun you'll have and the more you'll get out of this beautiful part of the world.
Top Things To Do In Bali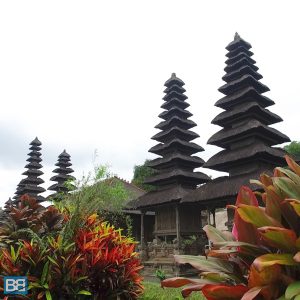 One of the best things about travelling around Bali is the fact there is a huge range of things to see and do – whether you want chilled vibes or adrenaline fuelled fun, lazy days on the beach or crazy party filled nights!
Some of my favourite things to do in Bali (and slightly beyond!) include;
Ubud monkey forest
Tegalalang rice terraces
Surfing (learn to surf or score some epic waves if you're experienced)
Kick back at an epic Bali Beach club
Party the night away at Old Mans in Canggu
Scuba dive spots like Ahmed, Nusa Lembongan or Gili T)
Snorkel with turtles on Gili T
Snorkel with manta rays on Nusa Lembongan
Take part in a cooking class
Eat your way through Canggu
Catch sunset at Uluwatu
Explore heaps of awesome local markets
Of course there's MUCH MUCH more to do – so click here for my epic Bali Bucket List
Bali Budget
Much like the rest of South East Asia the cost of travelling Bali is pretty low and it's very budget friendly – which is obviously great news! For backpackers you can grab dorm rooms for just a few pound per night and there's a full range of guesthouses and hotels for all style and costs.
Getting around is relatively cheap too (more about that below) and the same for eating out – keep it local and you'll spend very little, or even treat yourself to some fancy meals without breaking the bank!
For more info on the cost of travelling Bali click here for my full Bali budget breakdown
Bali Visas
If you're coming to Bali for a short visit the good news is that most countries get a free 30 day visa on arrival!
If you want to stay longer you can also purchase the paid visa on arrival, which is then extendable to 60 days.
Check out this post for more details on Bali Visa On Arrival.
Visa restrictions change all the time, so it's down to you to double check before heading to Bali – but remember you're checking visas for Indonesia (not just Bali!)
How To Get Around Bali
Private driver
For those with a lot of luggage, or a big group or simply looking for the most convenient option a private driver is the way to go – and much more affordable than you might imagine! It's taken me numerous trips to Bali to find a reliable driver, but I highly recommend my friend Budah.
Drop him a What's App on +62 819 9785 1578 and tell him I sent you, he'll look after you!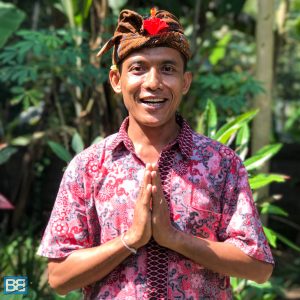 Grab/GoJek App
If you're doing short trips or bouncing around with a couple people then the Grab and GoJek apps are great value. They're basically the Uber of Asia!
Be aware though, some local areas have banned pickups so it can be a nightmare to use in areas like Canggu. They also have a car or moped option too, so if you're travelling light the moped option is certainly heaps cheaper.
Local Taxi
Uggggghhhh I hate the local taxi mafias in Bali! They overcharge HEAPS and are usually a nightmare to deal with. That being said if you can get a metered Blue Bird they can be good value. I would recommend a private driver or Grab over them anytime though!
Moped
If you're not carrying much around, just doing a few small day trips or spending longer exploring Bali then hiring a moped can also be a solid option. Rates are around 50,000IDR per day but if you hire for a week or longer that can drop as low as 25,000IDR!
Please please be careful though – traffic in Bali is organised chaos – and ALWAYS wear a helmet!
How To Get To Bali
There are heaps of international airlines flying to Bali now – but my picks are Singapore Airlines, Qatar and Emirates, especially for those heading from Europe, and you can get a return for as low as £425!
If you're already in Asia low cost airline such as Scoot, Jetstar Asia and Air Asia offer connections from all over South East Asia – including Thailand, The Philippines, Vietnam, Malaysia and Singapore, so it's easy to connect in to a bigger Asia adventure.
For those base din Australia again there are heaps of low-cost airlines flying into Bali – such as Jetstar, Tiger, Air Asia and Virgin Australia.
Phewwwwww that's a whole heap of info hey? I hope it helps you piece together your perfect Bali itinerary – and of course if you have any questions or suggestions add them in the comments!
What's your perfect Bali itinerary?