If Thailand – the land of a thousand smiles – is featuring on you travel itinerary then you're in for a treat. Not only is it a great place to explore but the whole year is full of great events to pencil into your itinerary.
So if you're seeking adventure or looking for the main attractions here's my favorite 5 events to check out…
Songkran
In mid April the streets of Thailand are turned into an all inclusive water fight in celebration of the traditional Thai new year. Backpackers, locals and even the cops join in the fun drenching everyone with water pistols and hurling around water bombs and flour, it really is something else.
So if you're in Asia around this time I highly recommend checking out the chaos, book get your accommodation sorted early as it's a heaps busy time of year!
Full Moon
If you find yourself backpacking in Thailand you will without a doubt hear about the infamous Full Moon Party. Based on Haad Rin Beach on the island of Koh Phangan. This backpacking event is less traditional Thai and more western chaos as nearly 30,000 bucket fuelled backpackers hit the beach and party the night away.
Despite not being in anyway a Thai festival it's a great way to enjoy the full moon – just be careful and prepare for the resulting hangover!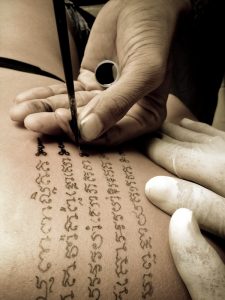 Wai Kru
This rather unusual event is where Buddhist devotees head to get their traditional Sak Yant bamboo tattoos by the masters of the art. During the ceremony chaos erupts as many  recipients become 'possessed' by the spirit of their ink and need to be subdued by the volunteer security that help run the event. It's certainly a unique thing to add to your travel bucket list!
Loy Kratong
This event in mid November is a tribute to the Thai goddess of water where locals adorn the waterways of Thailand with floating lanterns – a truly beautiful array of reflection fill the calm rivers. Chang Mai is by far the best area to be in when this goes on and locals and backpackers alike fill the air with lanterns too as it's said to rid you of your troubles.
PADI Ocean Clean Up
I actually attended the first Asian PADI Ocean Clean Up event last year and it was a great success – even the Thai navy got involved and the sponsors Chang certainly put on a great after party!
If you're a qualified diver and would like to help out it's held down in Phuket with all the local dive boats offering free places in return for help on the reef clean up. A great way to meet some fellow divers and get some great ocean karma. And if you don't dive you can help out on the beach clean ups instead.
Have you hit up any of the above – or do you have any others that you'd suggest checking out?!