2018 was another pretty epic year of adventures – so here's a roundup of all the places I covered and a sneaky peak into my first trip of 2019!
Over the last few years of my travels I've been bouncing around A LOT and despite how it might appear on social media I've been hustling pretty hard too – especially with the launch of my online travel agency RTWBackpackers.com (check it out if you're heading off travelling soon!) – so I decided 2018 would be slightly different.
This year I wanted to chill out a bit more and focus on the one thing that really makes me smile – surfing.
Yup I decided to take my own advice (check out this post for the full rundown!) and travel how I wanted to travel, doing what I wanted to do.
So with my surfboard firmly in tow I didn't venture far from the waves this year and although there were some unexpected adventures and slightly more bouncing around than I planned 2018 turned out to be pretty freaking epic!
4 continents, 8 countries, 30 surf breaks and 31 flights later – here's the roundup of my 2018 adventure, along with a sneaky peak of what you can expect from my 2019 travel plans…
My 2018 Travel Roundup – 4 Continents and 8 Countries
Morocco – 2 Weeks
My first stop of 2018 was Morocco, where I headed to Taghazout for a spot of sunshine, surf, tagine and mint tea to escape the cold of xmas in the UK with my family!
I ended up staying with the crew of Surf Berbere in their epic ocean front apartments, with panoramic views of the waves right on my doorstep.
The perfect start to the year!
In fact the surf was so much fun I ended up flying back to Morocco just a week later for a second stint.
Australia – 4 Months
After stumbling on an epic flight sale whilst I was figuring out my travel plans in Morocco I ended up bouncing back to Byron Bay in Australia to catch up with my brother and buddies.
Australia was actually where I ended up spending a vast majority of my year, with 3 trips totalling over 4 months.
Although most of that time was spent chilling and surfing in Byron Bay I did manage to drag myself away from the surf for a road trip up to Noosa, a long weekend in Sydney and even spent a week with the crew of Welcome To Travel Melbourne checking out their working holiday visa intro package
One of the highlights though has to be doing up my campervan – I've spent so much time based in Australia over the last few years I decided to invest in a van, complete with full double bed and solar setup, the ultimate way to surf and work!
Indonesia – 4 Months
Along with Australia, Indonesia was my other main base for the year and I had more than my fair share of Nasi Goreng and Bintangs fuelled fun over the 4 months I spent there.
I also managed to tick off one of my main bucket list items in March when me and the bro heading over to the Mentawai Islands for an absolute dream surf trip with Beng Bengs Surf Camp.
It's honestly one of the most tropical places I've ever visited (palm trees for days!) and the surf was everything I've ever dreamed of!
Along with the Mentawais I also spent a heap of time in Canggu with a bunch of blogger buddies (including Jules and Christine of Dont Forget To Move), surfing in Eastern Java and ended up based on the stunning Nusa Lembongan (just a 20 min boat ride from Bali) for a good chunk of my time there.
The Philippines – 2 Weeks
The Philippines came into my travel plans this year as a visa run from Bali and also as a surf trip with some buddies back home.
Naturally surf was the order of the day and we headed straight to Siargao Island, which has been one of my favourite surf destinations for a while now.
As beautiful as it still is unfortunately it's now MASSIVELY popular and the amount of development and crowds in the water means it has lost a lot of its charm – so I dont see myself heading there again in the hurry. Which is a massive shame.
Maldives – 1 Month
What was meant to be a couple week trip/visa run from Indonesia turned into another month long stint in this stunning country!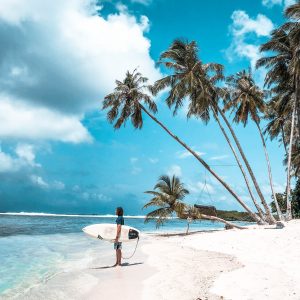 I bounced around the local islands of Himmafushi, Thulusdhoo and Fulidhoo surfing and scuba diving, which was incredible fun.
I was also meant to venture further south to Meedhoo Island, but unfortunately some issues with the ferry service meant that had to be postponed for a trip in the near future!
A month in The Maldives might sound like a total budget buster but honestly it's much more affordable than you might think – check out my guide to travelling The Maldives on a budget for heaps more helpful info!
New Zealand – 2 Weeks
Another visa run turned epic adventure – this time from Australia – New Zealand was a super last minute addition to my travel plans this year but I'm super stoked to have got back there!
2 weeks of awesome adventures around the North Island with Stray New Zealand saw me kayaking, white water rafting, learning the Hakka and of course visiting Hobbiton.
If you're heading to New Zealand soon check out my guide to the North Island to help plan your trip.
Sri Lanka – 10 Days
My final country of the year (well except for the UK of course!) was Sri Lanka – where I was invited to TBC Asia with a whole array of travel bloggers from all over the globe.
It was an awesome 10 day trip around the Central North of the Island with some of my favourite bloggers Dave form Jones Around the World and Vicki from Make Time To See The World in tow – including checking out the famous Sigiriya Rock Fortress
If Sri Lanka is on your to do list for 2019 (which is should be!) click here for some of my top things to do in Sri Lanka.
UK – 5 Weeks
I finished off the year tackling a pretty solid 30 hour journey from Byron Bay in Australia back to Devon in the UK with my brother to spend xmas with all my family – the first time we've all been together for over 8 years!
Despite the cold it was the perfect English xmas, filled with mince pies, cider, xmas markets and waaaaaaay too much food!
So What's The Plan For 2019?
As much as coming home to the UK is lovely I'm already craving sunshine, surf and adventure – so I've wasted no time in lining up that ASAP!
I'll be kicking off my first trip of the year on the 14th January when I'll be flying out to Cape Town in South Africa, where I'll be spending 10 weeks road tripping along the Garden Route from Cape Town to Durban with the crew of Ticket To Ride Surf Adventures.
It'll be packed full of waves, incredible destinations and also heaps of non surfing fun too (including Bungy jumping, Table Moutain, penguins on Boulder Beach and of course a safari!) so keep an eye on my Instagram stories for all the action!
…2019 I'm coming at you!
Have you got any epic adventures planned for 2019?
What's on your to do list?