Figuring out how to spend 2 weeks in Australia? Here's the perfect 2 week Australia itinerary inc all the best bits from Sydney to Cairns!
Planning 2 weeks in Australia and stressing out over how to fit in all the best bits of the East Coast in such a short time frame?
Well putting together a 2 week Australia itinerary is never easy – it's such a big country to explore and there's so much to see and do!
No worries though – after years of living, working and travelling around Australia here's how I'd pack in all the best bits between Sydney and Cairns into the ultimate 2 week Australia itinerary…
The ULTIMATE Itinerary For 2 Weeks In Australia
Sydney
1 Night
Ok so you might think that a single night in Sydney (arguably the most famous city in Australia) isn't really enough – but for 2 weeks in Australia we're going to have to be pretty brutal to make the most of everything along the way!
Your main tick list here is going to be Circular Quay and the Opera House, which a beautiful walk and perfect spot for some sunset drinks too.
You'll also get the whole of the next day to explore more of Sydney too before your overnight bus up to Byron Bay.
You can either head out on a day trip to somewhere like the Blue Mountains or chill on the beach at Manly Beach or the famous Bondi Beach.
Overnight bus to Byron Bay
Time to tackle your first overnight bus trip in Australia! Jump on the 12 hour Greyhound from Sydney to Byron Bay which departs at around 9pm.
Greyhound Routes GX243 or GX244
Departs 6pm or 10:30pm
Total trip length = 12 hours, 30 mins
Byron Bay
2 Nights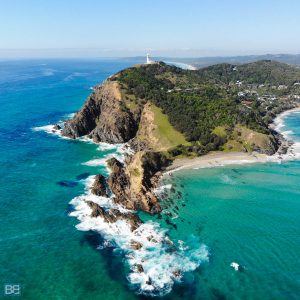 Ah Byron Bay! If you've been following my site for a while you'll know this is my favourite stop in the whole of Australia – and indeed one of my favourite places on the planet!
There are heaps of things to see and do in Byron Bay – but the dolphin kayaking and surf lessons are the two trips I'd highly recommend here. Make sure you take the time to do the Byron Bay Lighthouse Walk too – running from town all the way up to The Pass, over to Wategos and then up to Cape Byron Lighthouse itself.
Bonus points if you time it for sunrise or sunset!
Full of good vibes and epic beaches you'll no doubt leave Byron Bay wanting more.
Read my Ultimate Guide To Byron Bay here and my Top Things To Do In Byron Bay here!
Rainbow Beach
2 Nights (one pre and post Fraser Island)
I'll be totally honest, there's not a whole heap going on in Rainbow Beach, but it's the departure point for the first of your 2 big East Coast trips – Fraser Island.
So after the bus journey up from Byron go explore this quaint little town and take a stroll along the beach.
Fraser Island
2 Nights
For those wanting to camp Pippies is an amazing option with daily departures, or for those wanting something a bit more relaxed and with an emphasis on the history and traditions of Fraser Island Dropbear Adventures is a great shout, but only depart twice weekly.
Or if you don't fancy camping the Nomads Fraser Island is the ideal option too – all the fun and adventure but staying at a hostel on the island instead of under canvas.
Overnight bus to Airlie Beach
Unfortunately you won't be back in time from your Fraser Island trip to jump on the overnight bus up to Airlie Beach the same day, so you'll have some free time in Rainbow to relax before tackling the 18 hour Greyhound service up the coast.
Greyhound Routes GX446 and GX402
Total trip length = 18 hours, 5 mins
Airlie Beach
2 Nights (one pre and post Whitsundays)
Airlie Beach is the gateway to the second of your big East Coast tours – The Whitsundays Islands. And with heaps of travellers heading that way Airlie Beach is a greta little party town, complete with free lagoon swimming pool to soak up the Queensland sun and recover!
This 2 week Australia itinerary allows 2 nights here – one pre and post Whitsundays trip – so make sure you take the time to explore around the coastline as well, its a beautiful spot.
Whitsundays
2 Nights
Time to explore the Whitsundays and take in all the stunning locations that make a Whitsundays tour such a big Australia bucket list item!
Walk along the famous Whitehaven Beach, grab a postcard perfect picture at Hill Inlet lookout, snorkel some of the many reefs and of course spend a couple of nights on a boat!
I've pencilled in a 2 night Whitsundays sailing tour here – and highly recommend Tongarra, Wings and Powerplay as some great options. Depending on the day you arrive in Airlie you could also do Ride To Paradise and stay overnight on one of the islands too.
Overnight Bus From Airlie Beach to Cairns
Time for your final overnight bus! Don't worry though the Airlie Beach to Cairns bus is an easy 9 hours, so sit back, relax and get ready for the final journey to finish off your 2 weeks in Australia.
Greyhound Routes GX415
Departs at 8:40pm
Total trip length = 8 hours, 55 mins
Cairns
2 Nights
The final stop of your 2 weeks in Australia, Cairns is packed full of adventure and fun.
The gateway to the Great Barrier Reef (a must do for any Australia trip!) you can opt to either do a snorkel tour, certified dive or even an introductory dive.
Depending on when you fly out you might even be able to fit in another day trip before the end of your time in Australia – in which case I'd recommend either Cape Tribulation or the Cairns Waterfall tour.
Or if you decide just to chill out after a night of partying (which Cairns has an abundance of!) the free lagoon swimming pool if the perfect spot and comes kitted out with free to use BBQs too!
Alternative Options
Fraser Island/Whitsunday Day Trips
If you still want to tick off Fraser Island and the Whitsundays but aren't too fused on the overnight trips you can also opt for day trips to both locations too, giving you some extra time to play with. If it's a decision between either I'd go with a day trip to the Whitsundays as the day trips to Fraser Island aren't half as good as the overnight options!
Internal Flights
Another option for freeing up some extra time exploring is to opt for internal flights instead of overnight buses. For Sydney to Byron Bay you can fly into either the Gold Coast (45 mins from Byron) or even Ballina (20 mins from Byron) to save the long journeys.
For Rainbow to Airlie Beach you can double back to Brisbane and grab an internal flight up to Proserpine Airport and then you can swap the bus from Airlie Beach to Cairns for a flight too.
Flights do up the overall cost of the trip, but do also save you a lot of travel time too – so if you're set on a 2 week Australia itinerary they can be a solid option.
Add In Magnetic Island
If you do make some changes to give yourself a couple of extra days (or can extend you stay overall) I'd also highly recommend adding in Magnetic Island between Airlie Beach and Cairns. It's a great little stop and there're heaps of wildlife to see (in koalas and rock wallabies) and beaches to chill on.
Stay Longer If You Can!
If I'm going to be totally honest, 2 weeks in Australia really isn't enough! I know not everyone can take that much time to travel, but if you can a longer trip is certainly going to be more rewarding and you'll be able to slow down the pace a bit too!
Ideally for Sydney to Cairns, 4 weeks in Australia is ideal – and this also gives you the flexibility to add in extra stops like Melbourne too.
And of course the ultimate option would be a working holiday visa in Australia and gives yourself 12 months to travel around!
Get It Sorted Without The Stress
Loving the look of this 2 week Australia itinerary or want to make a few tweaks to fit your preference or time frame? No worries- hit up the crew of RTW Backpackers who can get everything all sorted for you.
They've even pieced together this exact itinerary so you can simply hit "book" and you're done!
Putting together your 2 weeks in Australia?
How are you spending it?