Wondering what the fuss is about with travelling Australia? Well here's 10 reasons I think you'll love backpacking there!
It's no revelation that I love travelling in Australia heaps! Over the last few years I keep finding myself back in this beautiful country – in fact this is my 4th visit in 4 years – and each trip is filled with good times and good faces.
And I'm not alone either, backpackers and travellers from all over the world head down under to work, travel, play and enjoy the good life! It's full of amazing history and destinations.
But what's so awesome about Australia? Why should you put it into your travel plans?!
Well after a lot of editing, re editing, and reminiscing I've finally narrowed down the top 10 things that make any trip to Australia epic – so be prepared to add some things to your bucket list!
10 Epic Things You'll Love Doing In Australia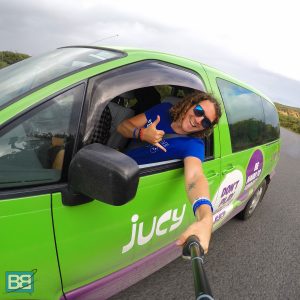 Roadtripping
For me Australia has been fuelled by epic road trips. Whether it's just heading down the Great Ocean Road for a few days, heading up the East Coast trail or campervanning Perth to Darwin. Nothing beats being on the road and no matter what you budget or travel style bouncing around Australia will be filled with awesomeness!
If you don't fancy driving or campervan living you can still overland throughout Oz via the Oz Experience, Greyhound Bus or Loka Travel…so you cant go wrong really!
Surfing
So. Many. Waves!
One of the biggest draws of Oz for me is the surf – the country is littered with world class surf breaks! Whether it's Byron Bay, Noosa or even the Sydney Beaches you'll find waves whatever you enjoy riding. And if you're looking to try it out for the first time there's heaps of spots to learn and you can even combine if with exploring too on a surf road trip from Sydney to Byron Bay or Surf Academy – no excuses not to give it a go!
Chilling At Sydney Harbour
Despite not liking cities I do rather enjoy Sydney and kicking back at Circular Quay and Darling Harbour is something I'm pretty fond of.
Photograph the obvious attractions of the Sydney Opera House and Sydney Harbour Bridge but also take the time to stroll around and soak up the ambiencee with buskers, street performers and of course a cold cider at the Opera House Bar!
Scuba Diving On The Great Barrier Reef
I actually decided to learn to scuba dive on the Great Barrier Reef waaaaay back in 2009 when I first travelled to Australia and since then I'm totally hooked!
The reef itself is a huge bucket list tick for many backpackers and for me scuba diving the Barrier Reef is the best way to explore it. If you're not so sure about diving you can still do an intro dive…but for those who want to go all out there's some great dive liveaboards from Cairns which allow you to clock up heaps of time underwater and a huge range of Great Barrier Reef tours which offer snorkel, diving and intro dives.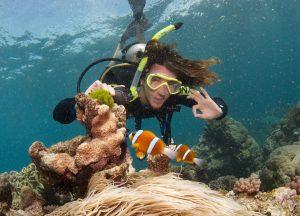 This was my favourite trip within Australia…which is a pretty big deal! Bombing around beaches and jungles in a 4WD on Fraser Island, camping under some of the most beautiful night skies I've ever seen and exploring the worlds biggest sand island – a weekend well spent!
Along with Fraser Island this is probably one of the most anticipated trips for most travellers in Australia and it's well worth it! Kicking back on the famous Whitehaven beach with sand so pure it squeaks beneath your feet, sailing The Whistundays between tropical islands and snorkelling some incredible reef is always a good way to spend your adventures! And it's always heaps of fun watching the sunset as you float around in the ocean with more than a few cold beers to hand!
Again there's something for everyone with party boats, traditional sailing boats, romantic couples boats and dive boats – so take your pick of Whitsundays tours!
Outdoor Living
One of the biggest draws about Oz is the lifetsyle. Even if you head out on a working holiday visa the lifestyle balance between work and play is freaking awesome! Aussies definitely take all the opportunity they get to enjoy the outdoors and I don't blame them!
BBQs on the beach, lazy days in the city parks or strolls around the outback…outdoor living is at the heart of Australian culture and I love it!
Sweet F All!
Yes there's heaps of cool stuff to do in Australia and you could easily fill everyday with crazy adventures – but it's also the perfect place to enjoy some down time, find some space and do sweet f**k all for a bit!
For me that means chilling on the beach…my favoured way to switch off and recharge!
Exploring WA
The East Coast of Australia is pretty famous when it comes to backpacking and no doubt you'll tackle the Cairns to Sydney route when you get out there.
But if you want to sample some more of the real Australia and do something a bit different head over to Western Australia – it's massively under rated!
I campervanned from Perth all the way to Darwin, taking in miles of red dirt roads, snorkelling with manta rays on Ningaloo Reef. feeding wild dolphins at Monkey Mia and enjoying some of the most gorgeous beaches I've ever stepped foot on. It's a world away from the chaos of the East Coast (dont get me wrong though I love the too!) so if you get the chance to tackle WA go for it!
Meeting The Wildlife
No matter where I go in Australia the wildlife never ceases to keep me entertained! Yeah sure a lot of it does have the capacity to kill you but it's pretty safe so chill out!
Sure you have all the classics like koalas and kangaroos but there's the stuff you see everyday in Oz like a cockatoos chilling on the balcony, dolphins playing in the surf and giant fruit bats gliding by at sunset.
Even the pigeons out here are pretty awesome and there's a kind which look like they have mohawks!
…I'll avoid chatting about the spiders the size of your hand though!haha!
I could literally spend all day chatting about heaps of other reasons I love Oz and that I think you'll love about Oz – it really is an incredible country to travel. Despite the fact budgeting in Australia can be tough (it's definitely not the cheapest place to be!) it's well worth it!
If you're heading there check out my How To Spend A Month In Australia Sample Itinerary post or let me help plan your Aussie adventure with my East Coast Australia Trip Planner!
Are you heading to Oz soon – what's to of your to do list?
Or have you already been to Oz? In which case share some of your highlights!