Debating whether to travel around Indonesia and Bali? Well here are 10 perfect reasons why you'll absolutely love travelling around this part of South East Asia!
If you're currently planning a trip to South East Asia you'll have quickly realised that there are heaps of incredible places to explore – so figuring out the best places to travel in Asia can be a bit of a minefield!
Sure spots like Thailand and The Philippines quickly spring to mind, but have you thought about travelling around Indonesia?
I've spent heaps of time in this part of the world over the last few years and it draws me back time and time again and whether your planning 2 weeks in Bali or a honeymoon in Bali there's plenty on offer.
So what makes travelling around Bali and Indonesia so amazing and what are the best things to do in Bali?
Well here are 10 perfect reasons why you'll love travelling around Indonesia and Bali…
10 Perfect Reasons Why You'll Love Travelling Around Indonesia and Bali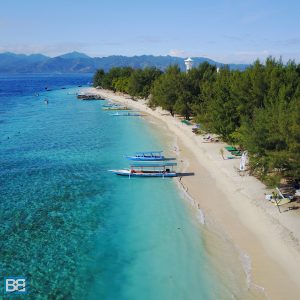 Incredible Beaches
South East Asia is packed full of amazing beaches so if you love beaches then you'll be spoilt for choice travelling around Indonesia – it has some postcard perfect slices of sand you can enjoy!
From chilled out, near empty beaches in the likes of Lombok or Gili Meno to the party filled stretches of sand on Gili Trawangan or the black hipster filled beaches of Canggu.
Or you could go all out and enjoy total mnungle palm fringed perfection in the Mentawai Islands off the coast of West Sumatra!
World Class Surf
One of the main reasons I absolutely love travelling around Indonesia are the world class surf breaks that scatter the country!
From the mellow left handers of Medwi in Bali to the world famous G-Land in Java, Uluwatu in Bali and Desert Point in Lombok – there are literally hundreds of amazing waves to be ridden and even discovered!
There are plenty of spots for beginners too – with heaps of Bali surf camps, island hopping surf camps and even surf instructor training courses to choose from, there's no excuse not to paddle out and feel the stoke!
Scuba Diving
If the ocean is your happy place then Indonesia offers up some amazing scuba dive spots too.
From the stunning dive sites scattered around the UNESCO world heritage site of Komodo National Park and the epic dive sites of Raja Ampat, to the famous Liberty Shipwreck in Tullumben or the drift dives of Nusa Lembongan – there's something to suit all levels and experience of diver.
If your on the search for the big stuff like Manta Rays or Mola Mola or a fan of the macro life the sheer abundance of scuba dive sites across Indonesia will mean you can easily spend more time exploring underwater than on land!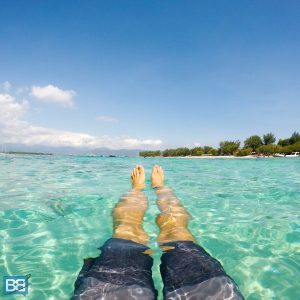 Kicking Back On Island Time
Much like the Philippines if you're looking for some serious island time and good vibes you'll be spoilt for choice in Indonesia.
There's 17,000 to choose from and I've only just scratched the surface on my adventures here but rest assured you're not going to be disappointed!
My personal favourites so far include Bali (obviously!), Gili Trawangan (amazing for parties and stunning sunsets), Nusa Lembongan (awesome waves, manta rays and chilled vibes) and Komodo Island (for the famous dragons).
I'm sure that list is going to spiral out of control soon as I continue explore even more of what Indo has to offer – let me know if you have any recommendations!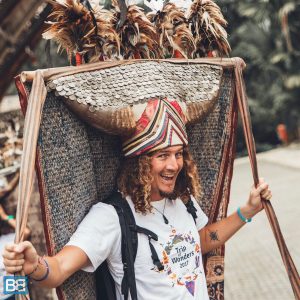 The Variety Of Places To Visit
Whether you want incredible beaches, heaps of culture, party chaos or a to get off the beaten track – Indonesia has such a diverse variety of places to visit.
As I've already mentioned there are over 17,000 island to choose from there really is something for everyone – and there are some great alternatives to Bali, so you can avoid the usual tourist route easily!
From firm favourites like Ubud with its Monkey Forest and picturesque Rice Terraces, or the hipster Mecca of Canggu, to less well known destination such as Tona Toraja with it's unique architecture and slightly creepy death celebrations you'll find such a mix of destinations to explore throughout Indonesia and indeed plenty of places to visit in Bali as well.
And of course if you've found some incredible up and coming destinations to explore let me know and I'll add them to the list!
The Food
Food has become a huge part of my adventures and one of the reasons I've fallen in love with travelling around Asia – so I'm stoked to tell you that you'll be getting some serious munchies throughout Indonesia!
Whether you're chowing down on the staple of Nasi or Mie Goreng (fried rice or fried noodles), some healthy Gado Gado (a selection of steamed veggies with peanut sauce) or checking out some of the diverse Warungs (local restaurants) with their amazing buffets no matter what your pallet you'll be well fed.
And off you're hunting for some Western food you'll also be relieved to know it's pretty easy to locate pizza, pasta and burgers in most places…just make sure you sample the local dishes too!
The Abundance Of Culture
And alongside the variety of places to visit comes the abundance of different cultures and traditions that can be found.
Whether you're learning more about the death celebrations and traditions in Toraja, learning how to create your own Batik patterns in Semarang, exploring the local villages and history of Lake Toba or checking out the sunset Ketuk Dance at Uluwatu Temple, Indonesia has a huge mix of cultures to learn about and explore.
So as much as you want to sit by the beach and chill, you really should take the time to discover a bit more about the amazing history and cultures that fill the country.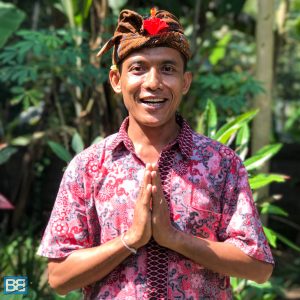 The Friendly People
No matter where I've travelled around Indonesia the one thing I've always found is how friendly and welcoming the locals are.
Whether you're looking for directions, trying to figure out what amazing local food to try or wanting to learn more about the local area Indonesians are always happy to help, even if the language barrier in some locations is a bit of an issue!
I've lost count of the times people have asked me about how I'm finding their country or asking for selfies with me (always amusing!) and they're always full of good vibes!
Sure you might well get hassled a bit in spots like Kuta in Bali with people trying to sell you stuff but they'll always do it with a smile!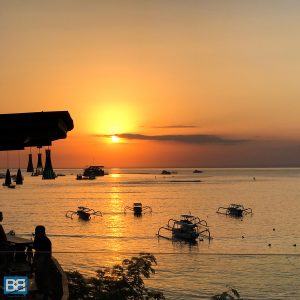 The Amazing Sunsets
Indonesia has some of the best sunsets I've ever witnessed – especially when the orange glow slowly sinks into the ocean!
Single Fin in Uluwatu is one of my favourite spots to soak it all in though – with amazing views across the surf and a cool Bintang in hand! Although admittedly Nusa Lembongan is fighting it now for the top spot!
So when it comes to the end of the day, free up your travel plans and find the best spot to finish it all off – it's well worth taking the time out to enjoy!
It's Budget Friendly!
One of my favourite reasons to travel South East Asia in general is the fact it's so budget friendly – and Indonesia is no exception!
From amazing local warungs for tasty food, ice cold Bintangs on the beach and huge variety of guest houses all over the place travelling around Indonesia and Bali is pretty easy to budget for.
And of course if you're looking to splash the cash and treat yourself your money will go even further and you can easily find yourself living it large without a huge bill!
For more information on how much to budget for Bali and Indonesia check out this post.
So When Are You Heading To Indonesia?
With so many reasons to love travelling around Indonesia and Bali the only other question you have to ask yourself is when will you be heading that way?!
If you need help planning your trip to Indonesia check out my other Indonesia tips and advice here and check out RTW Backpackers for a range of Indonesia group tours and surf camps to help kickstart the adventure!
And of course if 30 days simply isn't enough for your adventure in Bali and Indonesia you can also extend your visa to 60 days! Check out my post on Bali Visa on Arrival and Bali Visa Extension for more info on how to sort it.
Have you travelled around Indonesia or Bali?
How did you find it?
**PLEASE NOTE: This article was written as part of my collaboration with Wonderful Indonesia – but rest assured all opinions are honest and my own**