Over the last few months I've been getting more and more emails regarding cameras and travel – people asking me what camera kit I have on the road, what I recommend and what they should invest in to take backpacking with them.
And it made me realise that I've never really chatted much about my photography equipment – despite having degree in the subject – so I thought I should really put something together and let you know what cameras I'm using to capture my adventures on the road and give you a hand choosing the best travel camera.
Travel and Photography – What Camera Kit Do I Backpack With?
The Kit List
First off here's a quick run down off all the camera kit I have access too;
So now you not what I can potentially be carrying around here's the low down on what I actually use, how I use it and what kind of pictures it creates
Digital SLR
The first thing people always ask is what SLR I have. Well I did carry both the 7D and 40D around for a while (I liked having 2 lens options always loaded and ready to go) but after a while I shipped the 40D home to cut down on bulk and weight.
When it comes to my SLR kit I mainly use them for professional stuff like shooting images for travel companies or if I'm photographing something I need high resolution shots with or a lot of creative control – like my time at the Wildlife Alliance in Phnom Pehn or during my dive live aboard on the Similan Islands.
I view my SLR as my "willy waving camera" – it usually goes above and beyond what I really need a camera to do and it's a massive pain in the ass to lug around. It's for when I really need to look professional and it becomes more of a status symbol for clients than anything else.
9 times out of 10 I barely touch it these days!
iPhone
Which brings me onto my iPhone – which is by far my camera of choice and has been since the iPhone 5. These days 99% of the pics you see on my site are all shot using my iPhone (currently iPhone 6) – the resolution is more than adequate for use on the web, it's small, light weight and always in my pocket. (update – I've now upgraded to the iPhone 7+)
And you know how the saying goes – the best camera is the one you have on you.
There's something amazing discrete and just plain convenient about shooting my travels on my phone – plus I obviously have the option of quickly and easily sharing my travels instantly on social media within seconds of shooting it.
I've also downloaded a handful of great photo editing apps which I use – including Instagram (for a lot of filters and social sharing), Touch Note (turns pics into postcards and greetings cards), Typic+ Pro (for all the text overlays and graphic design stuff I may want to add), Camera+ (for more intense editing), PhotoMarkr (for adding watermarks) and of course the inbuilt Panoramic mode in the native iPhone camera.
I also carry around my Olloclip case and iPhone lens add on  – it adds some great additional features like fish eye and macro to really give the iPhone a bit more versatility, great for those who are keen to experiment a bit more with photography and push what their smartphone can produce.
In short my iPhone camera suits my lifestyle, style of shooting and output of my images – and most of the time it's more than enough camera for the average backpacker to be using.
GoPro
My choice of GoPro is one of the most common questions I get too. Currently I'm travelling with the GoPro Hero 4 Silver Edition (upgraded from my GoPro 3)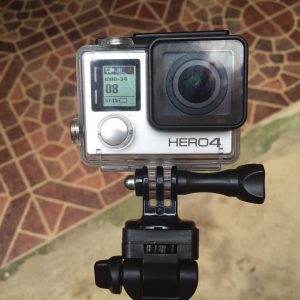 I love my extreme sports and the durability of the GoPro and it's water resistance made it an easy purchase decision. I've taken it scuba diving, free diving and surfing all over the globe and it's captured some great memories most other camera would struggle to deliver.
I have the surf mounts on my board for surfing selfies and also carry and extension pole, pistol grip and floaty grip to help get some interesting angles and to keep it safe whilst in the water.
I also bought a £5 egg timer, put a mount on the top and use it to take time-lapse panoramas – a great little DIY hack which produces some amazing results!
One of the best sites I've found for GoPro kit in the UK is www.surfsurfsurf.co.uk which has everything from mounts to camera kits to carry cases and poles – also a quick look around the internet will throw up some other great DIY mounts and accessories.
So why did I go for the top end Black Edition?
Firstly it came bundled with the remote – which to be honest I haven't really used to its full potential yet, but also because I really wanted to capture my extreme activities in full resolution.
…my brother on the other hand has the White Edition and it does everything he needs to from an average backpacker perspective. So if you're short on case it'll still deliver the goods – especially with the upgraded Hero 3+ model now out.
I also have the LCD display for it – but to be honest I now only use that for diving photos as the iPhone GoPro app lets you remotely control the camera and delete/review images on the go – although I rarely do that unless I want to quickly share pictures on the Fanpage or Instagram as I have a 16GB card to fill!
UPDATE: I'm now shooting with the GoPro Hero 5 Black – check out my full review of it here
Macbook Pro Retina
My laptop is my main call for serious photo editing – sometimes my iPhone apps simply won't cut it. Adobe Lightroom is a great way to bulk edit a lot of images and is heaps user friendly, although for the blog I mainly use it to logo watermark the images (I had some issues with a travel company stealing some of my images which prompted me to start this!) and I also have Photoshop too – although Lightroom is my go to software.
Pro vs Air wise to be honest they're both incredible pieces of kit. I travelled with the Macbook Air for over 2 years and I've only upgraded to the Macbook Pro simply because A) I wanted the awesome retina display and B) because my laptop if basically my office and I was finding that although the Air dealt with it fine I really needed to performance and storage boost whilst on the road for a long time.
When it comes to backing up my images I usually DropBox key images and the rest are backed up to my WD Passport Hard Drive –  a great slimline storage solution which easily copes with all my images, music and movies, on the odd occasion I end up back in the UK I also offload everything onto a 1TB drive I keep at home.
I also plan on investing in the new Apple iCloud Drive storage when it's launched later this year as an extra backup option.
And there you have it – the kit I use, why I use it and how I use it!
Hopefully that'll help you make an informed decision when deciding how to capture all the amazing travel images you envision on the road!
What cameras do you use on the road – anything you'd recommend?