I've spent quite a bit of time in Indonesia over the last year or so – mainly based in Kuta due to its quick access to a variety of surf breaks. But have also taken the time to check out Gili Trawangan a few times too (including getting my Level 2 Freediving course there) as it's a nice change of scenery and simply a beautiful island to spend a week or so unwinding at a slower pace of life.
And surrounded by stunning beaches, snorkelling and diving me and fellow blogger Stephen from A Backpackers Tale decided to indulge in a little bit of flash packing for a few nights of our stay.
Tir Na Nog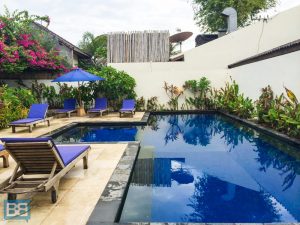 With Gili T island being pretty small (you can cycle around the entire place in less than an hour!) location was never really a big element on picking a place to stay. Still I wanted to lug all my stuff a pretty short distance (especially during wet season when down pours can happen all too quickly!) but also wanted somewhere quieter than the centre of town.
Tir Na Nog is situated towards the south of the island, a few minutes walk from the main ferry drop off and judging on the images of the place was everything we'd want – a bit of luxury, a pool and free wifi…the simplicity of being a blogger hey!?
As soon as we located Tir Na Nog my first thought was:
"Oh crap, it's right behind the Irish bar"!
…don't get me wrong I love a good bit of partying but if I'm paying for somewhere slightly more pricey to sleep,
It turns out my initial fears were unfounded though, the rooms were set well back from the main bar area and I can honestly say that noise was no worries – you'd never know you were a mere few paces from one of the islands most popular bars!
That proximity worked totally to our advantage too, either side of the Tir Na Nog were a variety of places to eat, ranging from pizza and pasta through to traditional Indonesian dishes – covering a full scale of price ranges. And of course the nightlife was there too. Irish Bar is bustling every night of the week and there are plenty of other beach side bars to explore in every direction.
A Good Nights Sleep
The real attraction of course were the rooms. In fact I'll go as far as saying it was some of the nicest accommodation I've stayed in my 2 years on the road! Our deluxe twin room was almost villa like in feeling. Off the main path you walked through lockable gate into a mini courtyard complete with decking to relax on and ample space to dry all your gear after a day in the water.
Past the huge glass sliding doors you entered the room – which came complete with security box, free wifi, air con, inclusive of breakfast (which was more than filling!) and storage space…and 2 of the nicest king size single beds I've ever had the pleasure of sprawling out on!
The creme de la creme of Tir Na Nog though are the bathrooms! Past the room was a HUGE bathroom area – 50% of which was undercover, but the waterfall shower was actually nestled amongst exotic plants and open air! Washing down after a day in the sand and saltwater was an absolute treat!
…and for those of you rather nervous about being in the buff outdoors I had a good look around pre strip and it's totally private!
Cost wise you can sort a deluxe twin room at the Tir Na Nog from around £35 – which given how much I paid for backpacker accommodation on the island (around £8 per night for a triple share) isn't bad at all given the luxury you receive, so if you've got a bit more cash to splash or simply fancy an island treat go check it out.
Atmosphere; 3/5 (the accommodation itself is pretty private but the bar bumped this up a bit!)
Cleanliness; 5/5
Facilities; 4/5
Value; 3.5/5
**Please Note; I received a complimentary stay at the Tir Na Nog from the awesome guys at AsiaRooms.com – but rest assured all opinions are honest and my own**