As a female packing for a trip to Asia can be tricky – you want to look great but not carry the weight! Here's a breakdown of what I took v what I actually use!
Packing for any backpacking trip can be a bit of a nightmare – what to bring, what not to bring…it's a tough set of decisions!
If you're the type of girl that stands in the middle of the closet staring at a million of items sorted semi neatly whispering quietly under your breath, "I have nothing to wear…" then you're exactly like me.
I'll try at least six outfits on before deciding the first one was the suitable and logical choice.
As you can probably imagine packing for trips was a nightmare, the only time I packed light was when I backpacked through central America and that was because I waited till last minute and shoved a few t-shirts and a pair of shorts in my bag hours before my flight.
I know what you're thinking, 'Gross! She only wore one pair of shorts!' Yes, because I pretty much lived in my bathing suit (which I had more than one of).
So when the time came to pack for my 'who knows how long this trip will last' adventure in South East Asia, I definitely over packed by a long shot.
You know that old saying, "less is more" well it's true, the less you pack the better. Don't pull an me and pack that favorite dress from 2009 that you only wore once but may look cute in the future scenario, because you'll never wear it… trust me.
Here's a full breakdown of what I packed versus what I actually wear whilst in South East Asia, and always remember that you can buy items when you're abroad… especially at airports.
And ladies if you're hunting for the best backpack for women check out this post
Female Packing List – What To Take To South East Asia (And What NOT To Pack!)
Clothing
First thing first- Leave the 2009 dress at home!
That was the first thing I got rid of.
So here's a run down of my clothing packing list for South East Asia…
What I Thought I Needed
2 Sweatshirts
2 pairs on jeans
1 pair of jean shorts
6 short dresses
2 t-shirts
5 tank tops
1 long sleeve shirt
2 semi nice shirts
2 yoga pants
3 yoga shorts
2 maxi dresses
1 lightweight rain jacket
1 cardigan
10 x bikini sets (yes 10!)
…What I Actually Wear
1 sweatshirt (for rooms with air con, trains, airplanes)
1 pair of jean shorts
2 short dresses
1 t-shirt
2 tank tops
1 semi nice shirt
1 yoga pants
1 yoga shorts
1 maxi dress
1 lightweight rain jacket (I use this jacket ALL THE TIME, it rains a lot in Asia)
1 cardigan (bring one that goes with everything, for those semi chilly nights out)
3 x bikini sets
So as you can see I cut half my bag in half when it came to clothes!
I brought clothes that I don't have an emotional connect with (yes, there are a few clothing items I just can't get rid of, leave those at home).
Pack clothes that you don't mind loosing/destroying/getting rid of – you can donate while on the road and throughout Asia you can buy shirts for 2 dollars, it's super cheap there (same goes for central and south america).

Shoes, Hats and Scarves
I'm obsessed with hats and scarfs so obviously they would have their own category, and shoes… you need shoes, keep those feet safe and clean (unless you're my now ex-boyfriend that refuses to wear shoes, damn hippy).
What I Thought I Needed
2 beanies
1 snapback
3 scarfs
2 flip flops
1 pair of walking sandals (you know what sandals I'm talking… be a nerd, buy a pair.)
2 pairs of cute fancy sandals
1 pair of runners
…What I Actually Wear
Again, the key is to pack light, you wont be wearing half of what you think you might!
Super Girly Shower Bag
Alright ladies, as much as I love the grungy 'I don't care what I look like' backpacker vibe, there are times when I want to feel good about myself and smell nice for a change. I use everything in my shower bag so here are my must need shower items.
Shampoo & Conditioner (don't bother bringing "travel size" ones because you'll end up buying more once you land)
Tweezers, nail clippers, 1 nail polish color (for my cute toesies- don't bother painting your fingers)

Shower & Makeup Kit – A Girls Essentials!

Coconut oil and coco butter (great for skin after soaking up hours of UV rays from sun bathing)
Sunscreen (don't be dumb- slather it on)
Fruity smelling lotion for when I want to be super girly
Lip gloss, sunscreen lip balm, Berts Bee Aloe Vera Lip Butter (keep those smackers kiss worthy)
Face Wash, Face Serum, Face Cream (I buy this kit from Benefits, keeps the face super smooth)
Tea Tree Oil (I swear by this, you can use it for acne, infections, and to smooth and rehydrate your hair- must have)
Lavender Oil (if you have trouble sleeping, lavender oil with help you ease into a peaceful sleep in those loud dorm rooms. 100% natural and smells wonderful- rub it on your forehead and smooth into your hair)
Toothbrush, toothpaste and mouth wash
Tiger balm (I lather this on like butter- great for bug bites!)
I bought a wash bag to keep everything, it might take up a little more room in your bag but its easy when you have to shower in hostels – extra bonus if you invest in the self hanging ones which are perfect for hostel life!
Make Up
Yes, I did in fact bring make-up, but not as much as you think. There are times when I'm abroad and want to get all dressed up, but keep to the bare-minerals (see what I did there?!)
If you're going to be in hot & sweaty country's this is what I recommend:
Keep it light and simple!
First Aid Kit
I'm prone to accidents so I carry a first aid kit, I learned the hard way in Nicaragua when I was in a motorbike accident had tore a good chunk of skin off my body.
The Hostel I was in didn't have any bandages or ointment so I had to wait for the pharmacy to open… it was awful.
Keep a few first aid things handy in your day pack for when you're stuck on a mountain that's no where near a first aid kit.
Anti Bacterial First Aid Ointment
Cleaning pads
Pain Killers (if needed)
Hydro-Peroxide (I carry a small one and use it all the time)
…you can also buy some pre packaged travel first aid kits too
Electronics
Everyone is different when it comes to packing electronics, I take most of my photos on my phone and use the GoPro for action shots.
If you don't use a laptop a lot bring a tablet to watch movies on or play games. There will be days where you want to be lazy and watch 3 seasons of Brooklyn nine-nine, its okay to do so.. no one will judge you!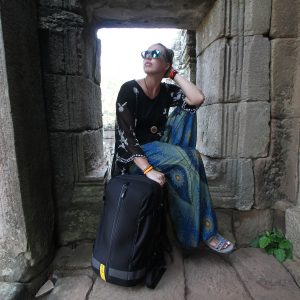 You Do You
My list may seem like a lot but I have an open end ticket where I don't know when I'll be returning home. If you're traveling for a few months then it's easier to pack lighter. If you're doing a round the world trip just pack things you know might be difficult to buy abroad.
Stick to same climate countries so you don't need to pack warm and cool clothes. South East Asia is actually extremely easy to pack for, some people even show up with a carry on backpack and buy clothes when they land.
Each to their own, but seriously, don't bring the 2009 dress that you wore once and might wear again because you know you wont ;)
Any other essential items you'd suggest everyone add to their packing list for South East Asia?
Share the love in the comments!